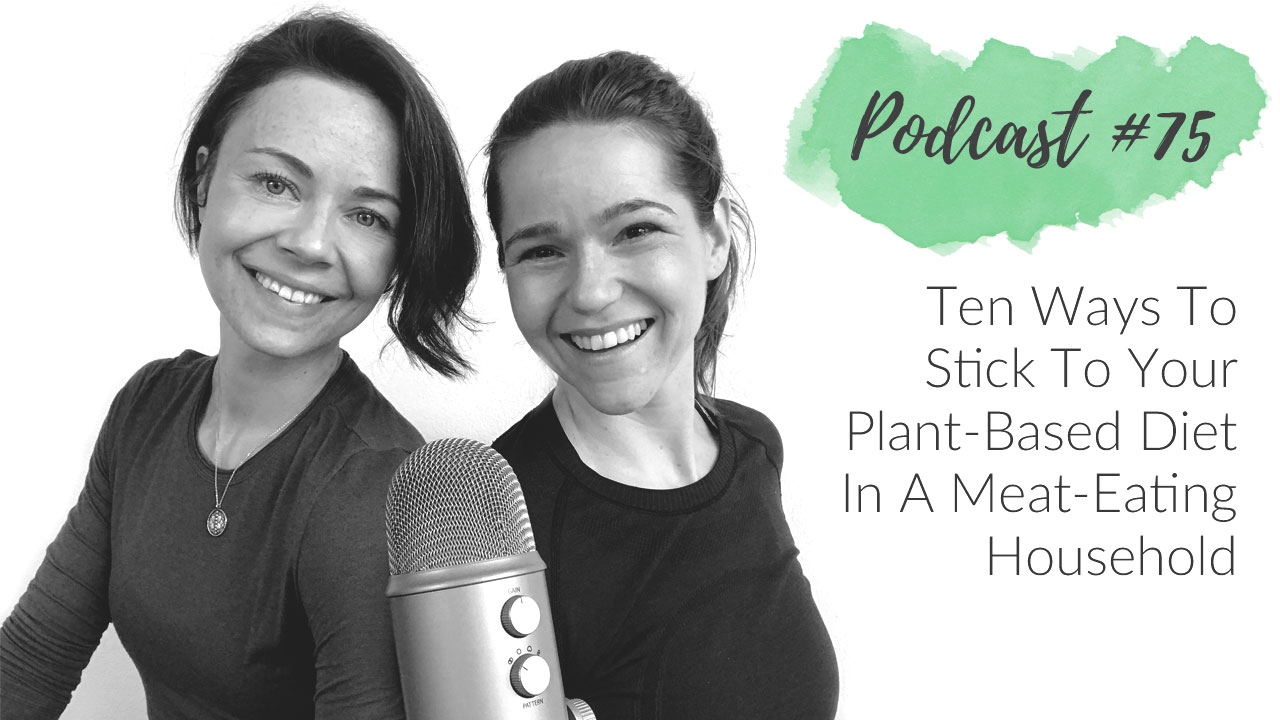 If you follow a plant-based diet in a meat-eating household, you might find it challenging to maintain your healthy habits. However, with some tips and tricks, it is possible to stick to your nutrition goals and maintain a healthy lifestyle. In this post, we will explore ten useful tips to help you maintain a plant-based diet in a meat-eating household, so you can continue to enjoy the benefits of a healthy, plant-based lifestyle.
Today we are going to tackle a question that comes up time and time again on this blog, when we speak at events, hold classes, workshops, in our Facebook community, and among our Plant-Based Academy members.
The Question:
"What can I do when my family refuses to eat plant-based? I can barely prep & cook one meal plan but making two is impossible. Any tips for getting picky family members to change their eating when they love meat?"
The Answer:
When we change our lifestyle – including our diet, exercise, sleep schedule, the way we manage stress, and many other elements that positively contribute to our health and wellbeing, we have to understand that it isn't just us that's involved. It's our partners, children, parents, friends and other family members. No person is an island – our choices ripple and spread outward and can easily affect the people surrounding us.
One of the most challenging aspects of transitioning into a plant-based lifestyle is implementing healthier eating habits especially when your spouse and children have no desire to change their ways.
Why is it that we encounter so much resistance from our loved ones when all we want to do is make a positive change that will benefit not only us but also the people we love?
Let's face it, change is exciting, but it can also be scary. Sometimes, the people close to us become frightened that we will transform into someone unrecognizable. Maybe our lifestyle changes increase our partner's insecurities or health worries. Sometimes people resist a positive change because it's more comfortable to stick with what they know – even if they know quite well that their way isn't serving them.
So what's a new plant-based eater supposed to do in this scenario? Force a whole food, plant-based diet on their unwilling spouse and children? Or cook two entirely separate meals every single night to please everyone in the family?
The answer is… NO and NO. It doesn't have to be this complicated! There are plenty of ways you can stick to your healthy plant-based lifestyle without causing tension between you and your family or having to spend twice as long in the kitchen juggling two completely different dishes.
This situation is not uncommon and something we have a lot of personal experience. I (Zuzana) become a vegetarian in my teenage years while my parents who, like many people in our culture, were convinced that a meal is not a meal if you don't have meat on the plate. Needless to say, I learned how to make adjustments to suit my needs early on. Later I married an adamant meat-loving guy, and although he was super supportive of my plant-based lifestyle, and was open to incorporate more veggies, there were many occasions where I cooked something different for the two of us. Plus, many of the clients and families we work with are new to a plant-based lifestyle and often are still eating meat and other animal products. Usually, they are hesitant to try new foods; are not keen on plant-based protein sources like tempeh, beans, and mushrooms because of the texture; or don't like ethnic food or other styles of cuisine that appear very different from the foods they are accustomed to eating. They want to make a change and fully understand the health benefits of a whole food plant-based diet, but it's difficult for them to make the transition. We don't want them to feel overwhelmed by sudden changes and want to make sure that the transition to a plant-based lifestyle is smooth, enjoyable and sustainable. A lot of the time we'll encourage them to prepare a 100% plant-based meal for everyone, but sometimes it's just easier to accommodate everyone's preferences.
With that said we don't cook with meat, and certainly are not endorsing meat-eating – to tell you the truth it feels weird even writing or talking about ways that our vibrant plant-powered recipes could be adapted to include animal products. We believe that the health and wellbeing of each person as well as our planet would ultimately be far better and elevated if all of us embraced a plant-based life (or at least ate a lot more veggie based meals). But on the other hand, we understand that this is an individual journey. We are not judging or preaching, and we appreciate anyone who is open and willing to try this plant-based way of life. And for those who decided that this is not the right path for them, we respect that decision.
So, here it goes! Our 8 tips and methods that we have found helpful in sticking to your plant-based diet in a family of omnivores:
1. Make Meals That Work Both Ways:
Your life will get much easier by learning to be creative and incorporate the same ingredients while still being able to make one of the meals 100% plant-based. After all, the majority of everyone's plate should be the same – consisting of veggies, healthy complex carbs, and plant-based fats. The difference will be in the protein source. For example consider a dinner of curried vegetables, rice and chicken. You could serve a plate of rice and veggies with chickpeas for yourself. Another example can be spaghetti squash pasta with cilantro, peppers, green peas and tomatoes. For the carnivores in your family serve chicken breast on the side and for those who are not keen on spaghetti squash offer traditional pasta noodles.
This approach works well for:
Pasta dishes
Curries
Stir-Fries
Salads
Buddha/Nourish Bowls
Soups
Photo: Greek Style Spaghetti Squash Pasta
RECIPE IDEAS: (all these are complete meals for plant-based eaters)
Easy One-Pan Red Curry (serve with grilled chicken)
Greek Style Spaghetti Squash Pasta (serve with grilled chicken and shredded cheese)
Ayurvedic Kitchari (serve with a hard-boiled egg on the side for non-veg option)
Raw Vegan Pad Thai (serve with shrimp or baked fish)
2. Embrace Easy & Healthy Side Dishes:
Make 2-3 easy veggie-based side dishes, then just serve a different protein for yourself and meat-eaters. You will all be eating 90% the same food, so there really isn't much extra work involved. Separate side dishes are also fairly easy to prepare.
Plant-based Protein Ideas: lentils, beans, mushrooms, tempeh, falafel, hummus, green peas, hemp seeds, nutritional yeast, spinach, kale, broccoli, pumpkin seeds
Carnivore Protein Ideas: chicken, fish, ground turkey, steak, eggs, cheese … (we are no experts on these but you get the idea)
This approach works well for:
Salads
Quinoa or Rice Dishes
Dips
Roasted Veggies
Photo: Winter Red Salad
RECIPE IDEAS:
Winter Red Salad ( add extra hemp seeds or nuts/ for meat eaters add grilled chicken)
Edamame Hummus (serve with meatballs/plenty of protein for the plant-based eater!)
West Coast Kale Salad (for meat eaters substitute lentils for canned tuna)
Tabbouleh Salad (add 1 cup of green peas/ for meat eaters add grilled sausage or salmon)
Black Bean Mango Lime Salsa (add pieces of grilled chicken – already plenty of protein for the plant-based eater!)
Curried Quinoa Salad (sprinkle 1-2 Tbs of pumpkin seeds/add crumbled bacon for meat-eaters)
"Cheesy" Whole Roasted Cauliflower (goes well with hummus, spinach salad/for meat eaters serve with fried eggs, grilled chicken or fish)
3. Use Two Separate Pans:
Perhaps this might sound to you as the equivalent of making two totally different meals, but before you disregard this idea all together please hear us out…
If you're making a casserole dish or a stew, you can make the exact same thing at the same time in two different pans, with very little extra effort.
Here is how: Chop all your veggies, and rather than putting them into one pan or dish, separate them into two. All the additional ingredients that don't match can be added separately to each pan, with meat added to one, and your choice of veggie protein added to the other. Sure, there will be an extra dish to wash, however, it significantly cuts down your prep and cooking time.
This approach works well for:
Casseroles
Curries
Stir-Fries
Soups
Stews
Photo: Light Vegan Chana Masala
RECIPE IDEAS:
Light Vegan Chana Masala (for meat eaters substitute chickpeas for chicken pieces)
Vegan Chocolate Chili (for meat eaters substitute beans for ground beef)
Cheezy Broccoli Soup (for carnivores substitute nutritional yeast for cheddar cheese, could also add crumbled bacon)
Vegan Moussaka With Eggplant and Lentils (for meat eaters substitute lentils for ground turkey)
4. Have Fun With "Build Your Own Meals":
Call it a buddha bowl, nourish bowl, hippie bowl …basically this is one of the easiest ways to please everyone in the family. Prep several different ingredients – some vegetarian, some not – and let people construct their own meal. 'Several different ingredients' may sound intimidating and time-consuming, but it doesn't have to be. Most of our "build-your-own" meals include raw ingredients that don't require any cooking (chopped peppers, sliced tomatoes, fresh herbs, defrosted green peas, sauerkraut… that sort of things). This is a great option for families with different food preferences and likes/dislikes, as everyone has the freedom to create a meal that works for them.
This approach works well for:
Dinner Bowls
Wraps
Sandwiches
Loaded Baked Potatoes
Fajitas
Salads
Photo: Wild Rice & Hummus Collard Wraps
RECIPE IDEAS:
Mango Lime Cabbage Tacos (offer quinoa, beans, ground beef, cheese, sour cream, etc.)
Spanish Nourish Bowl with Vegan Cheese Sauce (offer salsa, other veggies, shredded cheddar, avocado, grilled chicken, etc.)
10 Minute Buddha Bowl (offer bacon, egg, other veggies, mozzarella, grilled chicken, etc.)
Sweet Potato Toast (great with hummus, avocado, nut butter, pesto, sprouts/for non-veg version offer smoked salmon, anchovies, fried egg)
Wild Rice & Hummus Collard Wraps ( could be made with tortilla wraps and stuffed with lettuce, avocado, egg salad, chicken, tuna, sardines, etc)
5. Plan Ahead:
If you're the main cook in the family, you most likely have to schedule everyone's meals around their after-school activities, play dates, meetings, hobbies and sports practices/games. This makes meal planning in advance absolutely essential, especially for any busy parent who is wanting to change their eating habits and live a healthier life. Take some time each week (Sundays work well) to plan the upcoming week's meals and grocery needs. Consider making meals that make great leftovers. When a recipe early in the week calls for rice, vegetables, or other side dishes, cook extra so that you can just heat and serve with any main dish or add a protein of your choice for when you need a quick meal. Also, double or triple recipes that your family loves. Then, store the extra in the refrigerator or freezer (here is a step-by-step guide to meal prepping). Refrigerated leftovers make great lunches or last-minute dinners later in the week. Items that you freeze can be used several weeks from now when you're in a pinch.
This approach works well for:
Casseroles
Soups
Stews
Simple Pasta Dishes
Photo: Ayurvedic Kitchari
RECIPES THAT MAKE GREAT LEFTOVERS:
Lentil Quinoa Loaf (for meat eaters substitute lentils for ground beef, chicken or turkey)
Ayurvedic Kitchari (serve with a hard-boiled egg on the side for non-veg option)
Vegan Thai Curry In a Hurry (could add chickpeas or pieces of grilled chicken)
Vegan Moussaka With Eggplant and Lentils (for meat eaters substitute lentils for ground turkey)
Japanese Style Slow Cooker Tofu (a great option for busy days, can substitute tofu for tempeh, or add chicken for meat eaters)
6. Introduce Meatless Mondays
Does your family eat meatless meals once a week? If not, now is the time to start a new tradition. Just one day with all plant-based meals is a great step in a positive direction. It also provides a wonderful opportunity to try some new recipes and helps get the rest of the family to embrace healthy habits. Keep in mind that people accept changes best when they are small and gradual. A great way to introduce Meatless Mondays to your family is to take recipes that your family already enjoys and look for ways to make them fully plant-based.
Photo: 1-Hour Vegan Shepard's Pie
RECIPE IDEAS FOR MEATLESS MONDAYS:
1-Hour Vegan Shepard's Pie
Crispy Baked Falafels + Spicy Tahini Sauce
Palak Vegan 'Paneer'
Homemade Veggie Burgers
Roasted Stuffed Bell Peppers
Simple Plant-Based Mexican Bowl
Chickpea Burgers
7. Stop Obsessing About Protein:
After years of research and our own personal experience, we have found that we do not need as much protein in our diets as we are thought to believe in our meat-based society. In fact, the average requirement is 42 grams of protein a day and non-vegetarians get way more than they need, and so does everyone else. On average, vegetarians and vegans get 70% more protein than they need every day. It's no secret that animal proteins are directly linked to higher rates of cancer and other serious health problems. So as you and your family move more towards a plant-based diet please don't worry about becoming deficient in protein! You can relax knowing that it's possible to get plenty of protein from the veggies, whole-grain bread, sprouts, legumes, nuts and seeds you all eat as part of a healthy, meat-free diet.
8. Be The Change You Want To See In Others:
The best way to inspire others is to lead by example and live your life in a way that is true to who you are and what you believe. With that said we encourage you to go ahead and eat your kale salad and meditate and do yoga in the living room or whatever else fills your heart and helps you feel your best. If you are a parent it's important to remember that you have a big influence over the relationship your child develops with food. If you don't like vegetables and are not willing to try new foods, the likelihood your child will pick up on that and mimic it is very high. If you rarely cook and rely heavily on prepackaged foods, this will have an impact on your child. If you have an unhealthy relationship with food, this can have psychological consequences for your child and negatively impact their feelings about food for years to come. Perhaps this is getting a little too psychological, but we hope you get our point. As someone who lived with an eating disorder for many years, I can tell you that it's super important for children to have role models who will provide positive interactions with food. So be that shining example for the people in your life because being healthy, vibrant, fit and happy is the best gift you can give to yourself and others.
9. Ask For Help:
The easiest way to get kids (and even adults) to try new foods and recipes is to involve them in the cooking process. Make it fun. Letting them help with simple tasks gives them ownership over this new dish, and they are much more likely to eat the new food. Be creative with asking for help. There's truly something for all ages.
For preschoolers, let them pick a new fruit or vegetable to try each time you go to the farmers market or grocery store. Have them name all the colours in the produce section and challenge them to pick a new one to try each week. For early elementary kids, make a chart for each day of the week and give a sticker for fruit and vegetable eaten. Reward them for great effort with a fun family activity on the weekend. Additionally, we firmly believe that it is very important to teach children where food comes from. If you have the ability to visit a farm and shop at a farmers' market embrace that. Also, you can start a small garden in your own home. All this effort is a wonderful gift to your children as it opens up the opportunity to establish a healthy relationship with food.
As for your spouse find ways to connect in the kitchen. Together you can select a vegetarian cookbook, browse through the pages and find a recipe that appeals to both of you. Then plan a date night when you can both participate and have fun preparing and enjoying a healthy meal. A note for success: Cook with your kids (and spouse) when you have a little extra time and patience, because it will take a little longer and you may make a slightly bigger mess to clean up 😉
10. Do Not Give Up:
It may be rough at first as you introduce the above-mentioned changes to the family, but be patient, take it one day at a time and do not give up. When you get overwhelmed or discouraged, look for ways to involve the family members in the planning, shopping and cooking process. Also, don't get too rigid and remember that everyone needs an occasional treat—even you – so build those into your plan as well. The important thing about making a permanent positive change is being as consistent as possible. You can't eat a hamburger and fries with your family one day and then say they're disgusting and criticize them for eating this kind of food the next day. That's sending very mixed messages and will confuse your loved ones about what you value and what you want. Be clear about your goals and beliefs and stick to them.
Sticking to a plant-based diet in a meat-eating household might seem like a daunting task, but it is achievable with the right mindset and preparation. By implementing these ten tips, you can stay true to your healthy habits and enjoy the benefits of a plant-based diet. Remember to focus on the positive changes in your health and lifestyle and keep experimenting with new plant-based recipes to keep things exciting. With a little effort, you can maintain a healthy plant-based lifestyle in any household!
Remember, you've totally got this! And if you feel you could use some extra support, consider enrolling into our 24-week online Vibrant Health Journey for guidance and support. For only $1 you get two weeks access to try it out, so there's nothing to lose and a whole lot of great things to gain.
And now…
Now we'd love to hear from you. What's the single biggest insight that you're taking away from this episode and — most important — how can you make that actionable right now?
Let us know in the comments below.
Share as much detail as possible in your reply. Thousands of incredible souls come here each week for insight and inspiration and your action step may help someone else have a meaningful breakthrough.
With love and light,