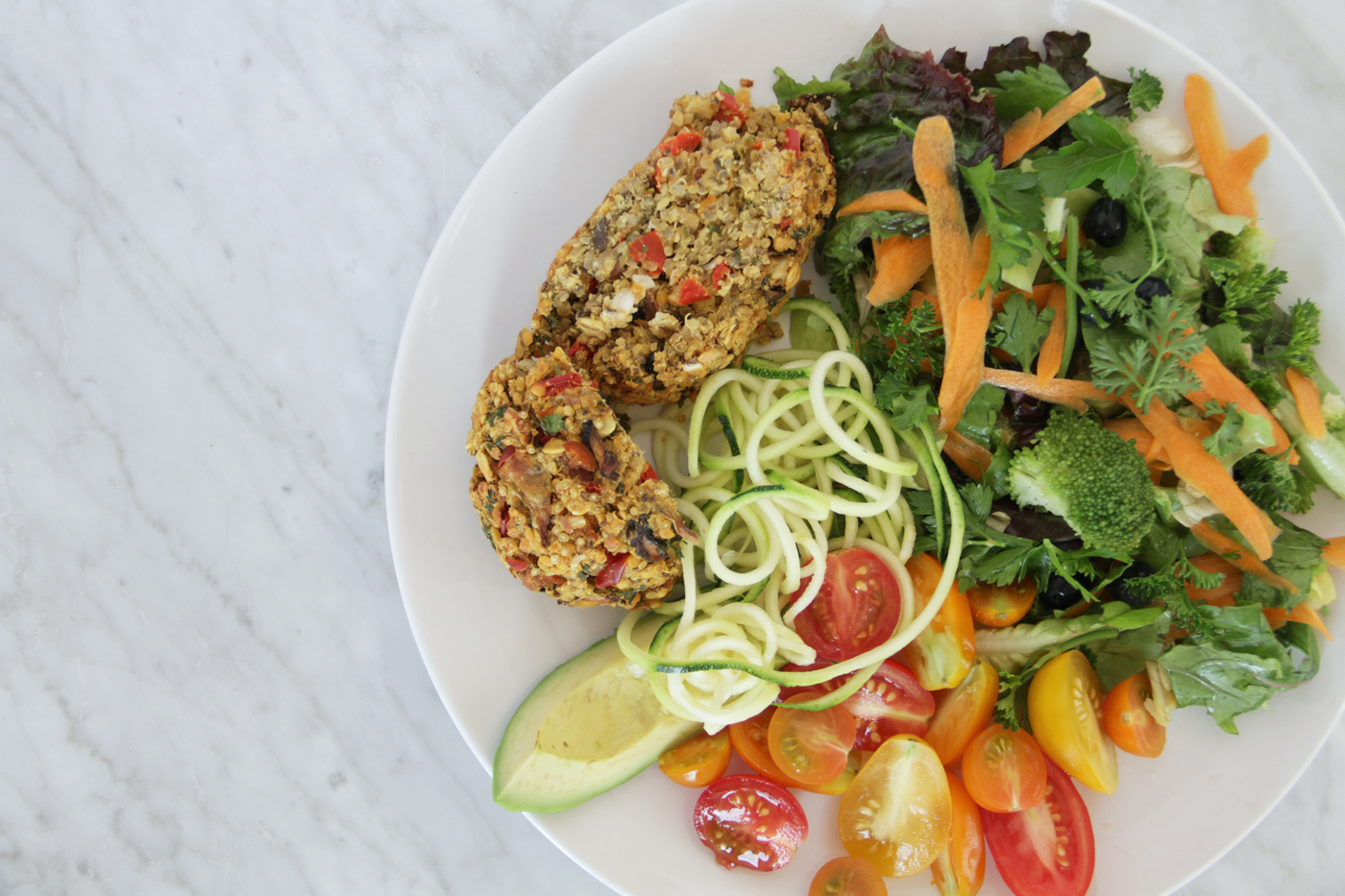 You may have heard us say this before, but for anyone with a busy lifestyle a great rule to live by "learn to like leftovers as they are your best friend".  It will make it so much easier for you to eat well throughout the week, when you have no time to spare.
This quinoa lentil loaf is a one of those meals you can  easily make ahead, divide into a few smaller portions, store in the fridge and have it ready in no time.
Quinoa Lentil Loaf
A hearty, easy to make plant based dish that's loaded with veggies, quinoa,savory lentils and chopped almonds. So flavorful and satisfying that you won't believe it's really good for you!
Servings: 6
Ingredients
¾ cup red lentils
2 ½ cups water
½ cup quinoa
1 cup water
1 tbsp coconut oil or water
1 onion chopped
1 carrot thinly chopped
1 cup mushrooms sliced
1 bell pepper chopped
2 tsp curry powder
½ cup almonds chopped
2 chia eggs mix 1 tablespoon chia with 1/4 cup water = 1egg
¾ cup quick cooking oats
1 cup fresh parsley or cilantro chopped
salt and pepper to taste
Instructions
Preheat oven to 350 degree F.

In a medium saucepan, bring the lentils and 2 ½ cups water to a boil.

Reduce to simmer, covered and cook for about 25 minutes until the lentils are tender.

Drain any excess water from the lentils.

In a separate small pan, bring the quinoa and 1 cup water to boil.

Reduce heat to simmer and cook for about 10 minutes until all of the water is absorbed.

In a large frying pan, heat the coconut oil or water over medium heat and add the onions, carrot and mushrooms and cook for about 5 minutes until the vegetables are softened.

Add the bell pepper and curry and continue to cook for about 4 minutes. adding more water as needed .

In a large bowl, add the chia eggs, oatmeal, lentils, quinoa, vegetables, nuts, parsley and salt and pepper. Mix well.

Shape the mixture into 2 medium size oval loafs or pour the mixture into a loaf panther has been lightly coated with coconut oil,then press down until even.

Place in a 350 degree F oven and bake for 45 to 50 minutes until firm and golden brown.

Let rest for 10 minutes before slicing.
Notes
Can be served either hot or cold. Goes well with salad or steamed veggies.  The loaf can be kept in an airtight glass container in the refrigerator for 3-4 days.
Bon appetit!