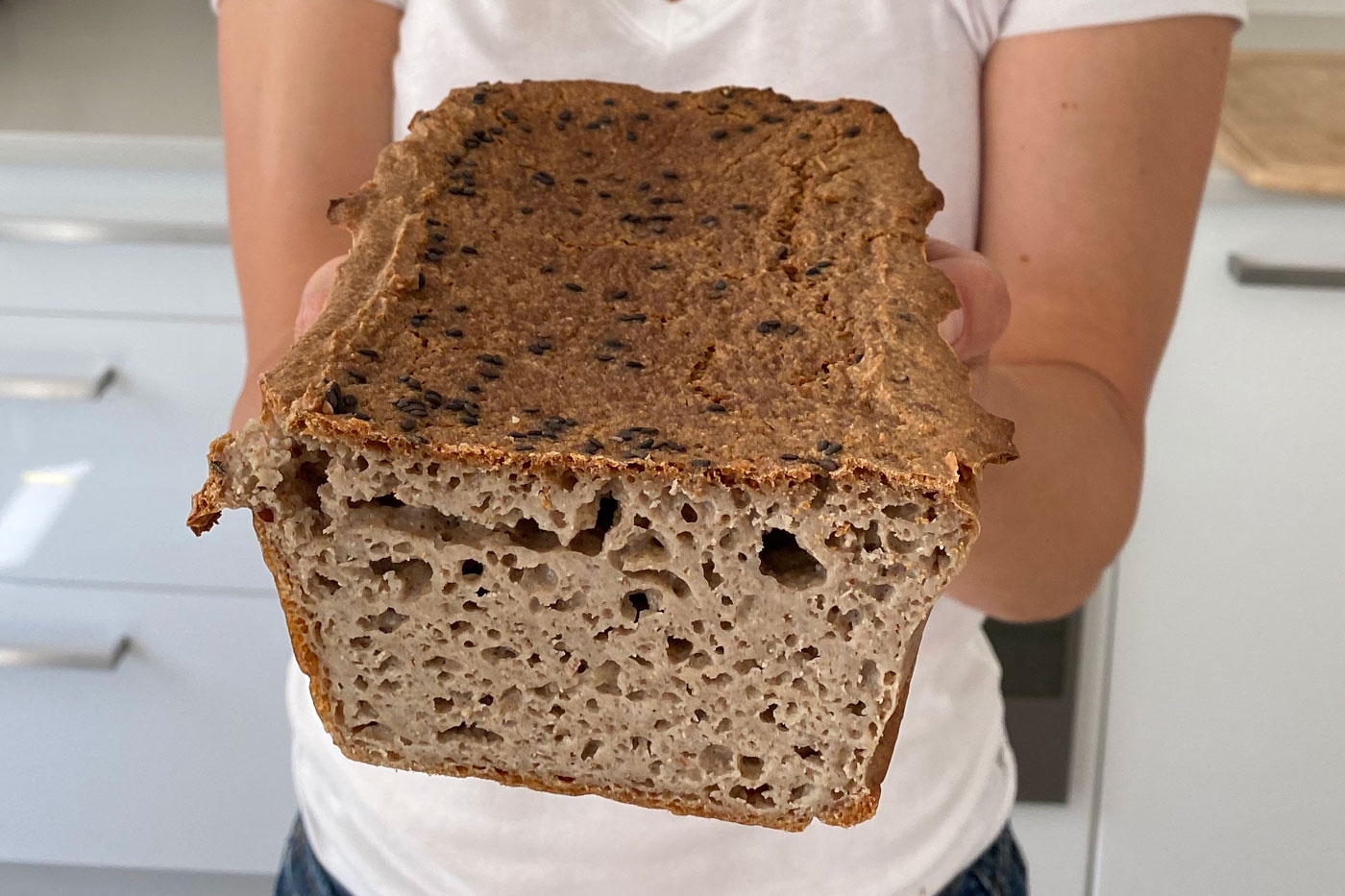 BREAD: Is it good or bad for you?
When you first embark on a whole food plant-based journey, it may seem like you have to give up a lot of the staple foods that you enjoy … like bread! Yes, it's true that most commercially made bread (even the whole wheat kind) is far from healthy. In most cases, store-bought bread is nothing more than a chemical concoction of nutrient-depleted ingredients- starchy carbs mixed with quick rise yeast and preservatives. Luckily, you do not need to ban bread from your diet altogether. Especially if you are willing to make one at home from a recipe that focuses on clean, nutrient-dense ingredients. One of our go-to choices is this amazing fermented Buckwheat and Quinoa Bread.
Only Five Whole Food Ingredients
This Buckwheat and Quinoa Bread contains only five ingredients: buckwheat groats, quinoa, flax seeds, salt, and water. After that, you can choose to add herbs or spices to achieve your preferred flavour. I often add touch of either caraway, fennel, or cumin seeds to the loaf, and sprinkle sesame seeds on top. Nikki suggested that next time we can add raisins and cinnamon, so I might give it a try soon. But to be honest, I prefer the simplicity of the basic five ingredients.
Wild Fermentation
Although this is a fermented bread, you don't need a living sourdough starter to begin. There is also no maintenance in between bakes either, which is good news for anyone who has no desire to take care of a little living sourdough creature! To sum this recipe up this is a very simple bread that takes just a few minutes to prepare, however, it does require a lot of resting time (soaking, and then fermenting). But the results are totally worth the wait!
Buckwheat and Quinoa Bread - Fermented | Gluten-Free | Yeast-Free
The easiest and possibly the healthiest bread in the world!  If you're not ready for fermented starters, cultures & complicated measurements you may be interested in this recipe!! It's made from soaked buckwheat, quinoa and flax seeds - this gluten-free combination creates a tasty bread rich in minerals, proteins, dietary fiber, B vitamins, and antioxidants. 
Instructions
First, rinse buckwheat, quinoa and flax seeds in a colander under cold running water.

Put all rinsed ingredients into a large glass jar or bowl, add sea salt and purified water - the water should just cover the mixture.

Place a cheesecloth or a plate on top of the jar/bowl and let it sit at room temperature for 24-48 hours. (refer to video for details)

Next transfer the soaked mixture (do not drain) into a high-speed blender, add remaining 1 tsp sea salt, any preferred spices (caraway, fennel or cumin) and blend for at least 1-2 minutes or until there are no more visible pieces of buckwheat and it resembles pancake batter-like consistency.

Pour the batter into a glass or silicone loaf pan lined with parchment paper, and if desired sprinkle the top of the loaf with sesame seeds.

Place the bread into warm (not hot!) oven and let it rise for another 7 hours or overnight. No need to preheat the oven - simply put a large glass filled with hot water inside the oven.

Preheat oven to 410 degrees and bake for 1 hour.

Remove from oven and if you used parchment paper, you can remove the bread from pan immediately and place it on a cooling rack. Allow the bread to cool for at least 1 hour before slicing (the longer the better).
Notes
This bread tastes best when fresh. To maintain it's freshness keep it at room temperature, covered with a tea towel. Alternatively, you can slice it and store it in a glass container in the fridge. As with all fermenting, it's best to avoid metal dishes or utensils while working with the dough. I like to use a large glass bowl and a wooden spoon and bake the bread in a glass loaf pan. 
Some of the ways we like to enjoy our Buckwheat Loaf:
Mock Tuna Salad
Almond Ricotta, dairy-free cheese
SMOKY TEMPEH SCRAMBLE
Macadamia Cashew Butter
Dedicated to your health & wellbeing,