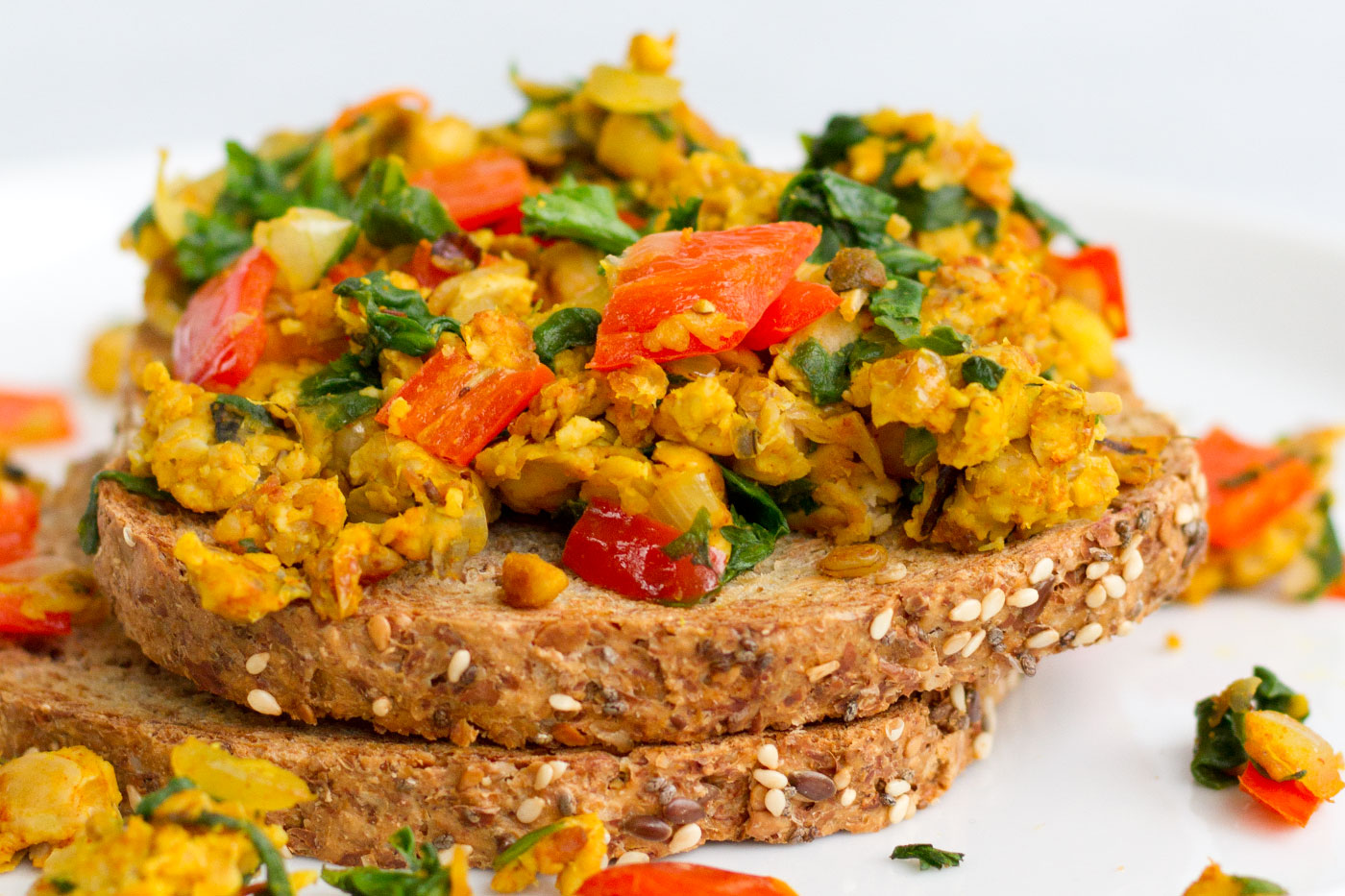 Easy to prepare savoury morning meal full of protein and veggies that could easily pass as lunch or dinner. Tempeh is a fantastic plant-based source of easy-to-digest protein that has a delicious nutty flavour and satisfying taste. It's also very high in magnesium and is known to reduce cholesterol, increase bone density, and promote muscle recovery. The natural smoky flavour in this recipe comes from smoked paprika. If you don't have this spice on hand, don't stress it. Simply replace it with whatever spice you like – coriander, cumin or sumac are all great options. Now let's get cooking…
Easy Healthy Vegan Recipe
SMOKY TEMPEH SCRAMBLE
MUSCLE BUILDING | AIDS RECOVERY | CALCIUM RICH 
Servings: 2 servings
Ingredients
½ cup tempeh crumbled
½ tablespoon coconut oil or water
1 garlic clove minced
¼ cup onion diced
½ red bell pepper diced
¼ teaspoon turmeric powder
¼ teaspoon smoked paprika or regular paprika will do
Celtic sea salt and fresh ground black pepper to taste
1 cup of baby spinach chopped
2 tablespoons fresh parsley chopped
Instructions
Heat a small nonstick frying pan over medium heat.

Add coconut oil (or water) and once hot and simmering, add the garlic and onion. Saute for 1 minute.

Add the bell pepper and saute for 2 minutes.

Add tempeh, turmeric, smoked paprika, salt, and black pepper, stir to combine.

Cook and stir until tempeh is hot and evenly coated in the seasoning mix, 3 minutes.

Add the spinach and parsley and saute for 1 more minute.

Taste the tempeh scramble and season with more spices as desired.

Serve on its own, on top of the avocado, wrapped in a tortilla or alongside green mix salad and sprouted grain toast.
Notes
Go ahead and load it more veggies if you got them! Chopped zucchini, asparagus, mushrooms are all great options. 
Notes
This smoky tempeh scramble vegan recipe is excellent on its own however if you prefer a heartier meal, feel free to serve it on top of the avocado, along with some greens, wrap it up into a burrito or eat it with sprouted grain toast. For anyone who is looking to build muscle, this tempeh scramble could be a real game-changer.
Dedicated to your health & wellbeing,