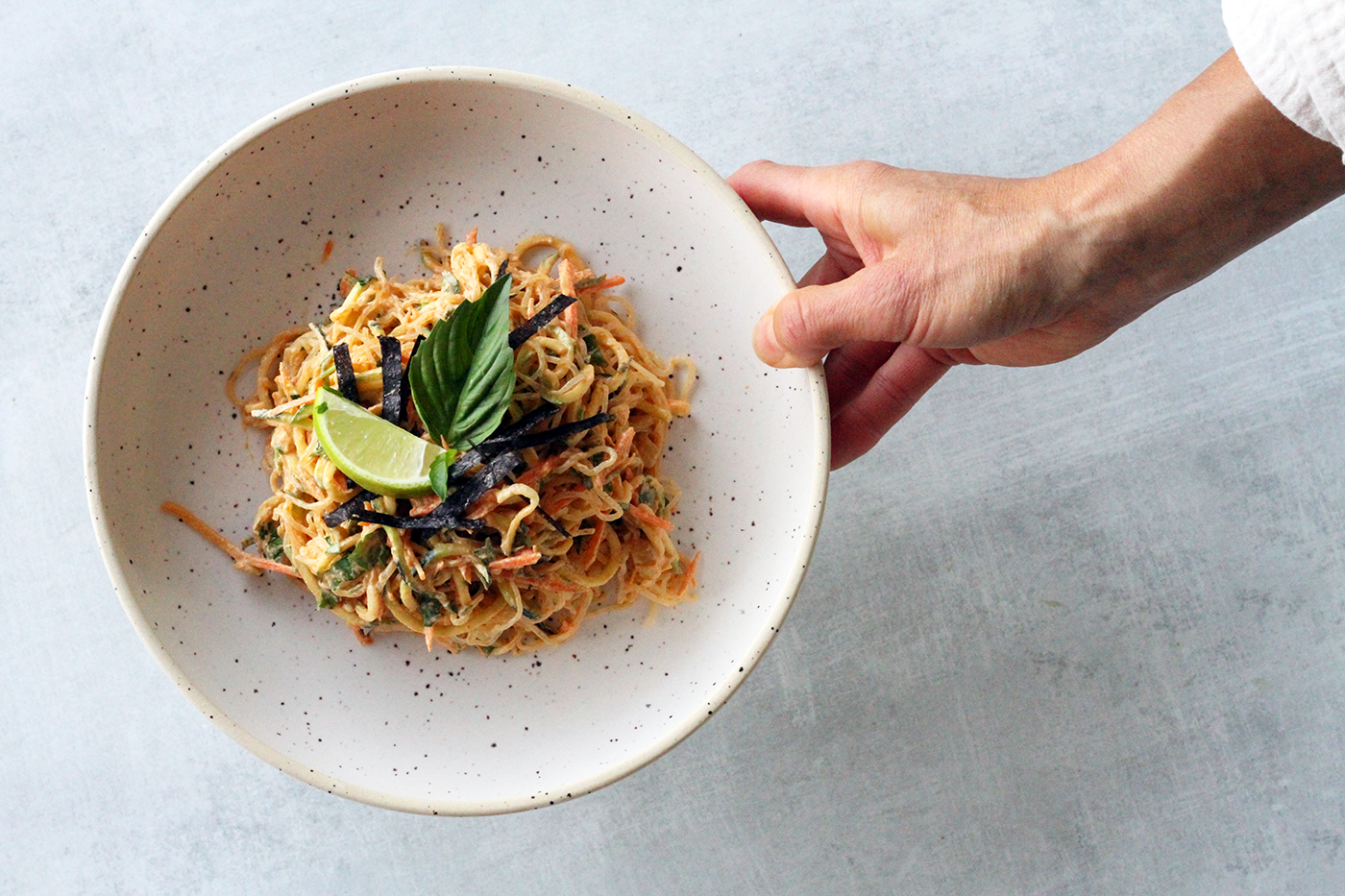 It's time to unlock the power of plant-based living with our incredible Vegan Pad Thai recipe! Embracing a diet rich in plant foods has been widely popular for its health benefits, and we're here to show you that nutritious can also mean incredibly tasty.
For Nikki and me, about 80 to 85 percent of our diet consists of raw foods. While we understand that raw food lifestyle may not be for everyone, we firmly believe that incorporating more vibrant, living plant-based options into your meals can be super beneficial. It's not about eliminating old favorites; it's about welcoming new, nourishing choices.
Now, let's dive into the magic of our Vegan Pad Thai, where plant-powered ingredients take center stage:
PLANT-POWERED INGREDIENTS:
Discover the goodness of kelp noodles, a pasta alternative that's as wholesome as it is delicious. Comprising just three simple ingredients—kelp, sodium alginate, and water—these noodles bring a burst of nutrients to your plate.
Kelp, a type of seaweed, offers a nutrient-dense profile rich in over 70 minerals and trace elements, including iodine, potassium, magnesium, calcium, and iron. Not only are kelp noodles gluten-free, but they also boast zero fat, zero cholesterol, and zero sugar. The benefits of kelp extend beyond a healthy thyroid; they've been associated with cancer protection, radiation detoxification, supporting brain development in infants, and maintaining radiant skin, hair, and eyes.
The beauty of our Vegan Pad Thai, and raw vegan recipes in general, lies in their ability to retain freshness and nutrient content even when enjoyed the next day. So enjoy the delightful flavours today and if you end up with any leftovers pack them up in a glass container for a nourishing and flavourful lunch tomorrow.
Raw Vegan Pad Thai
This recipe is full of flavourful raw foods, gluten free and can be made in less than 20 minutes. It's light and satisfying. This is the kind of food that will make you feel vibrant and alive!
Servings: 2
Ingredients
TO MAKE NOODLES
2 cups of kelp noodles one package
1 organic zucchini
1/3 cup raw cashews crushed (preferably organic)
1 large carrot graded
4 leaves of dinosaur kale chopped
1/3 cup fresh cilantro chopped
2 tbs fresh basil chopped
TO MAKE SAUCE
3 tablespoons lemon juice
1 cup cashews soaked 2 hours & drained
1 red bell pepper seeded & chopped
2 tablespoons nutritional yeast
1 tablespoon water
1/4 teaspoon sea salt
TO GARNISH
2 tbs dry seaweed thinly sliced or cut with scissors
Lime cut into wedges
Instructions
Rinse kelp noodles and strain.

Cut the kelp noodles up a few times with kitchen scissors, otherwise they can be too long.

To make your zucchini noodles, use a spiralizer on the thick noodle setting.

If you don't have spiralizer you can simply cut the zucchini into thin long strips or use a potato peeler to get a noodle like effect.

Place the kelp and zucchini noodles into a large bowl. Mix in crushed cashews, grated carrot, thinly chopped kale, cilantro and basil. Set aside.
MAKE THE SAUCE
Blend all the sauce ingredients in a blender until smooth.

Pour ½ cup of sauce over the noodles and gently mix in. And more sauce if needed, until the noodles are thoroughly coated with sauce.

Serve, garnished with seaweed and lime.
Notes
If you have the time we suggest that you soak the kelp noodles in warm water for 10-15 minutes. Shake them dry, then pat them very dry with a paper towel or kitchen towel before using.
We hope that you enjoy this raw vegan meal!
Love & Gratitude,