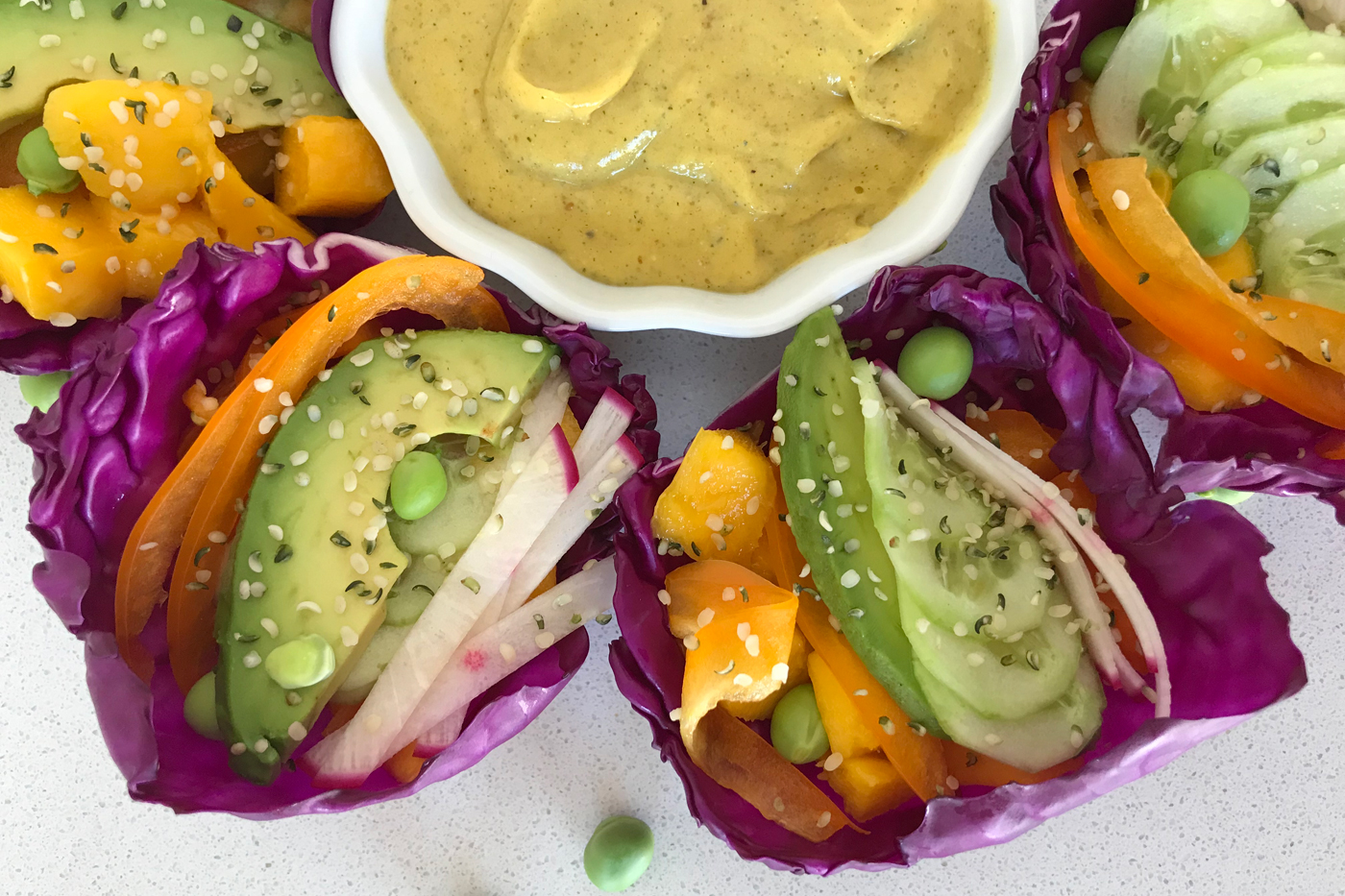 There are so many things to love about summertime…
One is the abundance of fresh local produce! Every time Nik and I visit the neighborhood farmer's market it feels like a trip to Willy Wonka's Chocolate Factory – so many vibrant, in-season fruits and vegetables calling our name! Last week we picked up a cute little purple cabbage, a handful of English peas, mini cucumbers and an oversized radish. With that, we decided to treat ourselves to a raw vegan taco dinner.
Eating raw (no-cook) foods during the summer comes pretty naturally to us. We crave the freshness and most of our meals during this time of the year are more a matter of assembly than actual cooking. After all fresh local organic and consciously prepared food is such a blessing to your body, mind, spirit and the planet. So we highly suggest to include more of those into your diet.
And on that note – let's check out the recipe…
Mango Lime Vegan Cabbage Tacos
A fresh, no-cook, nutrient-dense version of veggie tacos with creamy mango lime sauce.
Servings: 2
Ingredients
1  small head of red cabbage 2-3 leaves per person
1 ripe mango cut into small chunks
1-2 mini cucumbers thinly sliced
1 bell pepper thinly sliced
2-4 radishes thinly sliced
1  avocado
1/4 cup fresh English peas shelled
hemp hearts  for garnishing
mango lime sauce  below
Mango Lime Sauce
2 ripe mangos peeled and sliced
2 limes juice only
4 Medjool dates pitted
1-2 inch fresh ginger peeled
1/4 cup hemp hearts
1/2  tsp ground turmeric
1-2 tbsp  water optional
Instructions
Carefully tear your cabbage leaves away from the head of cabbage trying to keep them as whole as possible. Wash, set aside.

Wash clean all your other produce well, slice/chop to desired size and shape. Set aside.

Make your Mango Lime Sauce by blending all the sauce ingredients together in your food processor/blender until smooth. We enjoy the creaminess and thickness of this sauce as is but feel free to add 1-2 tbs water to achieve your desired consistency.

Fill each cabbage leaf with your veggies, sprinkle with hemp hearts and serve with mango lime sauce.

Enjoy all the beautiful flavours and make sure to chew well 😉
Notes
For best flavour, choose small peas, which are younger, sweeter, and more tender than large ones, and make sure they're as fresh as possible. If you can't find good fresh peas or you crave peas when the season's over, frozen peas are a terrific alternative.
These cabbage tacos make a fun and flavourful meal that takes about 15-20 minutes to prepare. You can use either purple or green cabbage leaves or butter or romaine lettuce for the taco shell.
If you're into fast and tasty Mexican-inspired dishes, be sure to check out this Simple Plant-Based Mexican Bowl.
If you try this recipe, let us know! Leave a comment, Pin for later, and don't forget to tag a photo #avrecipes on Instagram. Everybody needs to eat better so share this with your people. ❤
Love,