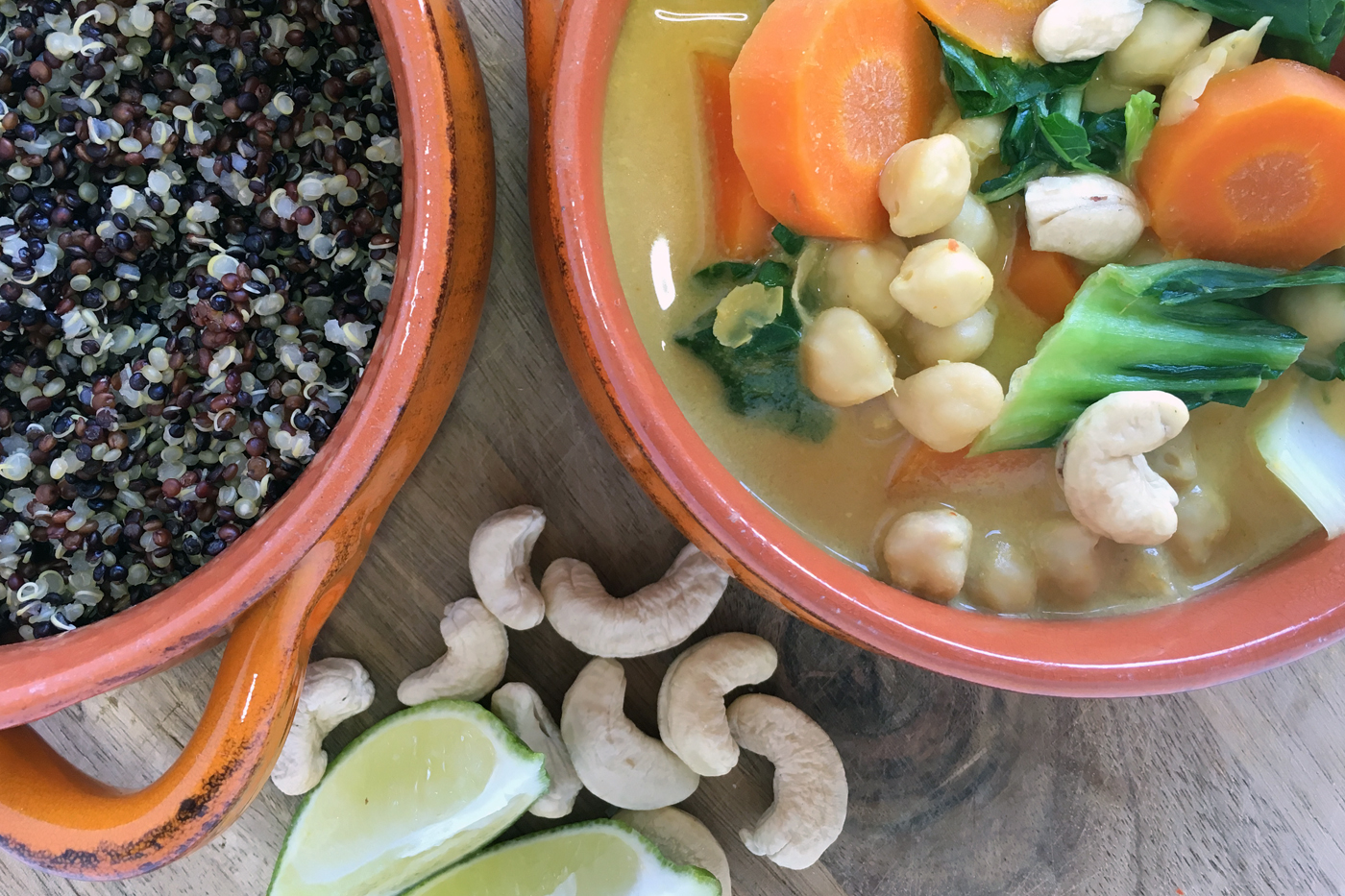 Curry is such a great weeknight quick fix dinner. It's a vibrant, one-pot dish, doesn't take too long, packs a ton of flavor, and does well when loaded with all kinds of local, seasonal veggies.
Hello friends, this is
Zuzana and today we have for you a new recipe and a GIVEAWAY! So let's get right to it. This curry creation is an adaptation from a new vegan cookbook we have recently received called The Vegan 8. You can find similar recipes of vegan creations on CookingPlanIt. They also review a lot of cooking wares and glasswares.
I have to admit I am a bit of an addict when it comes to books and each time we get a new plant-based cookbook in the mail I get excited! Looking through the pages, admiring the recipe creations, food photography and all the hours of work that went into making the book come to life gets me inspired…
As the name suggests all of the recipes in The Vegan 8 book are vegan and made using 8 ingredients or less, not counting salt, pepper or water. They are also allergy-friendly and nearly all are gluten-free, but more importantly, they are delicious, unique yet somehow familiar, considerate of time, and made with accessible ingredients. The book is for absolutely everyone, whether vegan, vegetarian, omnivore, health-conscious or not, it will get you excited to cook. This all-inclusiveness and approachability are so hard to achieve with a plant-based cookbook, but Brandi Doming of The Vegan 8 managed to do it!
We adapted the original Easy One-Pan Red Curry with Spinach and Carrots a bit by swapping the spinach for equally awesome and highly nutritious bok choy. If you have never cooked with bok choy before, we suggest that you give it a try. Thanks to its subtle sweetness and crunchy bite, bok choy is highly versatile (perfect for this flavourful curry recipe) plus it is packed with phytonutrients that help nourish and detoxify the body. We also decided to make a homemade red curry paste, however, if you are short on time you can find a decent one in the store or online. Just make sure to read the ingredient list and watch for any added sugars and ingredients you cannot pronounce 😉 You can, of course, experiment by adding all kinds of vegetables here, depending on what's in season/what you have on hand. Hope you'll give this one a try!
The Vegan 8
cookbook comes out on
October 16,
but you can
preorder it now
to save a few bucks and to support this amazing plant-based movement that is taking over the world 😉
---
G I V E A W A Y
We are giving away one copy of The Vegan 8 cookbook. To enter, leave a comment here telling us about your go-to recipe for this transitional time of year and a working email until Friday, October 19th, 2018. Giveaway is for U.S. and Canada only.
---
Easy One-Pan Red Curry with Carrots & Bok Choy
This is a great curry recipe for when you need something quick, easy, and yet still full of wonderful flavour. This is truly a
comfort in a bowl, and the one-pan method makes it simple. This dish comes together quickly, so be sure to have all of your ingredients prepped and ready to go before you start. You can serve this over quinoa or rice. The cashews add a lovely crunch to this dish, but you can omit them to make it nut free.
Prep: 15 minutes
Cook: 10 minutes
Yields: 4 servings
3 medium carrots, cut into 1⁄4-inch rounds (105g)
1-inch knob fresh ginger, peeled and grated (12g)
3 cups cooked chickpeas (510g) or 2 (13.5-ounce) cans low-sodium chickpeas, drained and rinsed
1 (13.5-ounce) can full-fat coconut milk
1⁄4 cup (60g) homemade red curry paste or an organic store bought kind
1⁄2 teaspoon (3g) sea salt
1 tablespoon (12g) coconut sugar
3 packed cups (84g) fresh bok choy (or spinach leaves), washed and chopped
1 tablespoon (15g) fresh lime juice
Optional: cashews and crushed red pepper for garnish
Add the carrots, ginger, and 1⁄2 cup (120g) water to a large pan over medium-low heat. Cook for 5 to 8
minutes, stirring occasionally, until the carrots are almost fully tender. Add more water if necessary, 1
tablespoon at a time, to keep the carrots cooking. Add the rinsed chickpeas, milk, curry paste, salt, and sugar,
and stir well.
Increase the heat to medium-high, and bring to a gentle boil. Once boiling, cover and reduce the heat to low, and
simmer for about 5 minutes or until the chickpeas and carrots are tender and the sauce has slightly
thickened. Stir in the bok choy and lime juice, and remove the pan from the heat, stirring until the bok choy is
wilted. Taste and add any extra lime juice or salt, if desired. Garnish with crushed red pepper for added
heat and cashews for a satisfying crunch, if desired.
For more curry dishes, be sure to check out our Quick + Easy Veggie Curry, Vegan Thai Curry In a Hurry, Tempeh Curry With Sweet Potatoes & Asparagus,Lemongrass Infused Butternut Squash Soup and Thai Curry Sweet Potato Soup !
If you try this curry, let us know! Leave a comment, Pin for later, and don't forget to tag a photo #avrecipes on Instagram. We would love to see your creations.
Eat a fresh organic plant-based whole food diet to lose weight, heal diseases and feel alive. A clean diet based on fruits, vegetables, sprouts, nuts and seeds is the best for us humans and the world at large. Share this message with the people in your life.
Dedicated to your health & wellbeing,