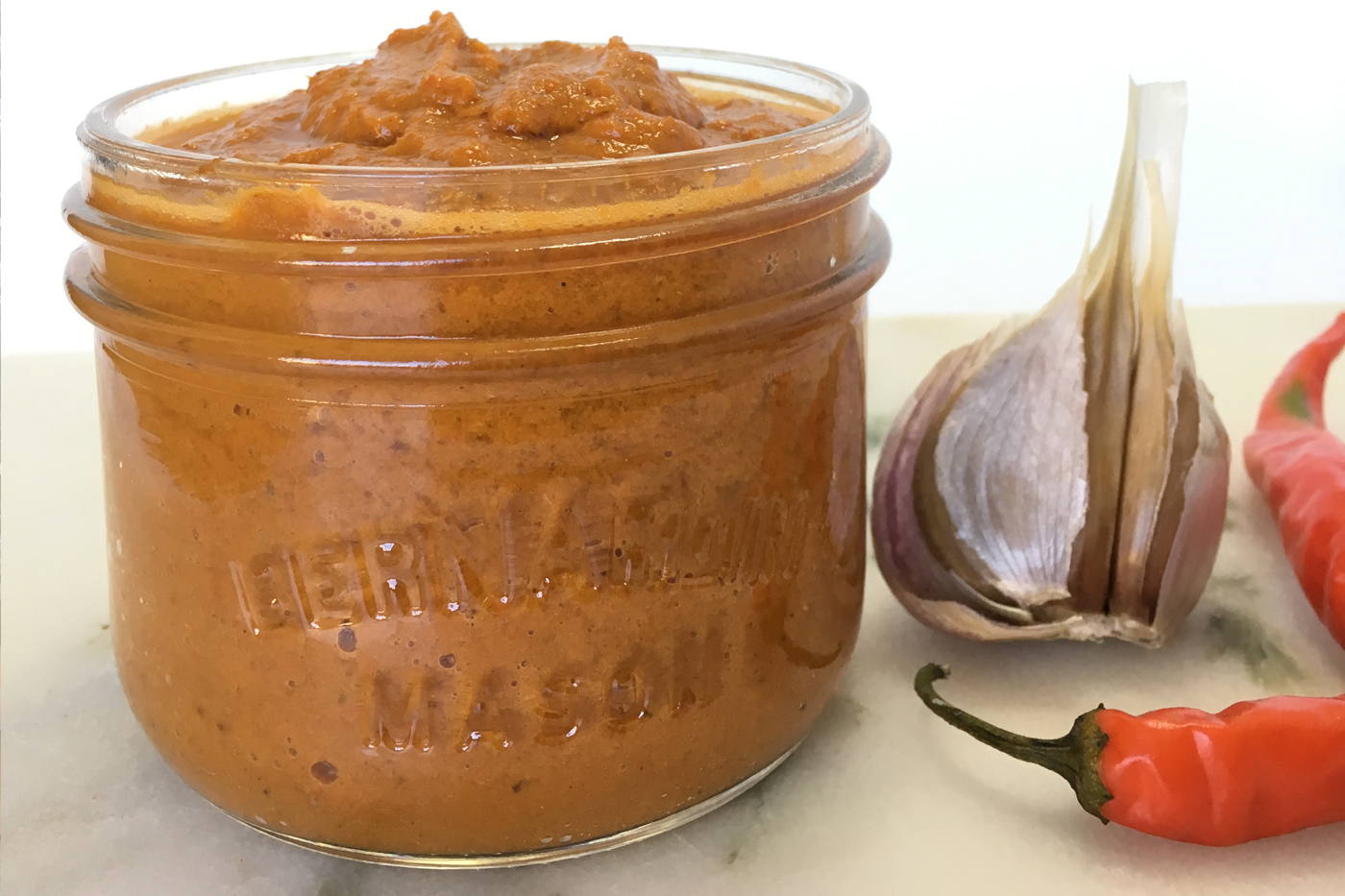 This is a recipe for a vegan homemade curry paste that uses 100% natural ingredients, takes only 15 minutes to make and tastes very authentic to the red curry dishes we so enjoyed during our travels in Thailand.
**This was before phones had good quality cameras 😛 **
Why exactly would you want to make your own curry paste instead of buying one from the store? There are several great reasons for investing your time and energy into making your own curry paste. For one like most homemade recipes, it's far fresher than anything store-bought. Secondly, you have full control of the ingredients so you don't have to compromise your whole food plant-based diet. Did you know that most store-bought versions of curry paste actually contain fish sauce? And if you ever tried to find a vegan kind, you know it can be difficult.Plus in a matter of 15 minutes, you can make a batch that will last you for months without the unnecessary preservatives and refined sugars!
This curry paste creates a great base for quite a few dishes. For example, you can take any leftover vegetables, simply add 1-2 Tbsp of this vegan red curry paste, mix in some coconut milk and in a matter of minutes, you will have a delicious curry on the table to enjoy. Or you can make a comforting soup similar to this one, perfect for a busy weekday dinner.
Here is one of our favourite recipes for using this red curry paste.
Easy Thai Red Curry Paste
Thai red curry paste is super easy to make, versatile and super delicious. Red pepper, sundried tomatoes and shallots make this recipe extra delicious. Loaded with turmeric, ginger, lime juice+ zest, and lemongrass, this paste tastes pretty authentic and you can freeze it in smaller portions then thaw and enjoy for a ridiculously quick mid-week meal.
Servings: 1 cup
Ingredients
1 shallot (or 1/4 cup chopped purple onion)
1 medium red bell pepper (seeds removed and chopped)
4 sundried tomatoes (washed and rehydrated for 5 min)
1 stalk fresh lemongrass (or 3 tbsp frozen prepared lemon grass, available in Asian stores)
1-2 red chillies (stems removed, could be replaced with 1/2 to 1 tsp. cayenne pepper)
4 garlic cloves
1 thumb sized piece of ginger (peeled and sliced)
1 " piece of turmeric (or 1 tsp ground turmeric)
1 tsp ground cumin (could also use cumin seeds)
1/4 tsp ground black pepper (could also use 1/4 tsp. black peppercorns)
1/2 tsp sea salt
1 tbsp coconut sugar (or maple syrup)
1-3 tbsp thick coconut milk (depending on how thick you want the paste; reserve remaining for cooking the curry)
1 organic lime zest + juice
1/4 tsp cinnnamon (optional)
Instructions
Place all ingredients in a food processor or blender and process well to create a fragrant Thai red curry paste.

If too thick, add a little more coconut milk to help blend ingredients.
Notes
Keep in mind that the paste will taste very strong, but will mellow when you add all the other curry ingredients (vegetables, chickpeas, coconut milk, etc).
The recipe is completely customizable depending on the desired heat level. Our variation can be considered about a "medium" heat level. For "mild" omit the red chillies, and for "hot" use 3 red chillies and add 1/2 teaspoon ground cayenne pepper (or to taste).
This recipe makes about 12 ounces (around a cup and a half) of curry paste, so you can keep some in your fridge (it will last about a month) and freeze the leftovers.
Everybody needs to eat better so share this with your people. ❤️
If you want more healthy Thai recipes that are quick and nutritious you might also enjoy Raw Vegan Pad Thai, Thai Curry Sweet Potato Soup or Vegan Thai Curry In a Hurry.
Dedicated to your health & wellbeing,