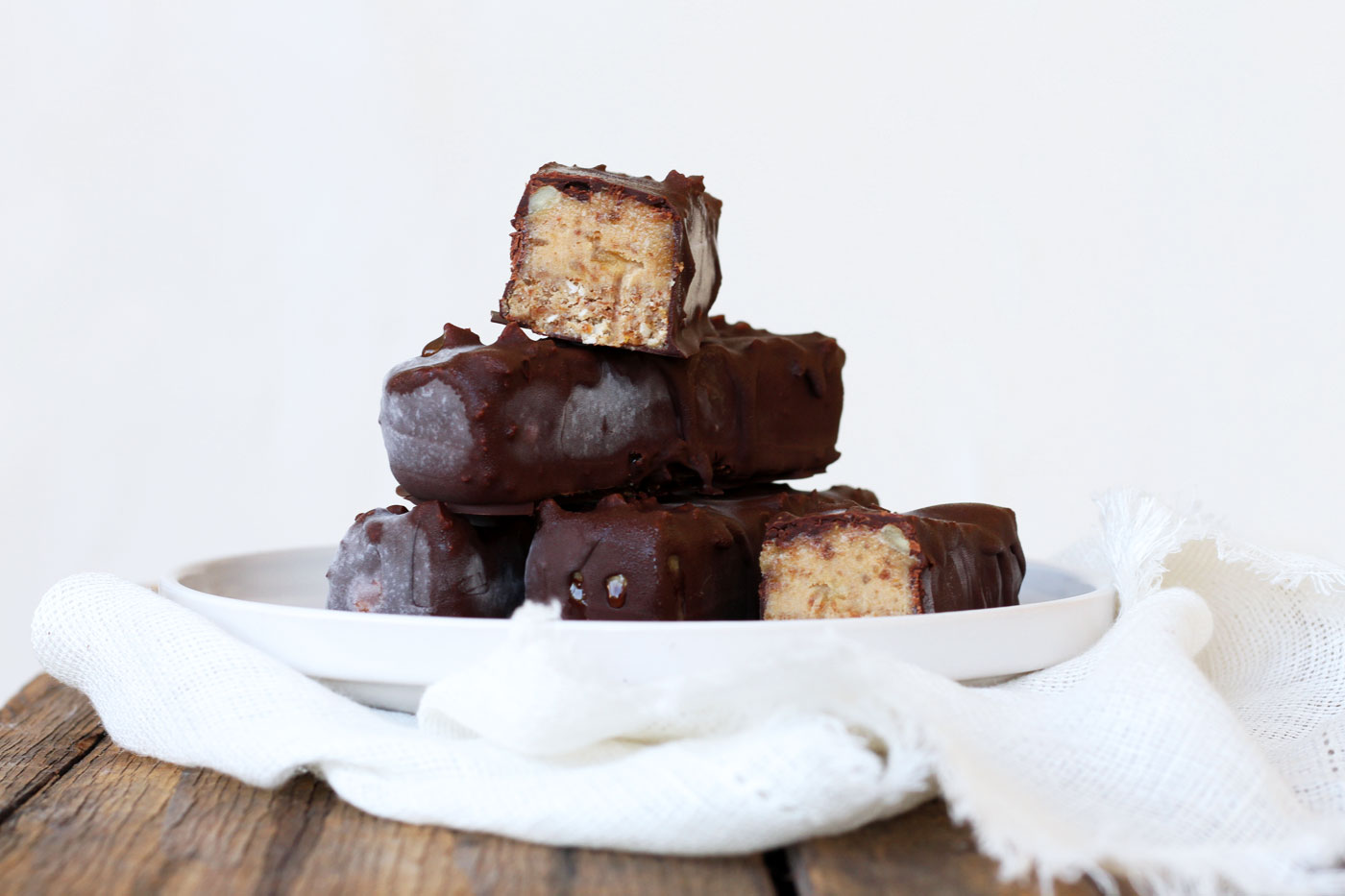 If you have our latest book Plant-Powered Athlete you may have tried our "vegan" version of the Twix Bar. This recipe was inspired by that. Whenever we make almond mylk we try to think of new ways to use the almond pulp, and it often ends up being bars, cookies or some other dessert to satisfy the sweet tooth. Though these are already packed with wholesome and nutritious, plant-based ingredients it's a nice touch to add some superfoods. In this recipe we included some Reishi powder, to enhance the nutritional profile (which is completely optional).
Why Reishi?
Reishi is packed with immune-modulating, anti-inflammatory, anti-allergic, anti-tumor, antioxidant and adaptogenic properties that treat a wide spectrum of ailments. It is a protective adaptogen that buffers the impact of physical, mental, and emotional stressors. This mushroom soothes anxiety, promotes better sleep, and fosters resilience to our modern-day stressors. ⁠It's no wonder this restorative adaptogen is gaining popularity in our busy modern world! You can learn more about it HERE.
Superfood Snickers Bars - Raw + Vegan
Servings: 8 bars
Ingredients
The Base:
7 medjool dates washed & pitted
1 1/2 cups of almond pulp from homemade nut mylk or can substitute with almond meal
1/4 cup ground coconut unsweetened
1/4 tsp ground cinnamon
1/4 tsp reishi powder optional
pinch celtic sea salt
Nut topping:
1/4 cup nuts of your choice (we used walnuts) chopped
Instructions
In a food processor add all the base ingredients and blend well. Press into the bottom of the parchment lined dish and place in freezer.

For the caramel, you can use the same food processor (no need to clean it) again, place all the ingredients in and blend until a caramel like texture has formed.

Remove the dish from the freezer and evenly spread the caramel on top of the base. Add any chopped nuts (optional) and gently press into caramel. Once you are done, cover with a lid and freeze for 2-4 hrs (we left ours overnight).

Once the base and caramel is solid so you can cut it - keep it in the freezer for now and start by melting your chocolate. If you have a double broiler - perfect! If not you will need a pot and a stainless steel bowl. Fill the pot with a few inches of water and bring to a boil. Once it has boiled place the stainless steel bowl over top and add in your chocolate.

While it is melting, remove the bars from the freezer, lift the parchment (bars) out of the glass dish and place onto a cutting board. Using a sharp knife cut them into bars about 1/2"-1" wide (your preference). Ours made about 7-8 bars. Line a baking sheet or dish with parchment paper for your coated bars to go on, later.

When the chocolate has fully melted, remove it from the heat and place it on a dish towel close to your bars. One by one, using a fork (lifting under the bar) place it into the chocolate and use a spoon to scoop the chocolate and evenly coat the bar. Once you are done lift the bar (using the fork) out of the chocolate, allowing it to drip any access. Then use a toothpick to slide the bar off of the fork onto clean parchment paper.

Once you have coated all of the bars with chocolate place the cookie sheet (or dish) into the freezer and allow them to settle. Once the chocolate has hardened they are ready to enjoy! You can have them as is straight from the freezer.
Notes
It's best to keep any leftover bars stored in an airtight container in the freezer. They will last for approximately 3-4 weeks, unless they get eaten before that 😉 
If you're into chocolate deserts, then make sure to try our Vegan Chocolate Salted Caramels, Raw Vegan Chocolate Banana Trifle or Chocolate Caramel Tarts – raw, vegan,gluten-free.
Dedicated to your health & wellbeing,