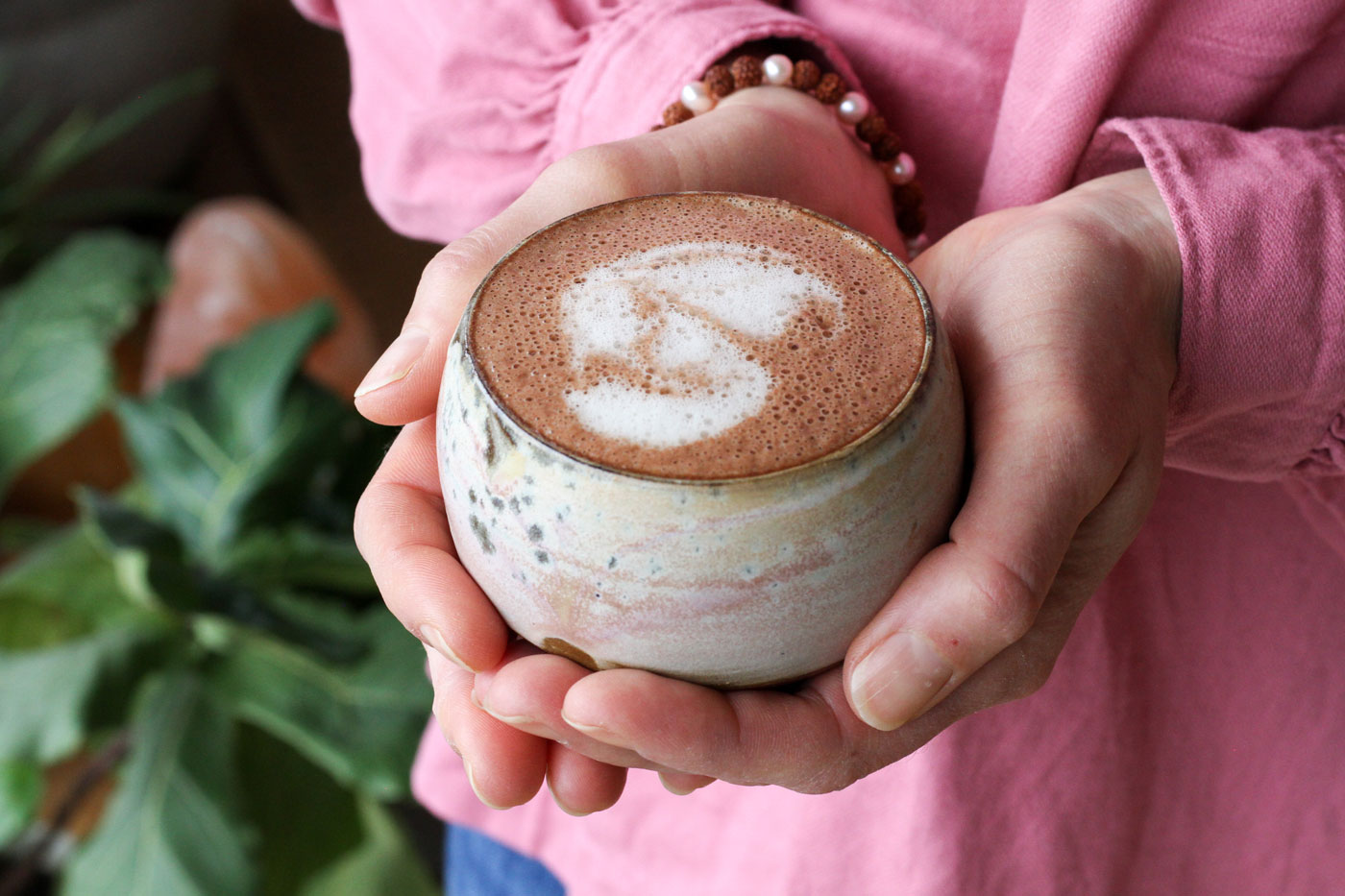 This hot chocolate is not your ordinary hot chocolate. It's loaded with herbs and superfoods which I will touch on later in this post. You can keep this recipe 100% raw by blending all ingredients in a high-speed blender such as Vitamix or Blendtech for 3-5 minutes on high and you will end up with a perfectly creamy and frothy hot chocolate. Alternatively, you can begin by boiling water and heating milk on the stove until just starting to steam. Then add all ingredients into a blender and blend until smooth and creamy. Either way, you will end up with a cup of decadent and nourishing hot chocolate.
Medical Foods
Over the past several years, Nik and I have learned ways to incorporate herbs and superfoods into our diet on daily basis. From smoothies, salads, juices, raw soups…you name it, we have found a way to sneak medical foods into our meals and this hot chocolate recipe makes it super simple to include extra immune-boosting herbs while satisfying those afternoon chocolate cravings. Now let me explain why and what each ingredient does for our health and wellbeing.
Raw Cacao
You don't need to feel guilty for enjoying small amounts of chocolate in your diet. Raw Cacao is full of minerals including magnesium, copper, manganese, calcium, sulphur, zinc, and iron. It contains essential, heart-healthy fats and antioxidant-rich flavonoids. It is one of the richest sources of antioxidants found in nature. Cocoa also helps promote overall cardiovascular health and longevity by lowering blood pressure and cholesterol, contributing to better circulation and increasing nitric oxide levels. Delicious and nutritious!
Medicinal Mushrooms
We've been hearing more and more about the health benefits of mushrooms in the past few years, but what exactly are "medicinal" mushrooms and what kind of benefits do they add to our diet? Medicinal mushrooms are a class of fungi with biologically active compounds that can have a significant therapeutic effect on our health. All medicinal mushrooms contain a polysaccharide called beta-D-glucan, which has been found to modulate the immune system. These mushrooms bring balance to an over-or under-active immune system. Each mushroom has an individual profile of benefits for the body, but it's safe to say when consumed regularly, these mushrooms have the potential to improve overall wellbeing, increase resilience, and protect against illness and disease.
Reishi: Grounding to the heart and mind.
Chaga: Boosts the body's defence system.
Lions Mane: Enhances focus and motivation.
Cordyceps: Builds stamina and strength.
Turkey Tail: Restorative and liver-supportive.
Tahini
Tahini is essentially a nut butter made out of sesame seeds, but it's much more magical than peanut or almond. Tahini contains more protein than milk and most nuts. It's a rich source of B vitamins that boost energy and brain function, vitamin E, which is protective against heart disease and stroke, and important minerals, such as magnesium, iron and calcium. It's also full of copper, zinc, and selenium – all essential for a healthy immune system function.
Cinnamon
Cinnamon is a common kitchen spice with several excellent benefits for the body. It provides support for the cardiovascular, digestive and immune system, as well as blood sugar regulation, antioxidants and a few minerals such as iron, magnesium, and zinc.
Celtic Sea Salt
Not every salt is created equal. The generic sea salt you find in the supermarket is often bleached and stripped from beneficial minerals. On the other hand, raw sea salt (like Celtic Sea Salt) is often grayish-white and contains 4 trace minerals – essential nutrients for the body that many people are very deficient in. It is great for adrenal fatigue and a little goes a long way.
Medicinal Hot Chocolate for Immune Support 
dairy-free, sugar-free ||Creamy, chocolatey goodness. Indulge in this guilt-free hot chocolate made with herbs and superfoods that will support your immune system and fight off the blues. It is the medicinal hot chocolate mix of your dreams. 
Servings: 2 servings
Ingredients
1 cup nut milk or coconut milk
1/2 cup hot water
2 Medjool dates pitted
2 tbsps raw cacao powder
1 tbsp raw tahini or nut butter of choice
1 tsp mushroom powder such as Chaga, reishi, cordyceps, lions mane, turkey tail etc.
1/2 tsp cinnamon
pinch of Celtic Ssa salt
Instructions
Raw Version
Place all the ingredients into a high-speed blender and blend until the carafe is warm to the touch. Enjoy right away!
On the stove
Heat milk on the stove until just starting to steam - don't boil!

Add all ingredients (including hot milk) into a blender and blend on high until smooth and frothy. Pour into a mug and enjoy.
Notes
This hot chocolate is even more enjoyable when shared with a friend. So go ahead double the recipe and share the love.  
Harmonic Arts is our trusted source for top-quality, wild-harvested herbs, seaweed, medicinal mushrooms, loose teas and more! We have been using their products for years and love the quality and variety it offers. The owners are very knowledgable and inspiring, and their customer service if top notch! If you purchase directly from their website use the code: ZuzanaF15 to receive 15% off your order.

If you enjoyed this medicinal hot chocolate, you will love these recipes:
Maca Powder Smoothie – Maca Rush
Powerful Homemade Wellness Shots – Flu, Iron, and Skin
Turmeric Golden Latte
Dedicated to your health and wellbeing,