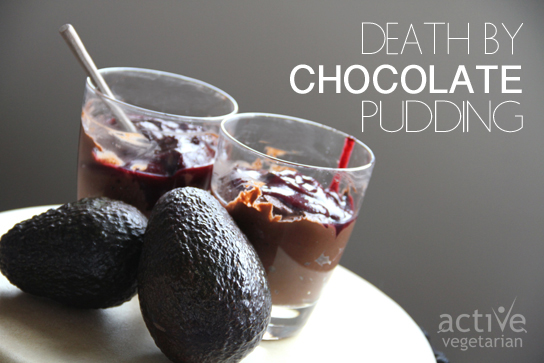 When you CRAVE a rich, decadent chocolate treat but don't want to blow your day with preservatives and sugar, this easy vegan chocolate avocado pudding recipe is the one to reach for!
It is so creamy and oh-so-healthy! It has the nutritional goodness of raw cacoa powder and avocado, without added sugar or dairy, making it diabetic friendly! You can quickly and easily blend this up in 30 seconds with a Blendtec or Vitamix blender, and get an extra creamy consistency!

INGREDIENTS
2 ripe avocados
1 large ripe banana
1/2 cup unsweetened cocoa or cacao powder
1/2 cup natural peanut butter
4 pitted dates or 2 TBS maple syrup
INSTRUCTIONS
Add all ingredients into a food processor and blend until creamy and smooth. Add some dairy-free milk to thin/help blend. Add more cocoa powder for a richer chocolate flavor. Add more sweetener of choice to enhance sweetness. You can also add vegan chocolate if you want.
Divide between 4 small serving glasses, cover with plastic wrap and chill for a few hours, or overnight.
Optional: Before serving, top with blueberry cardamon sauce.
Blueberry Cardamom Sauce:
INGREDIENTS
1 cup fresh or frozen blueberries
2 pitted dates
1 tablespoons maple syrup
1/2 teaspoon cinnamon
Zest of 1 lemon (about 1 tablespoon)
generous pinch cardamom
INSTRUCTIONS
Put all the ingredients in a blender, mix until smooth.
Don't forget to join our community for more healthy recipes . If you tried this easy pudding recipe– tell us how you liked it in the comments below!