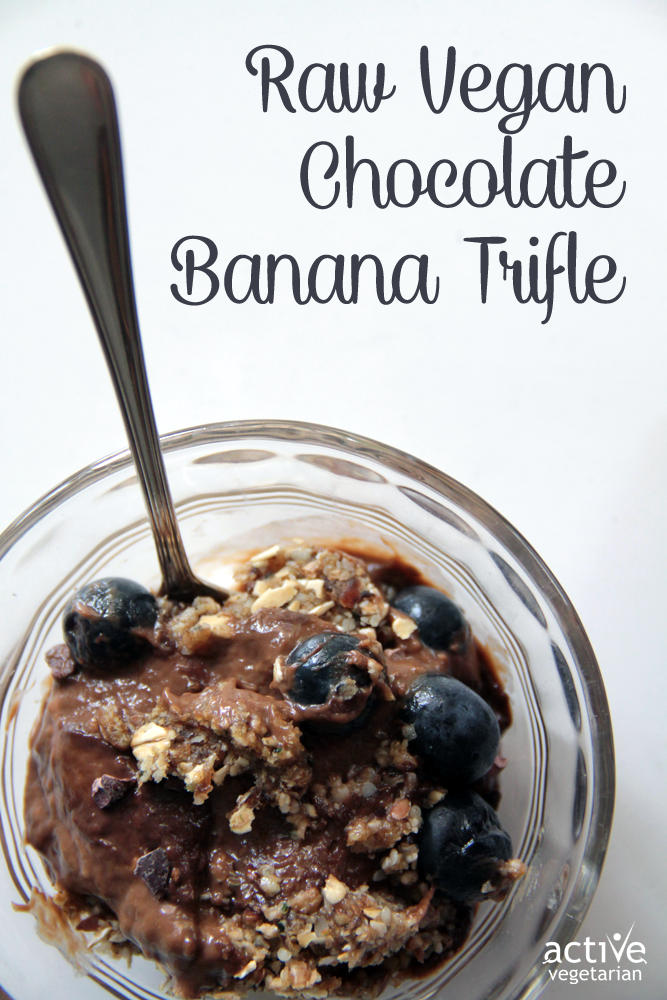 This dish came out just great!
Deeply rich creamy chocolate pudding, mixed with sweet local berries inside gluten free raw crust. Best of all it's so clean and wholesome, you can enjoy it for breakfast, lunch, dinner or anytime in between 😉
In the glass dish this cake is so pretty with it's dark chocolate and fruit layers. When you scoop it out into a bowl it's not so pretty anymore…but I think that is half the fun! Kids would absolutely love this treat – as you are actually supposed to make a mess .
Raw Vegan Chocolate Banana Trifle
Servings: 4
Ingredients
Crust
1/4 cup chia seeds
1/2 cup warm water
22 pitted dates
1/2 large oats gf
1/2 raw hemp seeds
Moose mixture
2 medium size ripped avocados
3 ripe organic bananas
1/4 cup coca powder
1/4 maple syrup
2 cup fresh berries
2 Tbs raw cocoa nibs optional
Instructions
To make the crust
Soak chia seeds in warm water for 10 min to create chia gel.

Process the oats in a food processor or blender until it resembles flour.

Slowly add the dates,hemp seeds and chia gel.

When the ingredients stick together, press them into a glass bowl. You will have enough to create a crust all around a medium glass bowl.
Now make the mousse part
Process 2 and 1/2 bananas, both avocados, cocoa powder and maple syrup for about 10 min or until you end up with creamy, smooth pudding like texture.

Fill your crust with half of this moose mixture

Layer with 1 cup of fresh berries (or any fresh fruit of your choice)

Cover the berries with rest of the moose.

Decorate with berries, sliced bananas and cocoa nibs.

Refrigerate for few hours.
Notes
Ideally you should make this cake trifle a day in advance and refrigerate.