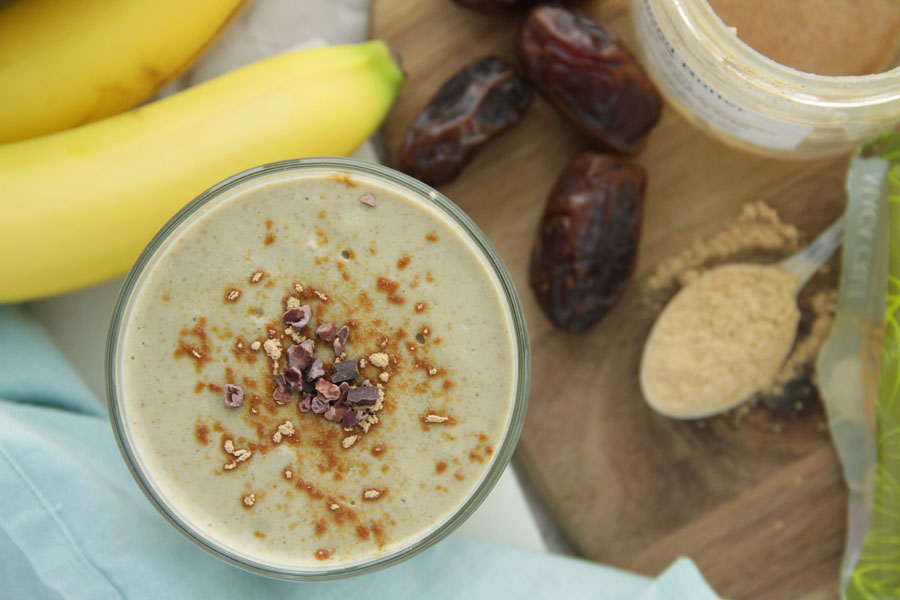 Today we are sharing one of our favourite maca powder smoothie (also a great post workout smoothies to fuel the body) — Maca Rush. It was inspired by one of our local smoothie joints here in Vancouver.
Now I hope you are ready for a real treat! This maca powder smoothie is rich, creamy, perfectly sweet and so so nourishing!
#PLANTPOWERED INGREDIENTS:
MACA powder
Maca (also called "Peruvian ginseng") is a cruciferous root vegetable from the Andes, it's an adaptogen, which means it can help the body adapt to stressors. For centuries people have been using it for everything from enhancing their fertility to boosting their immune system or libido, but most people simply love the non-caffeinated burst of energy they get from putting maca in their smoothies. The pleasant tasting root is usually available in powder and you will find it in most health food stores. Just one teaspoon in your smoothie once or twice a day can do amazing things.
Here are our top five reasons we supplement with maca:
Energy
Many people report that regular use of maca makes them feel more awake, energized and driven – often relatively quickly after beginning to use it. Personally the thing I like about maca is that it does not give me the "jitters" or a sense of shakiness like high levels of caffeine do. Try it and feel your mood and energy level lift almost instantaniously.
Sex Drive & Fertility
A review from 2010 that included four randomized clinical studies with a total of 131 participants found evidence that maca improves sexual desire after at least six weeks of ingestion, if you are looking to improve your sex life, check this hands free vibrator which you and your couple may like. Not only is maca a good way to promote male sperm count and fertility; it is also good for both partners to actively eat maca in order to have a better chance of potential pregnancy.
Migraines
If you suffer from migraine headaches you might want to try maca. Because most migraines are related to an imbalance in hormone levels, or fluctuating hormone levels, maca works by leveling out those levels. Maca doesn't create any hormones in the body – it just helps the body produce them more consistently and effectively.
Support During Menstruation
Maca has also been traditionally used for helping relieve menstrual symptoms. Central to this is Maca's effect on stabilising mood and hormone levels. It's high nutrient density may also be part of the reason, as it provides key vitamins and nutrients that may help relieve cramping and other menstrual pain.
Stress
For people with adrenal stress from work, disease, exercise or PTSD, maca can reduce the effects of cortisol on the adrenal glands and other organs so impacted by a "Type A", high pressure lifestyle or job. Athletes, executives and anyone with an active life will appreciate how maca helps address the destructive actions of mental, emotional and physical stress on the body.
Maca Powder Smoothie -- Maca Rush
Servings: 1
Ingredients
1 cup almond mylk or nut mylk of your choice
1 frozen banana
1 tsp organic maca powder
2 medjool dates pitted
1 Tbs almond butter
1 tbsp vegan protein powder see notes
pinch of Celtic sea salt
Instructions
Add all ingredients to your high-speed blender and blend until smooth. Add more or less almond milk for consistency.

Enjoy.
For more information on healthy workout meals/nutrition, check out our posts:
healthy snacks before and after workout