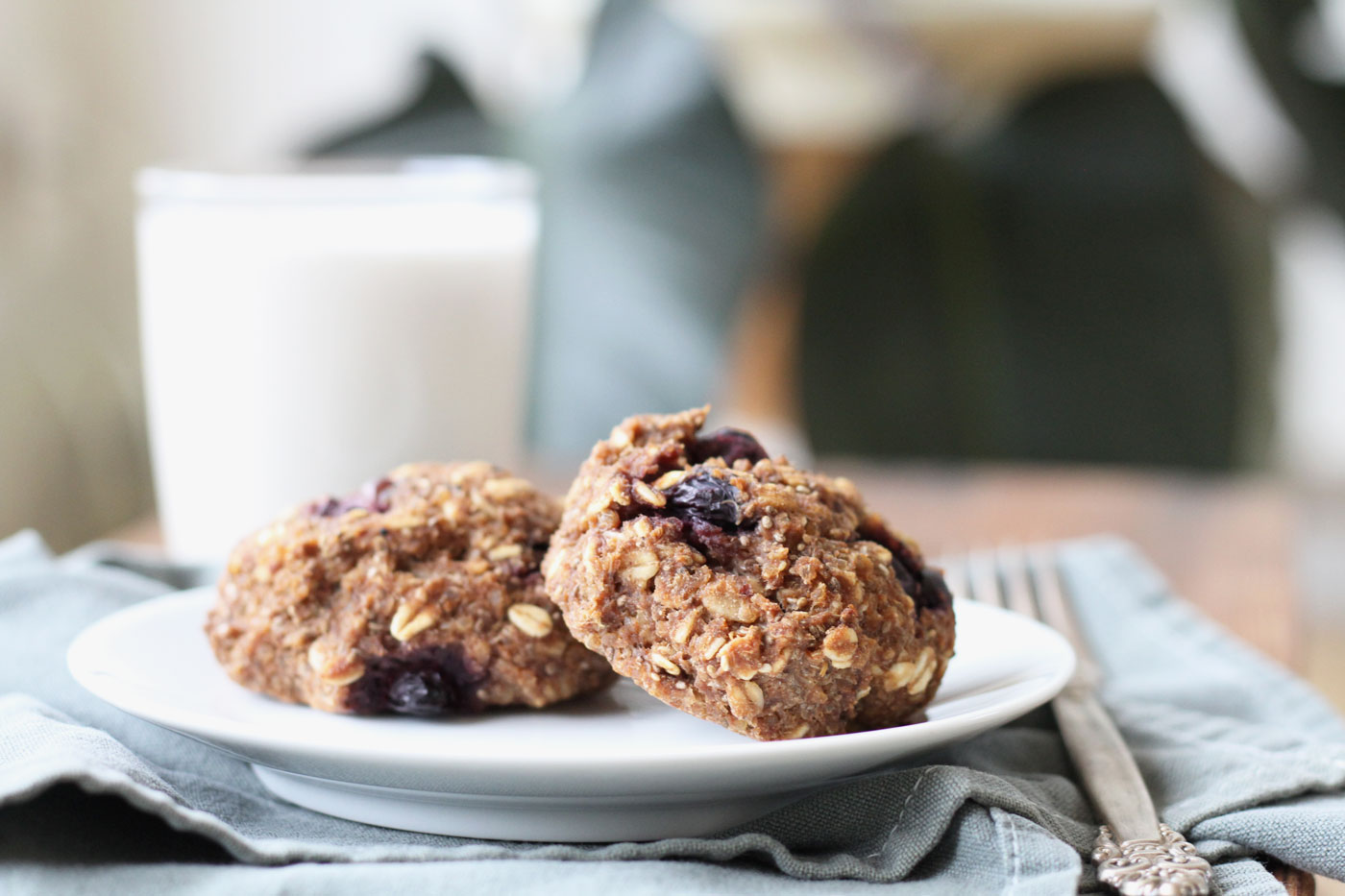 "What can you eat for breakfast on a plant-based diet?"
If you've been introducing more whole food plant-based meals into your diet, you may be wondering how to keep things interesting and healthy at the same time. A plant-powered breakfast is a great start to your day and if done right it can give you the energy you need to get your day going without weighing you down.
Fruit, fresh juices, and smoothies are always great options, however, some days you just might want something more substantial. Like a Quinoa Blueberry Breakfast Scone!
Quinoa Blueberry Breakfast Scone - vegan, GF, 9g protein, 6g fibre 
Quinoa Blueberry Breakfast Scone is a delicious, quick and easy vegan breakfast that's loaded with plant protein, healthy fats, antioxidants, fibre, and they are naturally sweet! Vegan, gluten-free.
Servings: 8 scones
Ingredients
1 cup dried organic apricots processed into a paste refer to instructions
1 cup cooked quinoa refer to instructions
2 chia eggs 2 Tbsp chia seeds mixed with 6 tbsp warm water, let sit for 5 min
1 cup old-fashioned rolled oats
1/2 cup almond meal or almond pulp
1 cup frozen or fresh blueberries
1/3   cup raw almond butter or other nut butter of choice
1/8 cup unsweetened almond milk or water
1 tsp cinnamon
1 Tbsp lemon zest optional
Instructions
Before You Begin:
Place dry apricots into a glass bowl and with them with cold water. Allow it to soak for 4-6 hours. Remove apricots from soaking water and reserve the liquid. Place apricots in a blender or a food processor and process until a smooth paste. If needed, adjust consistency with some of the reserved water.

Cook quinoa according to package direction. 1/3 cup dry, 2/3cup liquid = 1cup cooked.
Directions:
Preheat oven to 350 degrees F. Line a baking sheet with a non-bleached parchment paper.

Mix together chia seeds with warm water and set aside (stir every so often while following the next steps). Chia seeds as an egg-replacement should be gooey, not watery, like the consistency of an egg.

In a medium mixing bowl, stir together quinoa, oats, almond meal/pulp and blueberries.

In a separate mixing bowl, add almond butter, apricot paste, chia eggs, almond milk/water, cinnamon, and lemon zest if using.

Stir until combined.

Gently fold in dry ingredients and stir well.

Spoon the mixture onto a prepared baking sheet. Alternatively, you can use a small muffin pan and fill each muffin cup almost to the top.

Bake in a preheated oven for 30 minutes, rotating the sheets about halfway through until the scones are deep golden brown on the bottom and browned on top.

Allow the scones to cool for at least ten minutes before serving. These are best served fresh from the oven, but they also taste good the next day. Feel free to make a big batch of these in advance, freeze them and reheat as desired. If serving the next day, you can place them, covered, in the fridge.
Notes
Perfect for breakfast, pre-workout snack, your child's lunchbox or a day out hiking!
Looking for more healthy plant-powered breakfast ideas? You might enjoy our Apple Cinnamon Overnight Oatmeal, 3- Ingredient Flourless Vegan Pancakes or Strawberry Maca Shake.
Dedicated to your health & wellbeing,