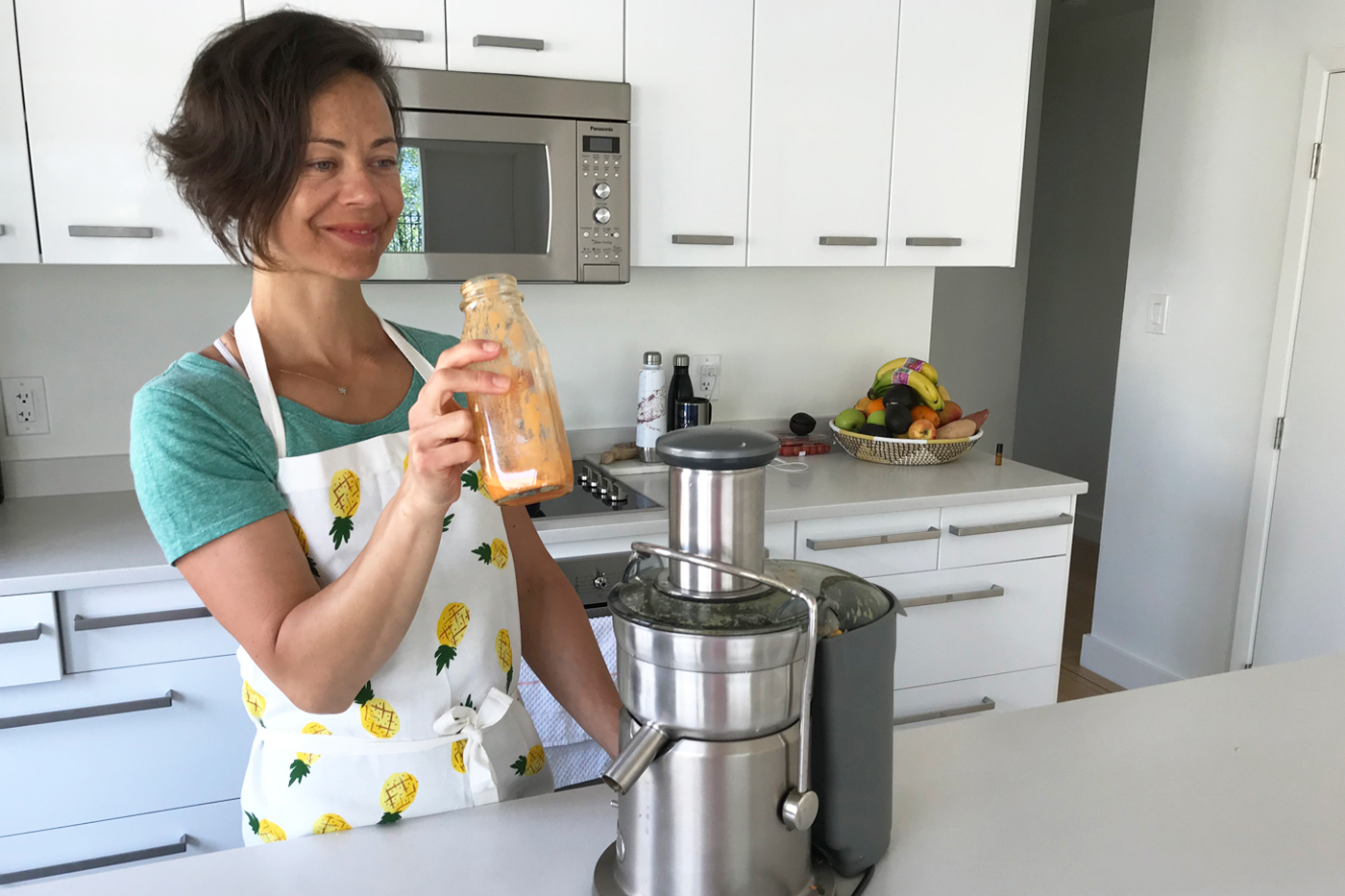 Today we are sharing this recipe of the best juice for cold and flu. It has the nutrients your body needs to stimulate the immune system, help you feel better, and recover quickly.
Have a cold? A runny nose? A sore throat? Maybe even a touch of fever?
No need to panic.
Yes, in a perfect world we would NEVER get sick. But the reality is, that our "modern" day lifestyle often carries extra stress and pressure which could take a toll on our immune system and sometimes we might feel a bit under the weather, presented with a cold or perhaps even the flu.
Nikki and I are firm believers in prevention before treatment. Keeping your body clean and well nourished is a must if you want to reach vibrant health. However, this could be a topic on its own. Today we want to share with you to our go-to "medicine" that has the power to kick the cold & flu quickly so you can get on with life!
Did you know…
….that fasting while you have a cold or flu can help speed up the healing process? When you feel under the weather, it's a great practice to reduce your food consumption. This way your body can focus on healing, without having to spend extra energy on digesting food. However, at the same time, it's important to supply your body with the right kind of nourishment so it can effectively defend against whatever is attacking your system. Drinking fresh vegetable and fruit juices is a great way to support the body and provide it with an abundance of vitamins and minerals that are easy to digest and absorb.
Most of the times people neglect to brush, and this is one of the main reasons which cause oral and throat problems. As the manifestation of bacteria can not just harm your throat but and also it'll weaken the immune system in the body which can cause severe health problems thus causing problems in your overall body. If you want to know the health of your oral hygiene and want to ensure that its health, then I would suggest you check out Smiles By Glerum and book an appointment with them.
Now let's look at this simple recipe we find very effective for healing the cold or flu naturally:
Best Juice for Cold and Flu
Best Juice for Cold and Flu
This is truly the ultimate cold and flu tonic. Juicing is an easy way to supply your body with tons of vitamins, antioxidants and minerals, without burdening it with the work of digestion. This Cold and Flu Busting Juice recipe has the nutrients your body needs to stimulate the immune system, help you feel better and recover quickly.
Servings: 1
Ingredients
2 oranges
5 carrots
1 green apple
1 lemon
1 in 2.5 cm piece of ginger
1/8 tsp or more cayenne pepper
Instructions
Wash all produce.

Peel the oranges and lemon and remove the stem and seeds from the pepper.

Add all ingredients through the juicer.

Pour the juice into a glass bottle and add the cayenne pepper.

Close the lit, shake well and sip away!
Notes
You can also substitute the orange for grapefruit - if you'd like. We prefer drinking this juice 2-3x day for several days or until symptoms go away.
This juice is:
MUCUS ELIMINATING
SINUS CLEARING
COLD CURING
IMMUNE BOOSTING
INFLAMMATION FIGHTING
The wonderful nutritional benefits of this juice:
Carrots, orange, apple and lemon are great sources of a natural form of vitamin C and will help strengthen the immune system.
Carrots also contain a series of compounds that are antiseptic and antibacterial. These elements not only support our immune system, they also give us energy. Juice from carrots stimulates the white blood cells to once again fortify our immune system and by strengthening our immune system, we are better able to fight against external viruses.
Ginger helps fight inflammation and provides yet another boost to our immune system. It is a great source of antioxidants.
Cayenne Pepper is a perfect remedy for opening your nasal passages allowing you to get rid of both nasal and throat congestion. In addition to it, cayenne pepper reduces the chest pain and throat irritation and assists your body with the nutrient absorption.
We hope this juice provides you with relief and helps speed up your recovery. It's extremely simple, easy to make, loaded with vitamins and minerals to support your body, and is our go-to healing remedy.
If you give it a try, let us know what you think! Leave a comment, rate it, and don't forget to tag a picture #avrecipes on Instagram! We'd love to see your juice in action.
Healthy nutrition and regular check-ups are a perfect combination to keep you well as long as possible.
For more green juice recipes make sure to see:
Lemon & Greens Juice – Immune Building
Green Juice – Prevent and Manage Diabetes
Be well, friends!