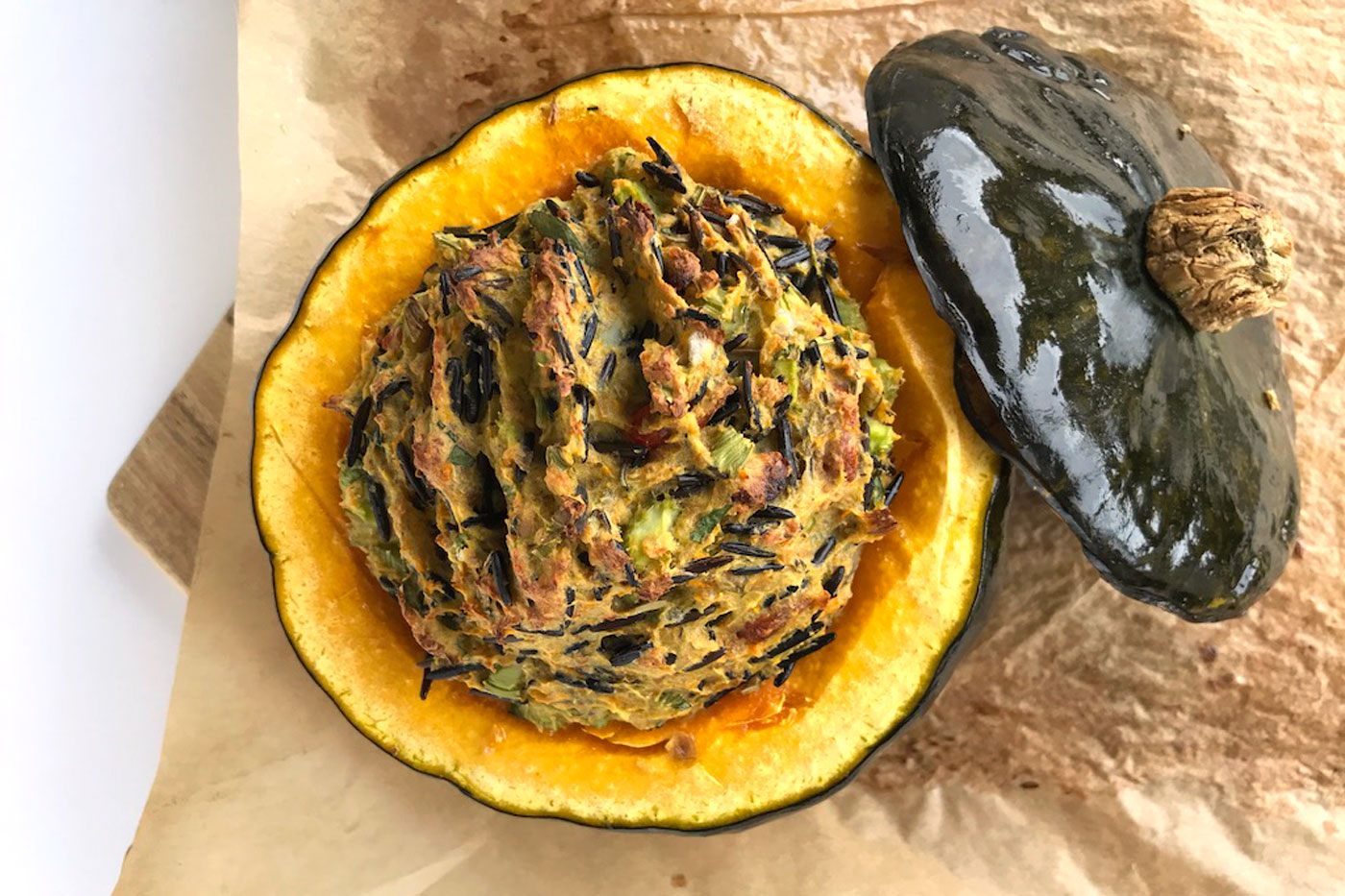 Let's celebrate this holiday season by returning to eating real food!
Nikki and I have been on the plant-based journey for over 20 years now and we can honestly report that the powers of whole living foods helped us to awaken & become more conscious beings. So the fact that veganism is finally becoming mainstream is exciting to us! Every day we see more people opening their mind to the idea of an animal-free diet and conscious living. Our job as health coaches is to ensure that this shift to this plant-based lifestyle is a positive, healthy and sustainable one.
This holiday season we want to offer you a lovely main course recipe that will be a showstopper at your dinner table. This Stuffed Kabocha Squash, filled with a fragrant mixture of wild rice, veggies and herbs, will have even meat eaters saying, "Who needs a turkey?" We are grateful for the fact that we live in a society and environment that allows us to thrive without the consumption of animal products and that we have the ability to share our experience with you lovely people.
Now let's get cooking…
PS. Don't be intimidated at the thought of preparing such a masterpiece—it doesn't require any superhero skills to prepare this kind, enlightened, and wonderfully-healthy dish 😉
Veggie-Stuffed Squash
A great choice for a vegan main dish for Thanksgiving, Christmas, or any holiday. Stuffed with flavourful wild rice celery, goji and herb filling. Gluten-free, vegan, vegetarian, dairy free.
Servings: 4
Ingredients
1 large kabocha squash
1 large yam cooked & mashed
1 cup wild rice cooked
2 1/2 tablespoons ground flaxseed + 5 tablespoons water for flax egg
1/2 cup celery diced
3 cloves garlic minced
2 tbsp goji berries
1 tbsp Italian herbs
Sea salt & Pepper to taste
2 1/2 tablespoons ground flaxseed + 5 tablespoons water for flax egg
Instructions
Prep:
Yam: Wash the yam, place it in a saucepan, cover with water and place the pan on a medium to high heat. Bring the water to a boil, cover the saucepan and allow the yam to continue a gentle boil for about 20 to 30 minutes. The yam is done when you can pierce it easily with a knife. Mash the yam with a fork.

Wild rice: Place 1/3 cup wild rice, into 1 cup water in a saucepan with a lid over medium-high heat.

Put the lid on and bring it to a boil. Turn the heat down to low and let it simmer for 40-45 minutes. You will know that it is cooked when some of the kernels are burst open.

Drain excess liquid.
Stuffed squash
Preheat the oven to 400 degrees Fahrenheit.

Line a sturdy baking sheet with parchment.

Mix the water and flaxseed meal together in a small bowl, set aside for at least 10 minutes (this makes 2 flax eggs). It will gel up.

Wash and scrub the kabocha squash well under running water.

Using a strong knife, cute the cap off of the squash (like a Jack-o-Lantern).

Clean the kabocha squash of seeds and string.

Place the mashed yam, cook wild rice, flax egg, diced celery, minced garlic, goji berries, herbs, salt and pepper in a large bowl and mix it all together.

Stuff the kabocha squash with the mixture, being careful not to overstuff. (You may have some stuffing left over.) Top stuffed squash with the cap.

Transfer squash to the parchment-lined baking sheet and cook for 46-60 min. Remove the cap and continue to cook for an additional 15-30 minutes, until the flesh of the kabocha squash is soft and easily pierced with the tip of a knife.

To serve, either slice wedges from the squash like a pie or scoop out servings, being careful to scoop out the kabocha fresh with the stuffing.
Notes
Serve hot with a side of Green Salad.
If you have trouble finding a kabocha squash, this will work wonderfully with any winter squash - buttercup, hubbard or butternut would be the best ones.
You can also make things faster by using an eggplant or zucchini instead of the squash!
You can eat the squash skin. Not only does the skin help hold the shape of the squash, but the squash is roasted long enough that the skin becomes very tender and there is no need to peel it off.
This truly makes a wonderful holiday addition to your dinner table and if you are looking for more festive recipes then get inspired with some of our popular creations like the Vegan Moussaka with Eggplant and Lentils, Greek Style Spaghetti Squash Pasta and Lentil Quinoa Loaf.
If you try this Veggie- Stuffed Squash, let us know! Leave a comment, Pin for later, and don't forget to tag a photo #avrecipes on Instagram. We would love to see your creations.
Dedicated to your health & wellbeing,