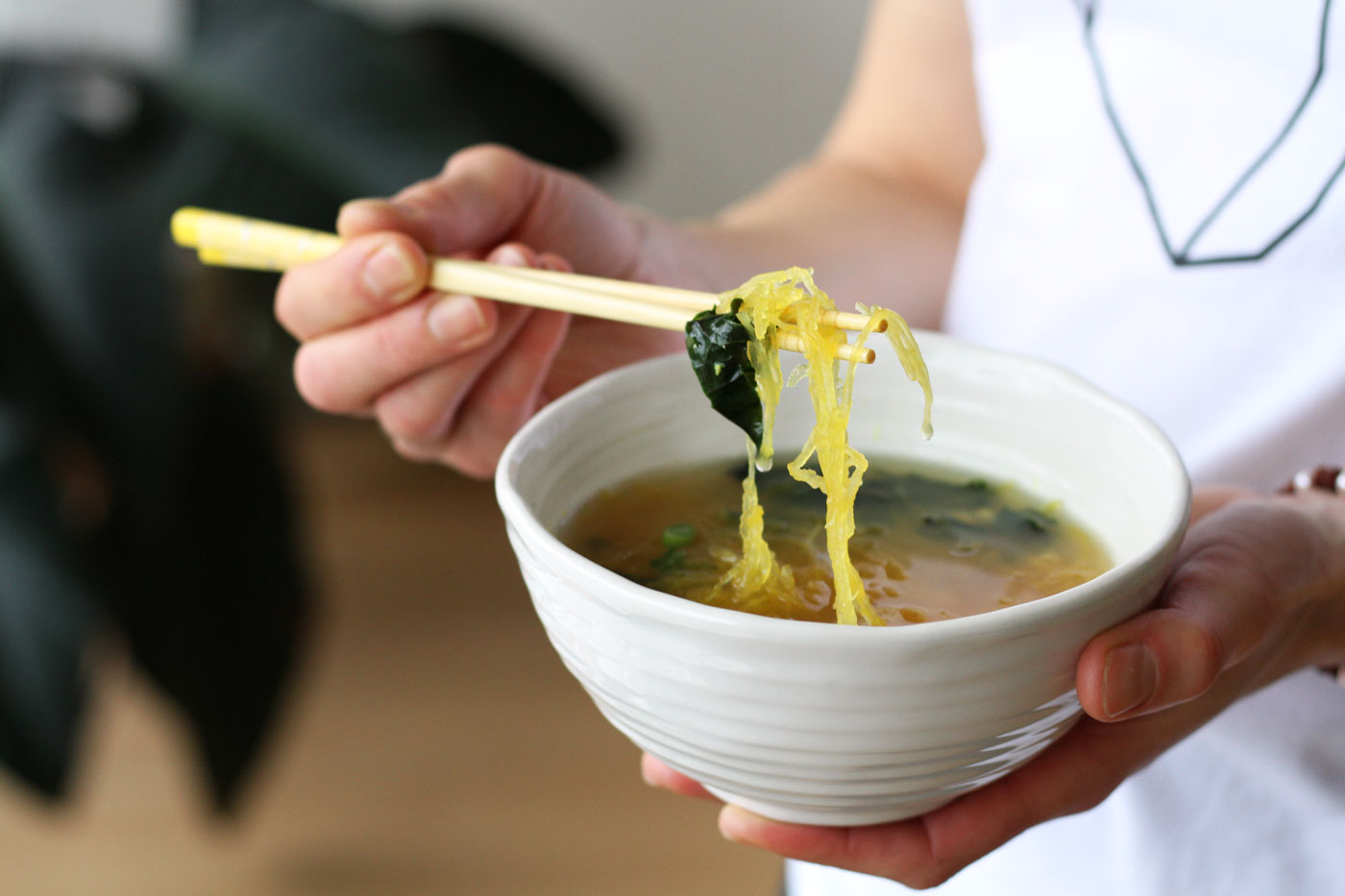 This soup is so easy to make – you simply roast garlic and chop some beautiful green vegetables that you have on hand. Then throw them in a pot together with miso paste and other herbs. You wouldn't think that such a simple soup could taste so delicious and have so many healing benefits…..
What makes this soup the perfect healing soup?
It's the ground turmeric, ginger, and garlic, all known to be fabulous immune-boosting, anti-viral and anti-inflammatory ingredients. It also has that kick of spice from the red pepper flakes to clear a stuffy nose. AND as already mentioned it is loaded with fresh vegetables and dark leafy greens so it's packed with nutrients. For fun, we added spaghetti squash noodles, but feel free to skip them or adjust this recipe in any way that you see fit.
What is miso? Miso is a thick paste made from fermented soybeans, barley, rice malt or chickpeas. It is mostly used in Japanese cooking to make soups or sauces.
What are the health benefits of miso?
Because miso is fermented and contains live active cultures, it's a great source of probiotics. The probiotics found in fermented foods boost the beneficial bacteria in the gut, increasing immunity and improving digestion.
Like other probiotic foods such as sauerkraut, kimchi and coconut yogurt, miso helps to activate specific enzymes found in beans and grains that allow you to absorb the available nutrients that they provide. These include copper, manganese, B vitamins, vitamin K and phosphorus. Plus, it is also a decent source of plant-based protein, with over 3 grams per ounce.
Servings: 4 servings
Ingredients
2 heads of garlic
2 Tbsp  olive oil
thumb-size piece ginger minced
6 cups of water
3  Tbsp  chickpea miso or organic soy miso (see note)
2 Tbsp lemon juice
pinch of red pepper flakes to taste
Himalayan salt to taste
2 tsp turmeric powder
4 cups kale destemmed and chopped (or rainbow chard or any other dark leafy green)
Optional:
seaweed of choice (see pro tip)
green onions chopped optional
1-2 cups spaghetti squash cooked
Instructions
Start by roasting the garlic. Preheat oven to 400 degrees F.

Peel the outer skin from the garlic head, leaving the cloves intact in their casings. Peel gently and carefully to ensure no garlic cloves get separated from the head.

Slice the top part of the garlic head off, leaving the cloves exposed. All of the cloves need to have a small portion exposed to roast properly, so check around the edges and slice off any additional clove tips as needed.

Place bulbs cut side up on a piece of parchment paper or a tin foil.

Drizzle one tablespoon olive oil over each bulb.

Close the parchment paper or tin foil by folding up the edges and squeezing them together at the top and fold over, or bring up the sides and fold over while pinching and folding the ends.

Bake for 45 – 50 minutes. Let cool for 10 minutes.

Next, squeeze garlic bulbs into a large pot and break it down a bit with the back of a wooden spoon. Add ginger, water, and seaweed if using and turn heat to medium-low.

In the meantime, whisk together the miso paste, lemon juice, red pepper flakes, salt and ground turmeric in a medium bowl until it becomes a sauce. You may need to add a little bit of water (a tablespoon at a time) to thin out the miso but the lemon juice might be enough.

Add your miso paste into the pot and stir to incorporate. Add in greens and let wilt until deep dark green, about 5 – 10 minutes.

Don't allow the soup to come to boil, as the excess heat will harm the beneficial bacteria.

At this point, you can also add spaghetti squash noodles and green onion.

Stir well to combine and serve immediately.

Leftovers can be refrigerated in a glass jar with a lid for or up to 4 days. Reheat the soup over low heat until warmed through, do not boil!
Notes
You can use organic light miso made from soybeans for this recipe. Since we limit our soy intake, we prefer using chickpea miso instead. You can also try using brown rice miso.
PRO TIP:
Adding seaweed such as wakame, nori or dulse into your soup will increase the nutritional benefits. Seaweed is full of essential minerals and vitamins that our body needs and often doesn't get from a regular diet. You can find all kinds of dehydrated seaweed in health food stores these days. Simply crumble some in your soup, wait a few minutes and it will add lots of valuable trace minerals. Looking to boost your immune system? Make sure to keep your diet clean and healthy by incorporating more immune supporting foods.
Try some of our other healing recipes:
Dedicated to your health & wellbeing,