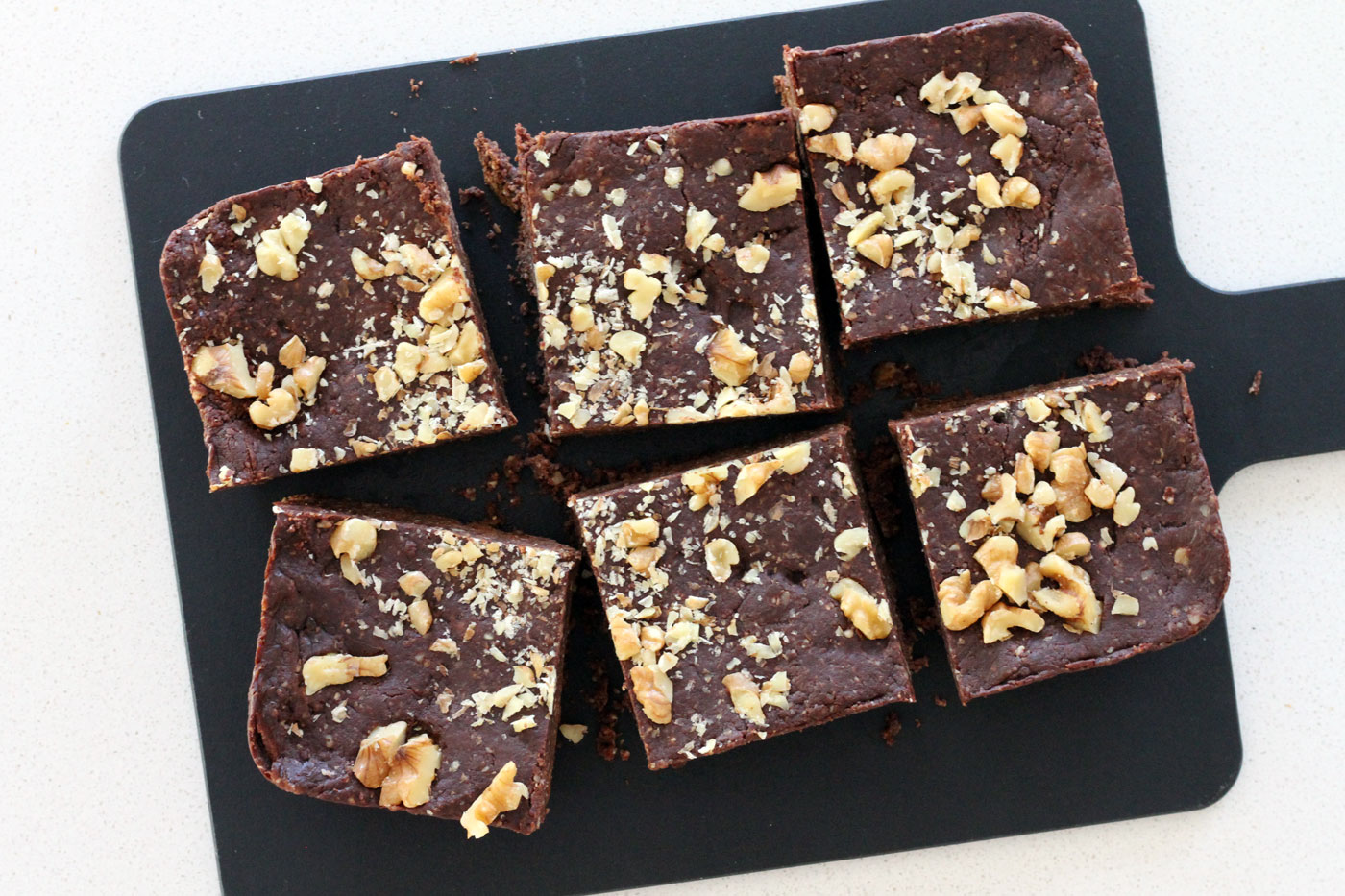 raw | vegan | gluten-free
You know…over the years we have tested and shared with you a couple of brownie recipes on our site. We've got ones with pumpkin purée (just trust us), and the popular Vegan Tiramisu Brownies …and that is it! So we decided to fix that pronto! Plus, to be honest, I have always been a chocolate lover, but since I started my healing journey, I have kept this yummy temptation off my menu. How sad is that? Everyone needs some chocolate in their life once in a while!
Like most "no-bake" brownies, these are simple and quick – you just need a food processor (I have/love this one) or a high-powered blender (such as the Vitamix).
This recipe would be wonderful to make ahead and have tucked away in the freezer. When unexpected guests show up at your door, pull out a tray of these yummy brownies and be prepared to wow everyone. Be forewarned…these treats are very rich, so a small sliver will satisfy even the most dedicated chocoholic! We hope you enjoy this recipe.
HEADS UP
I want to point out that cacao powder contains theobromine — a compound in the same family as caffeine, and theophylline (an asthma drug). It can stimulate the central nervous system and dilate blood vessels. So if you are sensitive to caffeine, or if you are staying away from caffeine for various health reasons – be watchful in how your body may or may not react to raw cacao.
Walnut No Bake Brownies
~ raw, vegan, gluten-free ~
Ingredients
Wet Ingredients
1 tsp tamari or 1/4 teaspoon Celtic sea salt
¼ cups almond butter or other raw nut/seed butter
⅓ cups coconut butter
4 large medjool dates pitted
1 tablespoon water as needed to achieve texture
For Texture
½ cup raw walnuts chopped
Instructions
In a food processor combine the dry ingredients and pulse.

Add the wet ingredients and blend to combine. The mix should stick together in the food processor, but not be so moist it forms a ball. If you think it needs more liquid, add 1 tsp at a time, process and add more if needed.

Pulse through 1/2 the walnuts right at the end.

Line a small square baking dish or storage container with a parchment paper -- mine was L 18cm x W 11cm

Press the brownie mix into the dish and smooth it down with the back of a spatula or a spoon.

Chop the remaining walnuts roughly and press into the top of the brownies.

Pop in the fridge or freezer to set, about 10-20 mins.

Cut and serve or store in an airtight container in the fridge for up to 2 weeks or in the freezer for several months.
Dedicated to your health & wellbeing,
Zuzana & Nikki