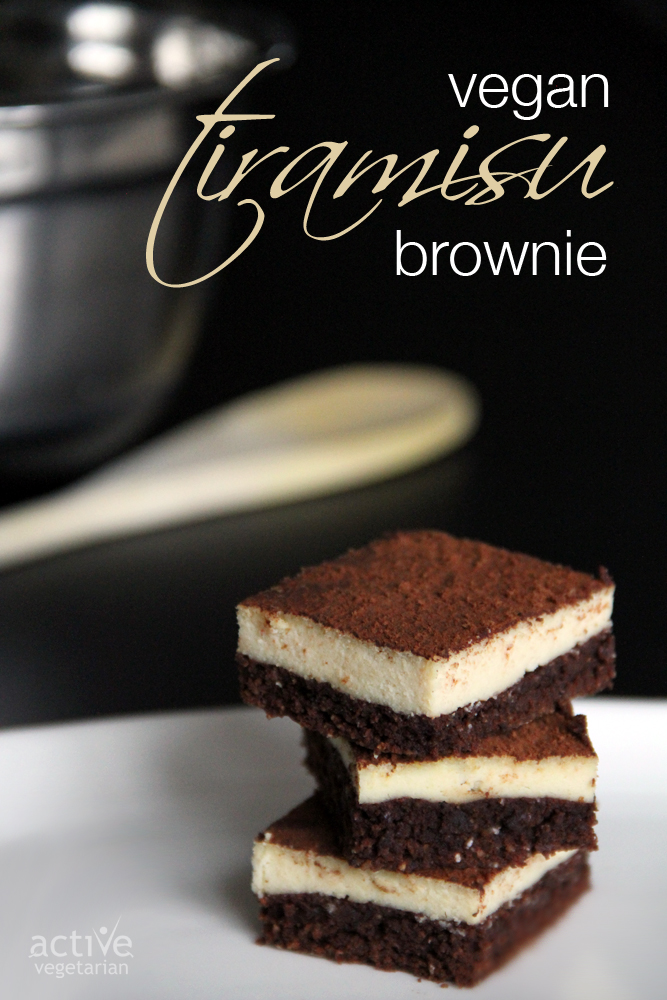 What's better than dessert?
How about 2 desserts in one? These Tiramisu Brownies are sure to be a crowd pleaser. The Brownie is dense and fudge-y with an intense chocolatey flavor, and hint of coffee you can get from single brew coffee tea bags. Only to be topped off with a creamy tofu "cheesecake" that will fool everyone. Historical records state that Tiramisù originated in Treviso in 1800. It is said that this dessert was invented by a clever "maitresse" of a house of pleasure in the centre of Treviso.
For more great recipes like this, or some inspiration – follow us on pinterest:
Vegan Tiramisu Brownies (gluten-free)
When 2 become 1... Vegan chocolate fudge-y brownie meets creamy cheesecake!
Ingredients
Dry
1/2 cup oat flour
1/4 cup rice flour
2 Tbsp cocoa powder
1/4 tsp baking powder
Wet
1 Tbsp flaxmeal freshly ground flaxseeds
2 Tbsp non dairy milk
1/4 cup + 2 tbsp maple syrup depending on how sweet you want it
1/3 cup dark vegan chocolate I usually buy an organic drk choc. bar rather than chips
1 tsp vanilla extract
1 tsp soaked finely ground coffee even check the coffee maker for left overs
2 Tbsp coconut oil
2 Tbsp dark vegan chocolate chips I breakup the leftover choc. bar
Cheesecake
1/2 package 8oz firm tofu
2 Tbsp rice flour
2 Tbsp coconut oil
3 Tbsp maple syrup
1 tsp vanilla extract
1-2 Tbsp lemon juice or to taste
Instructions
Preheat the oven to 350*F

Line an 8"x8" pan with parchment paper

Brownie: In a bowl, add all the dry ingredients and mix well. In a pan heat non dairy milk and maple syrup until hot. Next add the dark chocolate until fully melts. Add the rest of the ingredients and mix well. Add the wet mixture into dry and mix to combine. Mix in chocolate chips if desire. Spread the prepared batter in pan using a spatula to a level it.

Cheesecake: Lightly squeeze the excess water out of tofu and start to blend in food processor. Add the remaining cheesecake ingredients blend until smooth. Taste and add more lemon juice if you desire. Drop the blended batter onto brownie batter. Spread evenly with a spatula.

Bake for 40 to 45 minutes or until the center is set and the edges of the cheesecake start to get golden.

Sprinkle with cocoa powder.

Cool completely and slice.
Enjoy!
Nikki & Zuzana