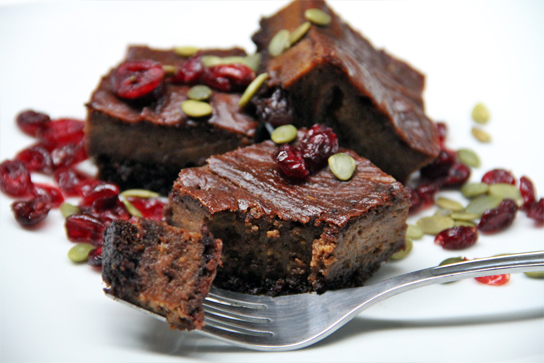 Brownie Batter:
1 cup spelt flour
1 tsp baking powder
2 tsp baking soda
1 tsp sea salt
2 tsp cinnamon
1 cup coconut oil
6 oz unsweetened chocolate
1 cup maple syrup
1 Tbsp pure vanilla extract
1 tsp maple extract
3/4 cup pureed pumpkin
1 Tbsp balsamic vinegar
8 oz dried cranberries
Cheesecake:
16 oz vegan cream cheese
1/2 cup pumpkin puree
1/2 cup maple syrup
1 tsp maple extract
1 tsp pure vanilla extract
1/4 cup spelt flour
2 tsp cinnamon
Directions:
Preheat oven to 350 degrees. Line a 9×13 inch pan with waxed paper.
Mix all of the dry ingredients together and set aside. In a medium pot heat the chocolate and coconut oil until melted and well combined. Stir in maple syrup, vanilla, maple extract and pumpkin, and mix until well combined. Next add the balsamic vinegar and cranberries and add to the dry ingredients. Pour into prepared pan.
In a food processor combine all of the "cheesecake" ingredients until well blended. Using a spatula spread the mixture over the brownie batter. Take your spatula and begin to make swirl patterns through the batter (see below).
Bake for about 50 minutes until set, when a toothpick inserted into the center comes out fairly clean. Let cool in pan, then lift foil out by the edges and cool on a rack. Let set for at least an hour, then cut into bars.
Enjoy!