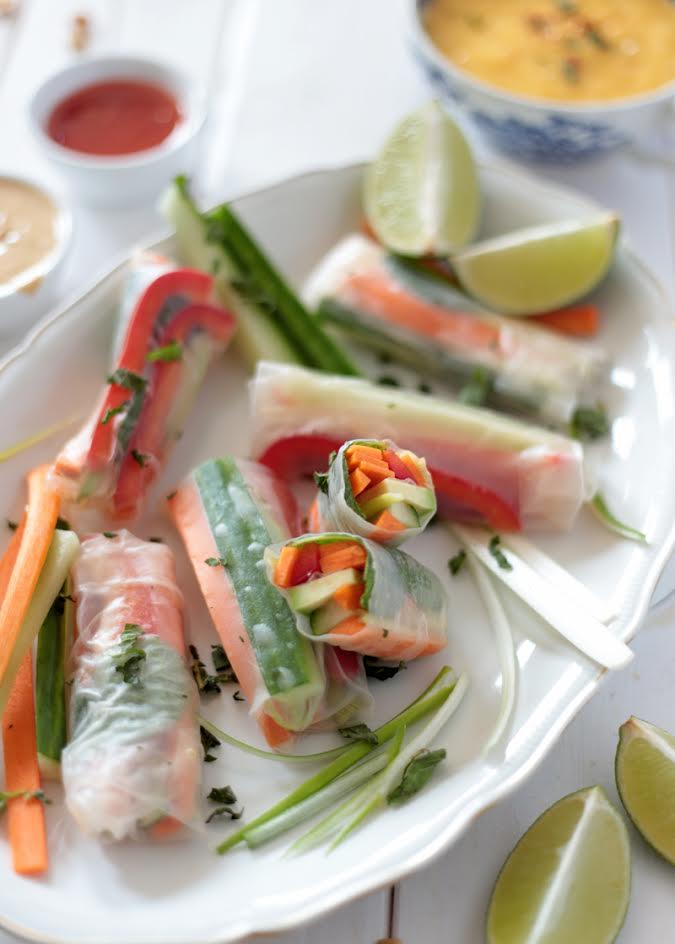 Today we are excited to share with you a guest post from Green Evi.
"I am so glad to be here at the awesome Active Vegetarian and to share with you one of my favorite recipes! I am Evi, a photographer, food enthusiastic, animal lover and the girl behind the blog
Green Evi
. I've created my blog to combine my passions: plant-based food and photography, and to help everybody adopt healthy habits in their everyday life. I would love to show how simple it is to make delicious seasonal, affordable and healthy food.
These Vietnamese spring rolls are super delicious. They are light, but filling, healthy and totally satisfying. Also easy to make – there is no cooking involved. Eating and making these spring rolls are a really fun get together activity. I usually just put every ingredient to the middle of the table, this way everybody can prepare their own rolls (it also saves a lots of time for me). You can also prepare all the rolls by yourself, but do it right before serving to keep the rolls fresh or wrap them immediately in plastic wrap and keep in fridge until serving.
This is really a recipe where you can be totally creative! You can add whatever you fancy to these little rolls, they will be just amazing.
My favorite fillings are:
Carrot, Cucumber, Bell Pepper, Lettuce, Spring Onions, Beetroot, Fresh Peas, Sprouts
Quinoa, Rice noodles
Tofu, Tempeh, Beans
Cilantro, Mint, Basil, Parsley
Peanuts, Sesame Seeds, Cashews
And my favorite sauces are:
Spicy Mango Sauce
Crunchy Peanut, Cashew or Almond Sauce
Simple Soy Based Sauces
Vietnamese Spring Rolls with Mango & Peanut Sauce
Ingredients
12 small rice spring roll papers or 6 large ones
1 bell pepper
2/3 cucumber
1 large carrot
1/2 sliced avocado
2 spring onions
1/2 cup of fresh basil
1/2 cup of fresh mint
for the spicy mango sauce
1 mango
1 small chili
5-10 mint leaves
1 clove of garlic
3-4 tbsp water
salt pepper
for the crunchy peanut butter sauce
1/3 cup of peanut butter
2 tbsp soy or tamari sauce
1 tbsp maple syrup
1 lime juice
1/4 cup of water
small handful of peanuts
Instructions
Slice veggies thinly and prepare the sauces.

For the mango sauce add every ingredients to a food processor and blend until smooth.

For the peanut sauce add peanut butter, soy sauce, maple syrup, lime juice, roughly chopped peanuts and water to a small bowl and and whisk to combine. You can also use a food processor to have a smoother sauce.

Fill a skillet or a shallow dish with warm water and dip a rice paper for about 10 seconds. Transfer to a plate or cutting board.

Add about a handful of filling to the bottom half of each rice paper. Fold the sides inward, then roll the rice paper. Repeat until your fillings are used up. Enjoy!