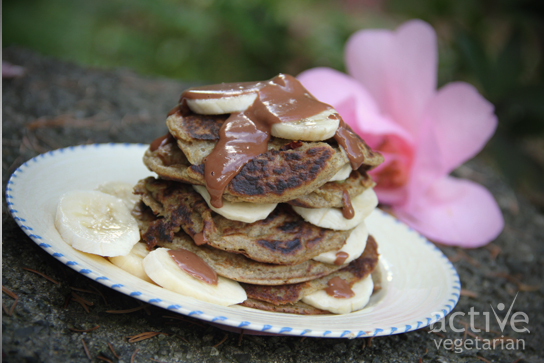 Peanut butter, Chocolate, Banana Pancakes
Our latest pancake creation uses a classic combo of peanut butter, chocolate and banana. These are gluten free, vegan pancakes with a lovely peanut butter taste and chunks of banana rather than it being mashed.
Oh and if you make too many (can you though? Can you ever make too many pancakes?), they can always be stored in a glass tupperware container and keeping in the fridge
for up to a few days.
Serves: 3-4
Ingredients
For Pancakes:
2 c gluten free flour
2 Tbsp raw sugar
1 Tbsp baking powder
¼ tsp salt
¼ c s coconut oil, melted
1¾ c plain, unsweetened almond or soy milk
½ tsp vanilla
For Chocolate PB Sauce:
4 ounces dark organic chocolate , chopped
4 tablespoons natural peanut butter
4 tablespoons coconut milk
2 teaspoons vanilla extract
Instruction
Pancakes:
In a large bowl, sift together flour, sugar, baking powder, and salt.
Mix in coconut oil until mixture resembles coarse meal.
Add milk and vanilla and whisk until mixture is relatively smooth.
Heat an ungreased, nonstick skillet over medium-high heat. It's hot enough when a drop of water flicked across the surface immediately sizzles.
Pour ⅓ cup of batter into the center of the pan. Cook until the edges start to look dry and visible air bubbles have just started to form near the center of the pancake.
Flip and cook the other side until golden.
Remove from pan and place on a serving plate, covered with a cloth to keep the heat in.
Repeat until remaining batter is used up.
Serve hot, with sliced bananas and chocolate peanut butter sauce.
Sauce:
Place chocolate, peanut butter and coconut milk together in pot on medium heat stirring constantly until melted.
Remove the pot from heat and add the vanilla. Blend well, cool slightly — best served warm.
Store any remaining sauce in the fridge.
Enjoy
Zuzana & Nikki