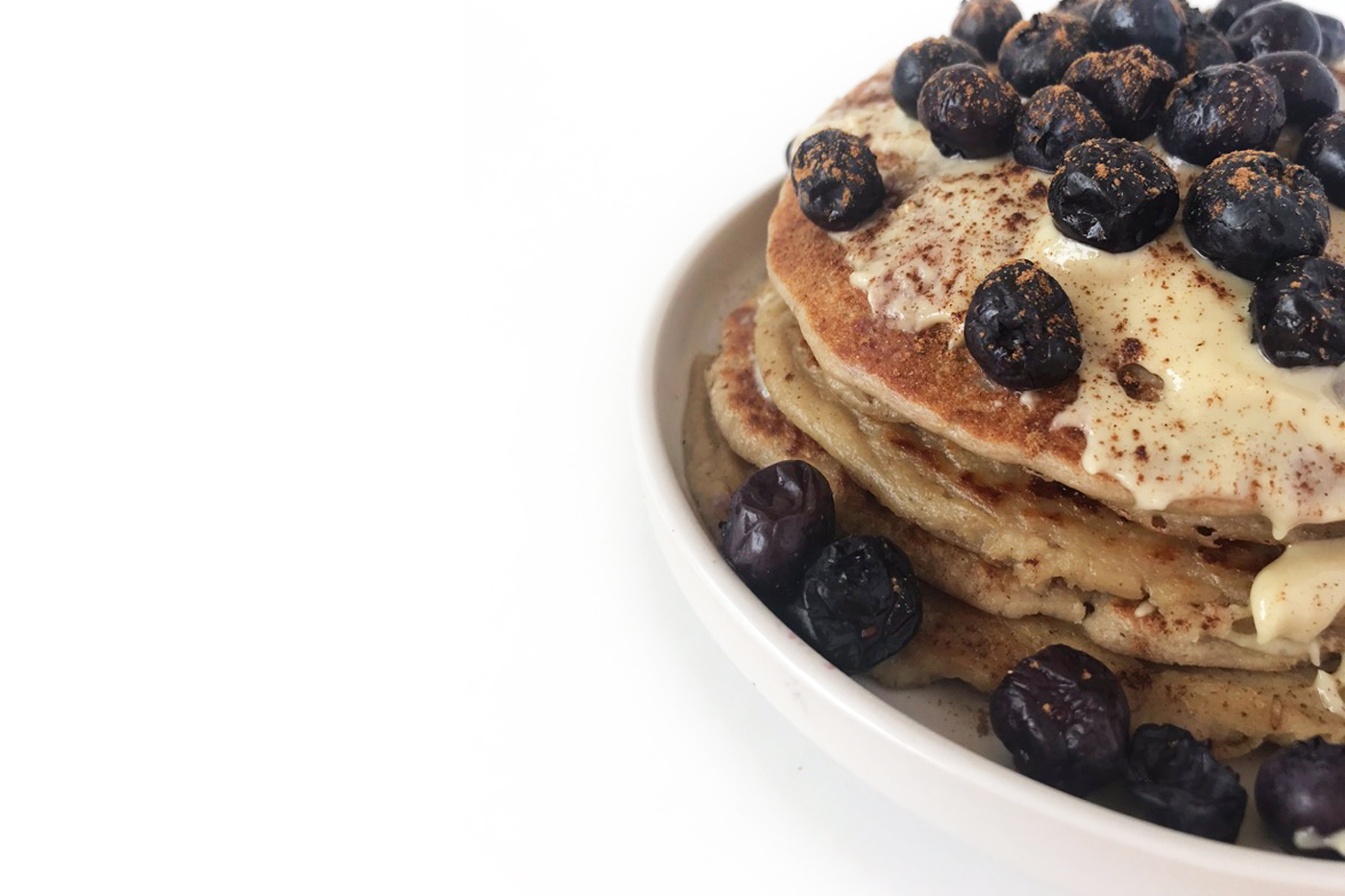 When it comes to breakfast we usually keep it pretty simple with fruit, fresh juice or a smoothie. However, when Zuzana made some fresh creamy macadamia & cashew nut butter – queue the lightbulb – PANCAKES I thought!
I instantly imagined the nut butter layered between pancakes with some fresh fruit pouring over it.
I had to make it!
So here it is, a quick and easy 3 Ingredient Flourless Pancake Recipe + Zuzana's MUST TRY Nut Butter 😉
3 Ingredient Vegan Flourless Pancakes
These pancakes will fill you up and make you feel like you have fully indulged - without the guilt! They are gluten-free, dairy-free, sugar-free and eggless, so easy to make - guaranteed you will make them again! A healthier way for you and your vegan (or non-vegan) friends to enjoy this popular breakfast food.
Servings: 2
Ingredients
1 1/2 cups Organic Rolled Oats
1 cup Plant-Based Milk See notes for our homemade almond mylk recipe
1 ripe Organic Banana
Instructions
Heat a pan on medium heat and add a small amount of coconut oil.

Put all the ingredients in a high-speed blender and process until batter forms.

Pour a small amount of batter into the heated pan (you can use a measuring cup for the batter if you want consistency). Cook for 2-3 minutes until bubbles form and you are able to easily flip it. Flip the pancake and cook another 2-3 minutes.

Top with your choice of toppings or place one pancake on a plate and spread the nut butter on it then place another pancake on top and repeat. Do this with 3-4 pancakes and top with fresh fruit, nuts, seed, hemp hearts, chocolate shavings... your choice!
Connect with yourself and your food and get creative. Upgrade these pancakes with any other ingredients, like mixing some berries or cacao nibs in the batter – maybe even chocolate. If you have more of a sweet tooth add some extra sweetness with coconut nectar or maple syrup. Experiment and have fun!
Dedicated to your health and wellbeing,
Nikki & Zuzana
For more breakfast, ideas check out some of our fresh juice and smoothie recipes, chia pudding or try some raw coconut yogurt it is packed full of probiotics for a healthy gut.
If you try this recipe, let us know! Leave a comment, Pin for later, and don't forget to tag a photo #avrecipes on Instagram. Healing is an exciting adventure and more simple than we've been led to believe. Please share this with the people you love and care about. ❤