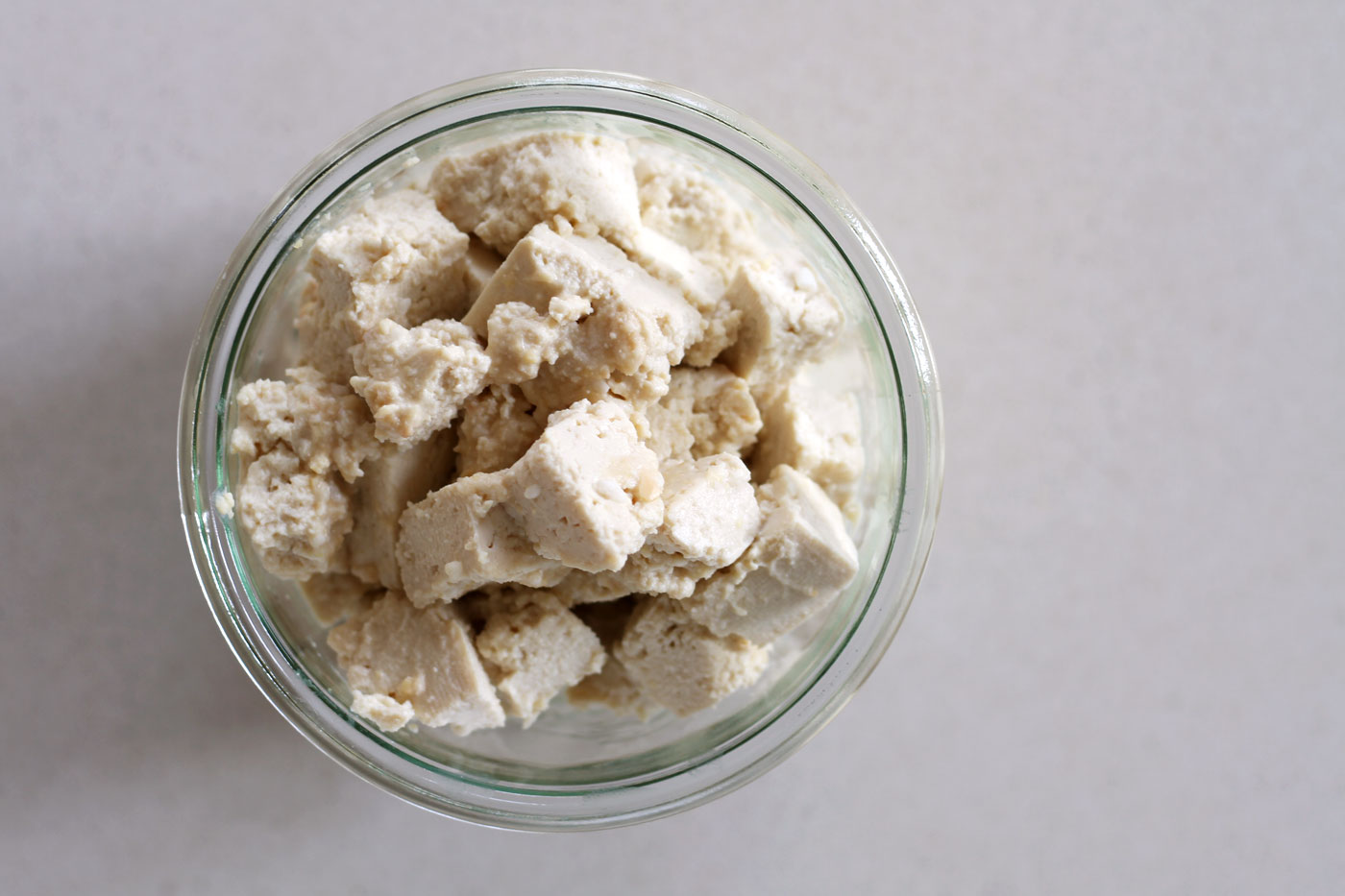 Friends. Today we are sharing with you an incredibly amazing, yet very simple recipe for plant-based feta cheese. You don't want to miss out on this one! All you need is only 2 ingredients, 5 minutes for prep time and then patiently wait for 24 hours and allow the magic to take place.
This fermented dairy-free feta makes a wonderful addition to green salads, wraps, sandwiches and nourish bowls.
Word About Soy
This recipe uses tofu – made of soybeans that are curdled and pressed into blocks. About 98 percent of the tofu you'll find in stores is made from genetically modified organic (GMO) seeds. There has been some controversy around GMO crops in terms of environmental practice, mono-crops, sprays and the nutritional integrity of the plant. There simply has not been enough evidence to make us believe that GMO foods are safe. So for that reason, we encourage you to always look for organic tofu made from non-GMO soybeans.
Home Made Plant-Based Feta Cheese
This fermented dairy-free feta makes a wonderful addition to green salads, wraps, sandwiches, nourish bowl, or serve it as an appetizer.  DAIRY-FREE VEGAN  DIGESTIVE SUPPORT  HIGH PROTEIN 
Ingredients
1 block 440g of extra firm organic tofu
1 cup of chickpea or rice miso
Instructions
Slice the block of tofu lengthwise into four equally thick slices. Spread 1/4 cup of miso over each slice, covering it entirely. Place the tofu slices into a glass container. Cover with a lid and let sit at room temperature for 24 hours. The tofu will absorb the saltiness and taste of the miso paste. Scrape off the miso (save it to make a soup) and rinse quickly under running water if necessary. And that's it!
Notes
Note:
Fermented tofu is not only delicious but also beneficial due to its increased digestibility and natural probiotic cultures. Pro Tip:
We often ferment tofu in advance and pack it in a jar, covered in brine (salt +water). You can also use olive oil and add Mediterranean herbs, garlic, sundried tomatoes or chilli for an extra flavour.
If you're into dairy-free and nutrient-rich cheesy things, also be sure to check out our Good Heart Salad with Vegan Cashew Cheese, Raw Coconut Yogurt (fermented),and Vegan Creamy Ricotta.
Dedicated to your health & wellbeing,