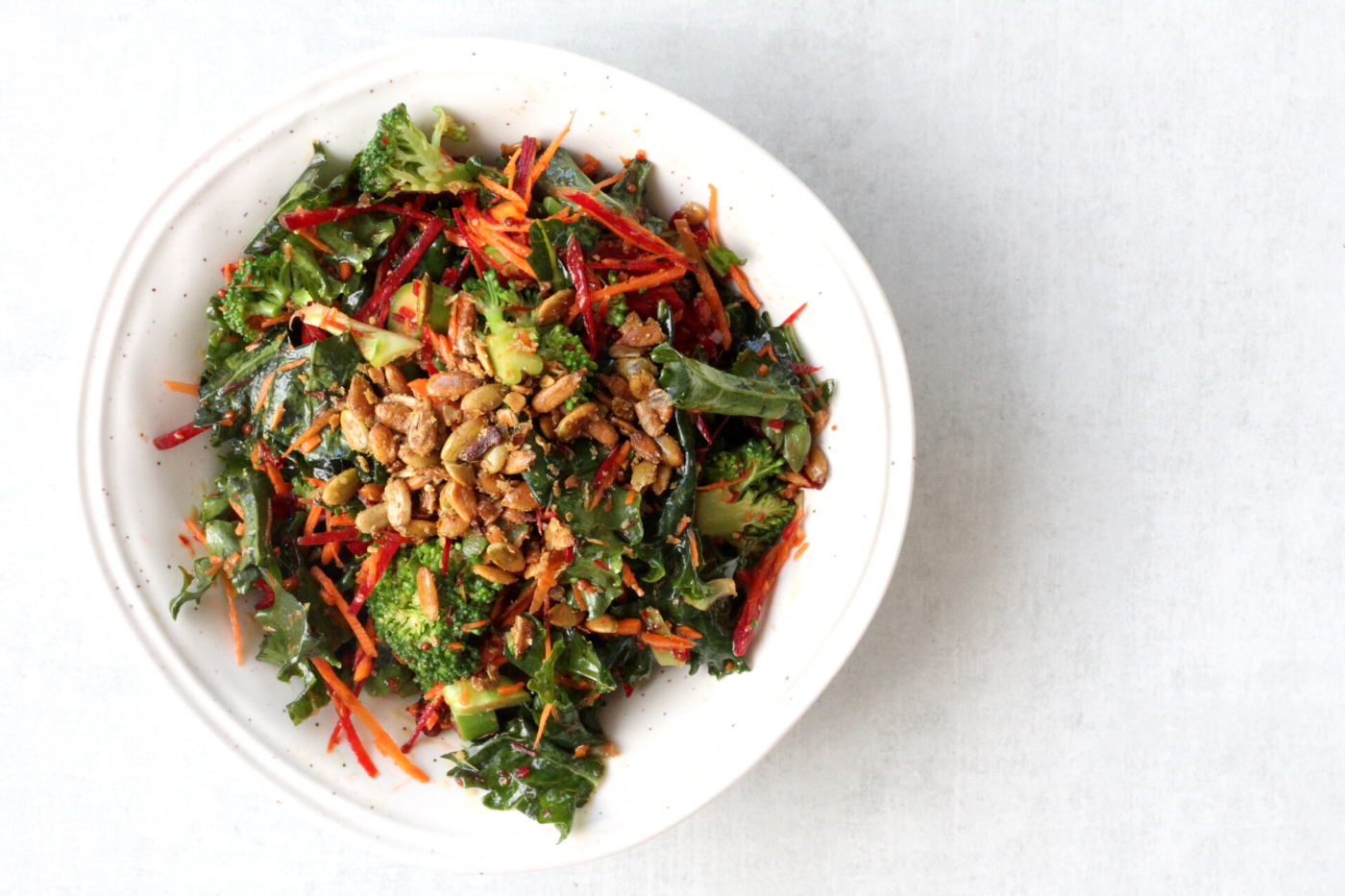 We are always serving a green veggie with our meals, whether its leafy greens, asparagus, broccoli, Brussel sprouts – we include at least one of them!
This past week, I decided to make a salad that combined the majority of these greens. Think of it as like a "super salad" loaded with nutrients and quite satisfying. The combination of steamed broccoli and asparagus with massaged kale give a nice variety of texture – add in some shredded beets and carrots not only for more nutrients but also an appealing look for those that may think salads are boring. 😉
If you are someone that needs a little more volume than just a salad this combines nice with wild rice, quinoa, or baked potatoes. Also, this is a perfect meal prep salad as it gets better with time – so it's great to pack for work, a picnic or your next camping adventure.
Broccoli Kale Salad with Maple Mustard Dressing
This salad uses lightly steamed broccoli and asparagus, combined with massaged kale, and grated carrots and beets to give a nice texture. It's coated with a maple mustard dressing and topped with lightly toasted seeds. A perfect meal prep, picnic or camping - salad since it gets better with time.
Servings: 4 side salads
Ingredients
Salad:
2 cups kale
1 medium bunch of broccoli
5 stalks of asparagus
1 medium beet
1 large carrot
1 tbsp hemp oil
1/4 lemon juiced
1/4 tsp sea salt
1/4 cup barberries cranberries or raisins (optional)
Cheesy Seedy Topper:
1/4 cup sunflower seeds
1/4 cup pumpkin seeds
1 tbsp coconut oil melted
1 tbsp nutritional yeast
1/4 tsp sea salt
Maple Mustard Dressing:
1/3 cup hemp oil or EVOO
2 tbsp whole grain mustard
1 tbsp yellow mustard
2 tbsp maple syrup
1/2 - 1 lemon juiced (or 2 tbsp ACV)
pepper to taste
Instructions
Start by soaking all your veggies in a large bowl.

Pre-heat the oven to 250*F. Next, in a small bowl mix all the seedy topper ingredients together and spread on a small baking sheet. Bake for 25 minutes mixing every 8-10 minutes.

Cut the broccoli and asparagus into bite size pieces and place in a steaming basket. Bring to a boil and steam for 3-5 minutes until still crunchy. Remove from burner and run cold water over the broccoli and asparagus. Set aside. Next, in a large bowl de-stem the kale and chop into bite size pieces, add the hemp oil, lemon juice and salt and massage the kale until it becomes tender. Add the lightly steamed broccoli and asparagus to the bowl of kale. Next, shred the carrot and beet into the bowl along with the other veggies. Optional to add in barberries, cranberries or raisins.

In a glass jar combine all the dressing ingredients and shake until mixed really well. Coat the salad with desired amount and mix well.

When ready to serve you can serve it over a bowl of arugula or other fresh greens and top with the cheesy seeds.

Enjoy!
If you enjoyed this, you may also like:
Warm Kale Salad (vegan, GF, protein rich)
Moroccan Millet Salad
Refreshing Spinach Mango Salad
Detox Salad (Great for Liver Support)
Dedicated to your health & wellbeing,