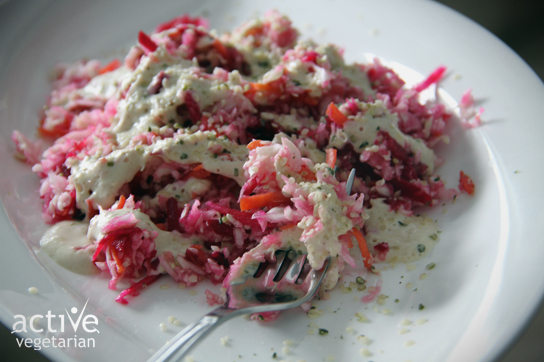 Hi guys,
the past two weeks we have been talking about detox and cleanse diets. So for our recipe I decided to go with this very simple salad packed with nutrients.
The only time consuming part is the chopping all the veggies,but you can use a chopping attachment for your food processor and speed things up. The vegetables can be chopped well ahead in advance. The only thing you need to put together before lunch or dinner will be dressing which is pretty simple.
Ingredients:
1 small head of green cabbage, shredded as fine as possible
3 medium carrots, shredded
1 beet, raw & shredded
2 tbsp raw hemp seeds
Tahini dressing
1 Tbsp. hemp oil or olive oil
2 Tbsp. lemon juice
1/2 Tbsp. liquid honey (or agave, maple syrup)
2 tbsp tahini
1 tsp cumin
1/4 cup water
Salt to taste (depending on whether or not your tahini is already salted)
Directions:
In a big bowl, mix all the vegetables together.
Mix the dressing ingredients together in another small bowl or magic bullet and stir till you get a uniform paste. Add more water if needed to achieve the desired consistency.
Pour dressing over the vegetables. Garnish with hemp seeds and serve.
Dedicated to your health and well-being
Zuzana & Nikki