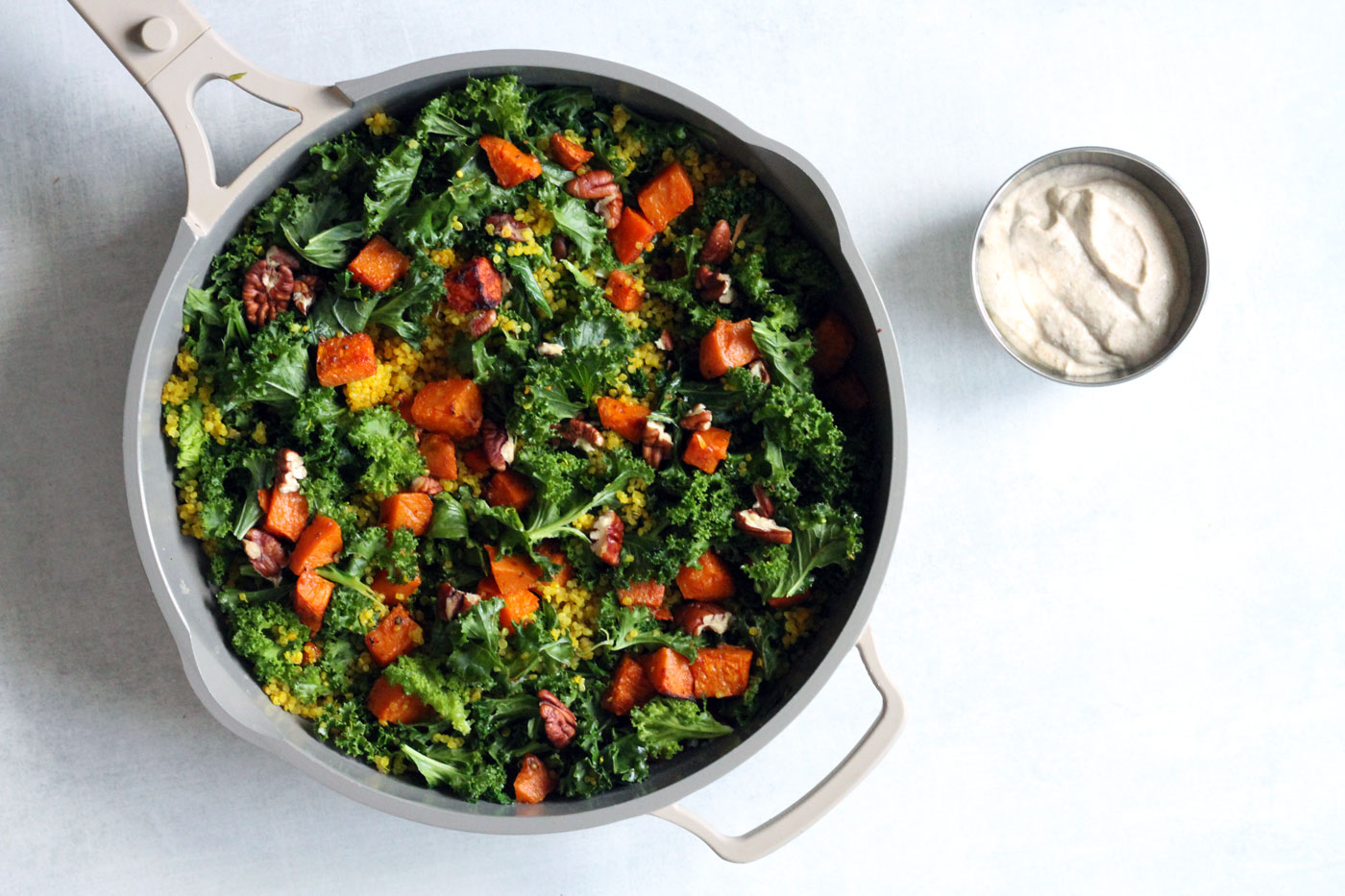 We all know that salads are healthy, and for most of us, it's easy to enjoy them during the summer months. However, as soon as temperatures drop, we naturally crave more comfort foods, and salads may not seem as appealing. But what if you could have the best of both? The nourishment of fresh seasonal greens together with the warmth and comfort of cooked foods?
This Warm Kale Salad along with the Miso Ginger Dressing is the kind of meal where, once you're finished, you'll want to pick up the bowl and lick it clean when no one's looking. The combination of kale, roasted sweet potatoes, quinoa and nuts create a satisfying meal that feels like a warm hug on a cold fall or winter's day. The hardiness of kale also allows you to make this dish a couple of days in advance and enjoy it as a quick healthy meal on a busy weekday.
Warm Kale Salad
Servings: 2 servings
Ingredients
Salad
2 small sweet potatoes
2 tbsp coconut oil melted
¾ tsp smoked paprika
sea salt
fresh ground black pepper
1 large bunch of kale any variety
2 cloves garlic minced
1 cup of cooked quinoa brown rice would work as well
2 tbsp raw pecans or other raw nuts or seeds of your choice
Dressing
1 cup water
¼ cup raw tahini
1 Tbsp maple syrup
2 Tbsp red or white unpasteurized miso
1 Tbsp chia seeds
1 lemon juiced
small piece of fresh ginger or 1/2 tsp ground ginger
Instructions
Preheat oven to 400°F.

Peel the sweet potatoes, and cut them into cubes. Toss them with 1 tbsp of coconut oil, smoked paprika, and a little salt and pepper. Spread out into a single layer on a baking tray, and roast for around 35 minutes, until soft in the middle and slightly crispy on the edges.

Make the Creamy Dressing:

Blend all ingredients until silky smooth in the blender.

Set aside for 10+ minutes, giving the chia seeds time to expand and absorb some of the dressing. You can adjust the consistency by adding more water.

The dressing will last in the fridge for up to 5 days.

Next, remove the tough stems from the kale, and cut or tore them into bite-size pieces. Place kale in a large bowl and massage with your hands until bright green. Set aside.

Heat the remaining 1 tbsp of oil in a large pan, and add minced garlic. Cook over medium heat for a few minutes, then add the massaged kale, cooked quinoa and pecans. Turn off the heat and mix all ingredients well.

When the sweet potatoes are ready, add them to the quinoa and kale.
To Serve:
Divide amongst bowls, and top with a generous amount of dressing. Serve.
Notes
This dish is also lovely cold and can be prepared ahead of time, stored in a glass container in the fridge for 2-3 days. 
Replace pecans with walnuts or almonds, or try pumpkin seeds for a nut-free variation. 

Other recipes you may enjoy:
Moroccan Millet Salad
Plant Protein Pasta Salad Bowl
Spanish Style Nourish Bowl with An Amazing Vegan Cheese Sauce
The Good Heart Salad with Vegan Cashew Cheese
Dedicated to your health & wellbeing,