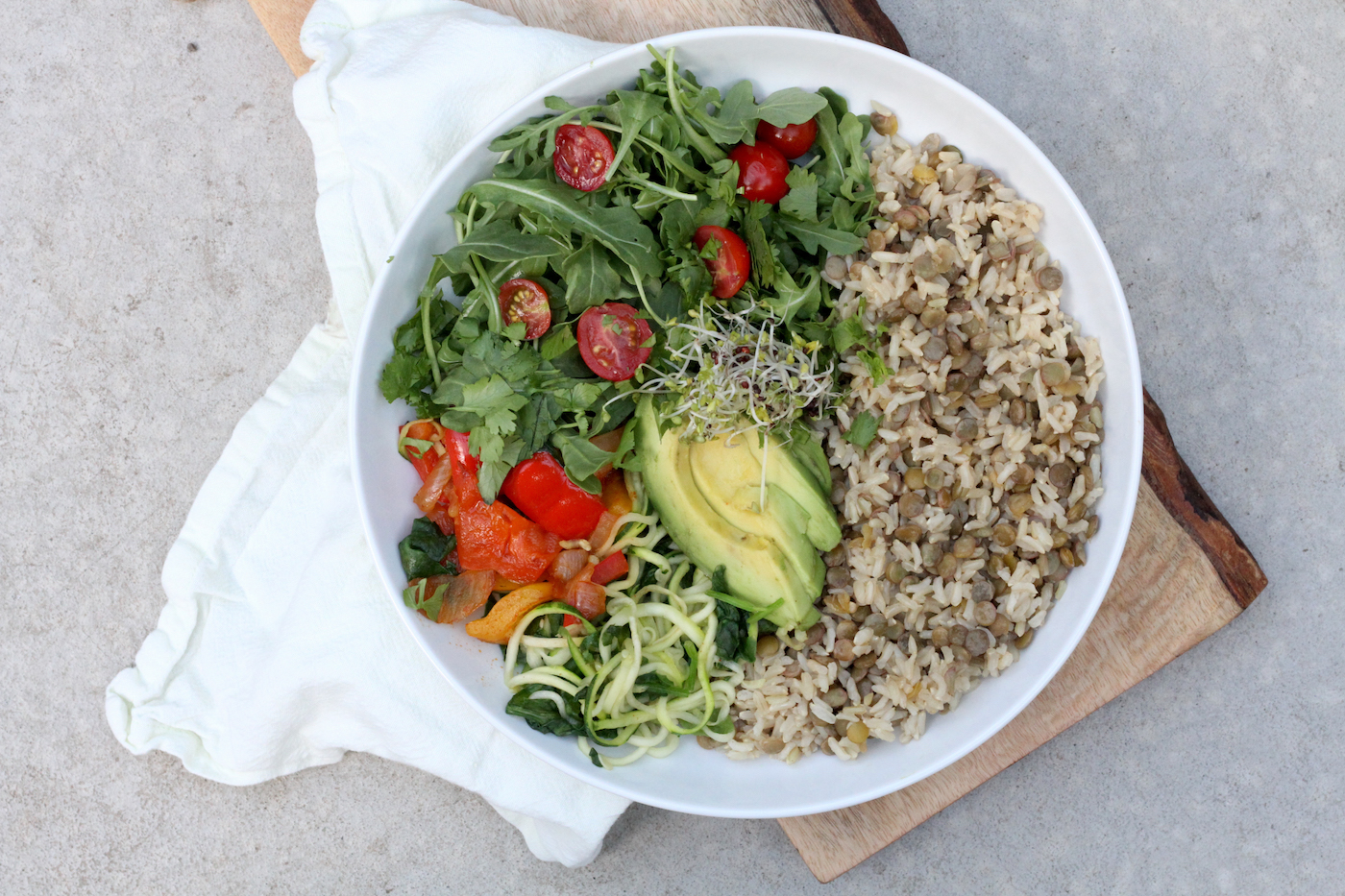 For this recipe, I used fresh arugula, cilantro, and tomatoes to form the base of this veggie-packed bowl. Then I added cooked whole grain rice and lentil mix for a healthy dose of complex carbohydrates and protein. Finally, I topped it off with a mixture of sauteed bell peppers, spiralized zucchini and spinach with a touch of smoked paprika to give this dish a sweet and cool note. Of course, this Spanish inspired dish would not be complete without our Amazing Vegan Cheese Sauce (recipe below).
It's okay if you don't have all these ingredients listed on hand. Actually, it might be a good thing. It will allow you to get creative and use whatever leftovers are hanging around your kitchen. Now let's look at some of our suggestions to help you create a wholesome plant-based Nourish Bowl…
SIX TOP TIPS for making your own plant-based Nourish Bowl:
GREENS– go crazy with your favourite greens! (fresh spinach, kale, arugula, Romain lettuce, butter lettuce, etc)
PROTEIN – Keep it plant-based and include your favourite ingredients such as lentils, beans, quinoa, sprouts tempeh, etc.
HEALTHY FATS – Chose raw unprocessed fat such as avocado, coconut, macadamia nuts, chia/flax/pumpkin/hemp seeds, extra virgin olive oil or omega oil. They all add flavour. But use in moderation.
VEGGIES – Eat the rainbow! Include any vegetables you have on hand. You can keep them raw or if you prefer lightly steamed, baked or sauteed.
ADD HERBS – dried or fresh, it doesn't matter, just add herbs! Add as many as you like. They are good for you! Some of our favourites include fresh cilantro, basil, parsley dill. Dry herbs or spices are also great staples. Don't over think it, you can't really go wrong!
CARBOHYDRATES – Complex carbs will keep your energy sustained throughout the day. Try sweet potato, winter squash, quinoa, brown rice or beans.
ADD-INS – We are big fans of fermented veggies! Sauerkraut, kimchi, pickled beets, etc.
DRESSING – A homemade dressing or sauce is a must. You can keep pretty simple and use lemon juice mixed with a bit of extra virgin olive oil or you can go all out 3 HEALTHY SALAD DRESSINGS – (OIL FREE, VEGAN, GLUTEN FREE) ready in 4 min or less
Spanish Style Nourish Bowl with Amazing Vegan Cheese Sauce
This quick-to-make nourish bowl is packed full of raw and cooked veggies,  and plant-based protein and it's drizzled with our homemade vegan "cheese" sauce. It makes for a simple weeknight dinner and will satisfy your cravings for comfort food.
Servings: 2
Ingredients
Salad Ingredients
1/3 cup green or brown lentils
1/2 cup whole grain rice
1 Tbsp coconut oil
1/2 sweet onion sliced
1 red bell pepper sliced
1 yellow bell pepper sliced
1/2 tsp smoked paprika
1/2 tsp unrefined sea salt
1 small zucchini spiralled
2 cups baby spinach
3 cups arugula
1/3 cup fresh cilantro chopped
10 cherry tomatoes halved
1/2 avocado sliced
sprouts of choice
Amazing Vegan Cheese Sauce Ingredients
Instructions
Salad Method
Soak rice and lentils for at least 30 minutes (preferably 8 hours or overnight). (see notes)

Drain and rinse the rice and lentils and add them to a medium pot on high heat with 1 1/2 cups of water. Bring to a boil then reduce to a simmer, with the lid partially covered. Cooked until all water absorbed and al dente, about 30 min. Note: if the rice and lentils have cooked and are al dente but some liquid remains, simply drain the liquid and let sit on low heat without a lid to allow the excess moisture to evaporate.

While rice and lentils are cooking prepare your sauté veggies. Add coconut oil and onions to a medium pan and sauté on high heat for 2 minutes, stirring and adding 1 Tbsp water as needed to prevent burning. Add peppers, smoked paprika and salt and continue to stir (and add water as needed) for another 4 minutes. Add spiralized zucchini and spinach gently mix it all together and continue to cook for only 1 more minute then remove from heat.

Prepare your Amazing Vegan Cheese Sauce(recipe below)
Amazing Vegan Cheese Sauce Method:
Generous pinch of black pepper


Method 
Drain and rinse the sunflower seeds then add them to a high-speed blender along with the remaining ingredients. Blend on high until smooth and creamy, adding additional water as needed.
Store in an airtight container in the fridge. Will last about 2 or 3 days.
How To Assemble The Bowl
Divide the fresh arugula, cilantro, tomatoes, avocado and sprouts among the bowls. Top each with 1/2-1 cup cooked rice and lentils and a generous amount of sautéed veggies

Drizzle with vegan cheese sauce. Enjoy!
Notes
Soaking brown rice helps to quicken cooking time, and soaking lentils is beneficial for many reasons.
Use organic ingredients whenever possible.
This Spanish Style Nourish Bowl is as delicious as it looks and provides your body with an incredible rush of nutrients. It really is one of the best meals to power up and keep you satisfied. When you begin to eat foods like this on the regular basis and cut out the highly processed junk foods that cause harm to your entire system, we promise that soon YOU will start to experience the amazing benefits of the plant-based diet. You will begin to really understand what it feels like to be vibrant, healthy, happy and thrive.
With love and light,