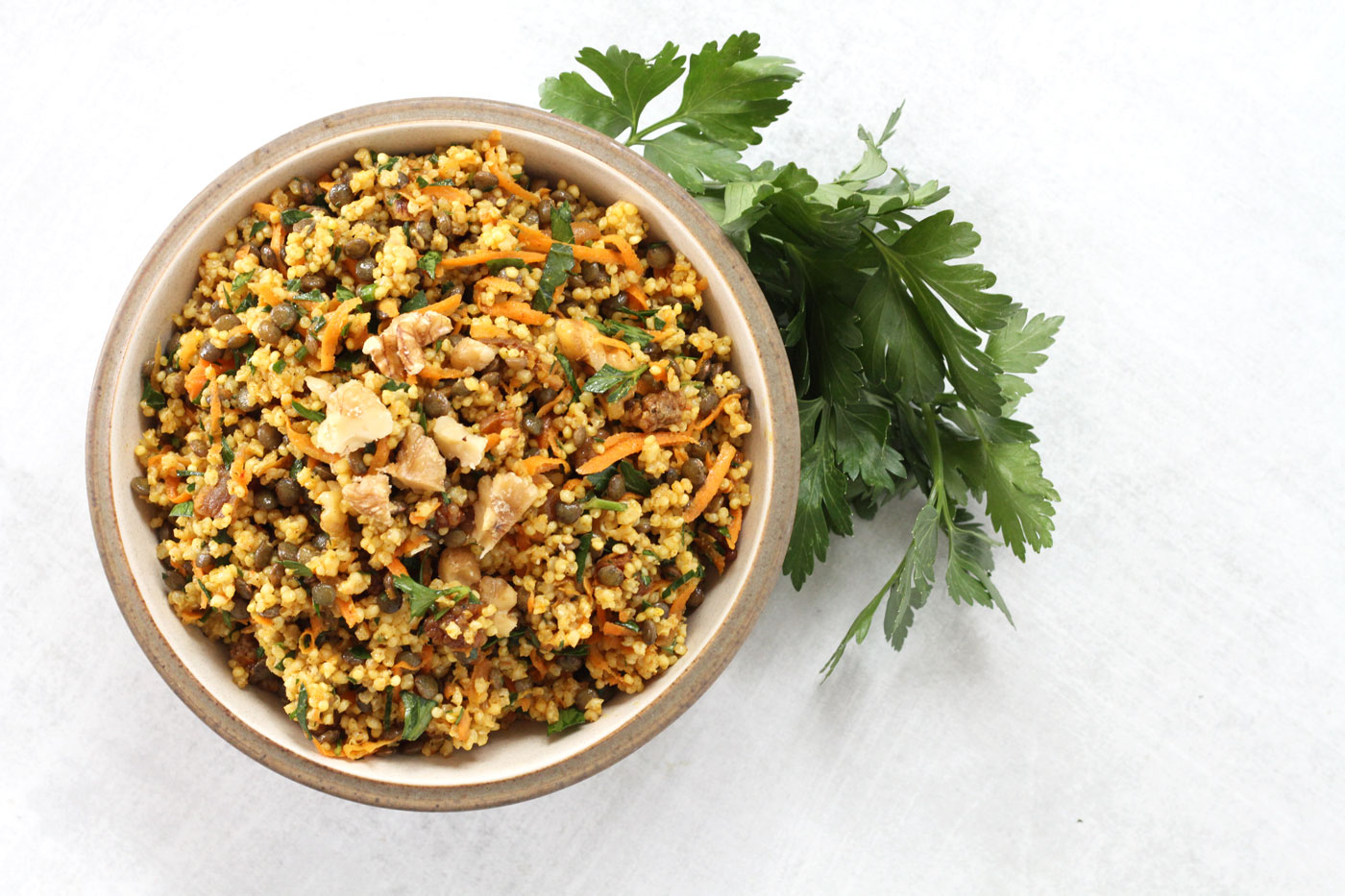 gluten-free | vegan | rich in iron
For an easy weeknight dinner and/or meal prep recipe, this simple yet flavourful gluten-free dish is perfect! Moroccan Millet Salad is delicious on its own as a complete meal or served as a side with other dishes such as Stuffed Mushrooms Topped with Vegan Feta or Baked Tempeh Fingers.
What Is Millet?
Millet is a family of grains that falls under the "ancient grain" category. Though technically a seed, millet offers similar health benefits to other grains and can be prepared in many of the same ways. It looks like little yellow pellets of bird seed (which is, in fact, one of the ways it is used) but it cooks up into a tender grain that has a mild corn flavor. This ancient grain is naturally gluten–free can be used as a healthier alternative to rice, as well as in salad recipes or as a side dish. Plus, it is something unique that will add new flavor and variety to your whole-food plant-based diet.
What Are the Health Benefits of Millet?
In addition to all the general millet characteristics (gluten-free, low glycemic index, high fibre, etc),millet also has a high antioxidant content.
It is rich in minerals like calcium, copper, iron, magnesium, phosphorus, potassium, and selenium as well as essential vitamins like folate, pantothenic acid, niacin, riboflavin, and Vitamins B6, C, E, and K.
Here is an overview of some of the other health benefits millet has to offer:
With 9 grams of fiber per 100-gram serving, millet supports healthy and regular digestion. It may also help resolve issues like diarrhea and supports healthy gut flora to prevent peptic ulcers and reduce your risk of colon cancer.
Millet is rich in catechins such as quercetin which boost liver and kidney function. These organs are essential for the detoxification of the body.
The magnesium content of millet provides a variety of benefits including improving insulin sensitivity to help prevent type 2 diabetes.
Millet contains numerous antioxidants including selenium, quercetin, and pantothenic acid which protect the body against free-radical damage and oxidative stress, helping to prevent many chronic diseases.
Rich in iron as well as folate and folic acid, millet helps prevent anemia by supporting the formation of red blood cells and maintaining adequate hemoglobin levels.
The phosphorus content of millet supports the formation of cells, tissues, and bones, helping the body repair itself – phosphorus is also a key component in nervous system structures.
With plenty of insoluble fiber, millet prevents the formation of gallstones by reducing intestinal transit time – it also reduces bile acid secretion which is known to contribute to gallstone formation.
Moroccan Milet Salad
gluten-free—vegan—rich in iron
Ingredients
SALAD
1 cup dry millet
1/2 cup dry brown or green lentils
1/4 cup dried apricots chopped
1/4 cup dried mulberries or raisins
1 cup fresh parsley chopped
VINAIGRETTE
3 tablespoons cold pressed extra virgin olive oil
¼ cup / 60ml lemon juice
1 Tbsp. maple syrup
1 Tbsp. yellow mustard
1 tsp. salt
2 tsp. pepper
1/2 tsp. ground cumin
1/4 tsp. turmeric
½ tsp. cinnamon
½ tsp. paprika
¼ tsp. cayenne pepper
1/8 tsp. ground cloves
OPTIONAL ADD-INS:
Walnuts
Fresh herbs: flat-leaf parsley cilantro basil
Sprouts
Instructions
Bring lentils to boil in 1 cup of lightly salted water. Reduce heat and simmer until water is absorbed.

Cook millet in a separate pot in 2 cups of water. Bring to boil and then reduce to simmer until all liquid is absorbed. Fluff millet with fork. Do not over cook millet as will turn into porridge.

Allow to cool slightly and combine well together in a large bowl.

While lentils and millet are cooking, put all the dressing ingredients in a little glass jar, close with a lid and shake and well. Set aside.

Add dried apricots, mulberries or raisins and chopped parsley into a cooled millet/lentil mixture.

Add the dressing to the salad and mix well. Allow it to marinate for about 30 minutes before serving.

Serve Moroccan Millet Salad cold or at room temperature.
Dedicated to your health & wellbeing,
Z&N