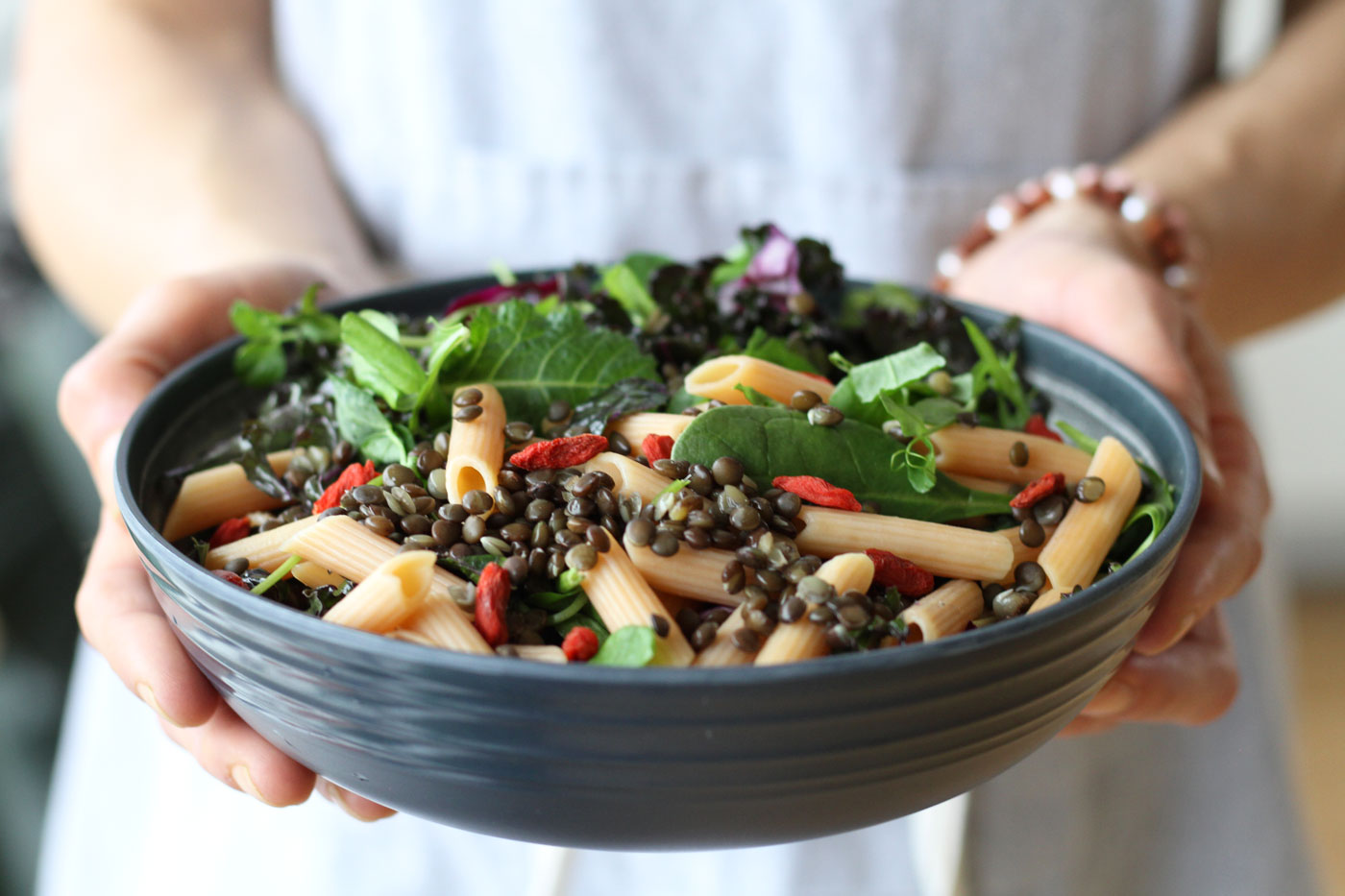 Good news friends…
Healthy Pasta Salad exists!
This week we are swapping the traditional thick sauce gluten pasta dish for a lighter and super nourishing weeknight meal. Pasta noodles made out of lentils, chickpeas, or black beans are all great choices that will help make your pasta dish healthier. This Plant Protein Pasta Salad Bowl is made out of Barilla Red Lentil Penne and includes fresh greens, cooked black lentils, and goji berries all tossed in creamy lemon hemp dressing.
For a quick, and easy weekday meal consider cooking the lentils in a big batch and chopping the kale and cabbage during your Sunday meal prep. You can also pre-make the dressing ahead of time and store it in a glass jar in the fridge. Then when you're craving a big bowl of goodness after a long day at work, or after a hard workout, simply toss all the Plant Protein Pasta ingredients in a large bowl, mix in the dressing and dig in. This is easily one of the quickest and tastiest meals you will pull off all week.
PLANT PROTEIN PASTA SALAD
Servings: 2 servings
Ingredients
4 oz  red lentil pasta we used Barilla Red Lentil Penne
1 cup purple cabbage shredded
2 cups kale destemmed and chopped
1 cup cooked black lentils (1/2 cup dry cooked in 1 cup water)
4 cups greens of your choice spinach, arugula, mixed greens
1/4 cup fresh herbs of your choice parsley, cilantro, basil, chopped
2 tbs goji berries (or raisins or mulberries)
LEMON HEMP DRESSING
1/4 cup hemp hearts
1/4 cup fresh lemon juice
1 tablespoon apple cider vinegar
2 cloves garlic
1 Medjool date pitted
salt and pepper to taste
1/4 cup water to thin
Instructions
Cook pasta according to package instructions. Drain and run through cold water. Add drained pasta into a large bowl together with the remaining salad ingredients.

Now prepare the dressing by placing all the dressing ingredients into a high-speed blender or small food processor. Process until smooth, about 1-2 minutes.

Pour as much dressing as you desire over pasta salad ingredients and mix well.

Serve immediately or potion the salad between 2 glass storage containers and keep in the fridge until ready to eat.  It will last for up to 3 days.

Store any remaining dressing in an airtight glass container in the fridge. It will last for 3-5 days.
If you are looking for other healthy, quick plant protein-packed recipes you might also enjoy Fermented Beet and Quinoa Bowl, Vegan Cheesy Broccoli Soup and Quick + Easy Veggie Curry.
Dedicated to your health & wellbeing,