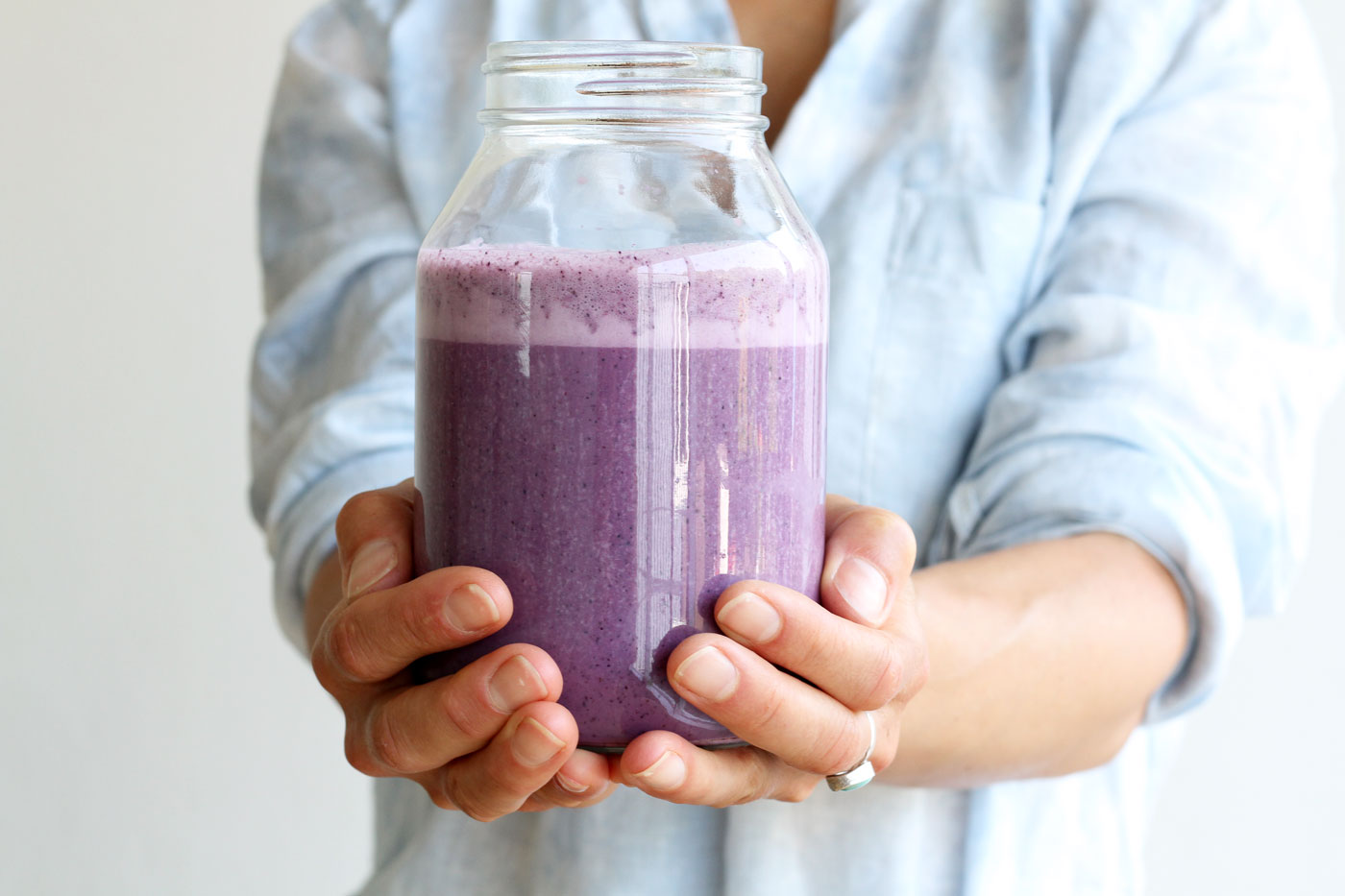 This blueberry milk is one of kind! The star of this recipe is wild blueberries.
Wild blueberries (smaller than their larger, cultivated cousins) have been one of our favourite fruits because of the abundant health benefits they offer. This superfruit has all the vitamins, minerals and enzymes your body needs to keep your skin glowing, your immune system in optimal condition and your energy levels soaring.
Wild Blueberry Benefits
These sweet and satisfying berries are extremely high in antioxidants, potassium, B vitamins and vitamin C.
Known to be an excellent liver and blood cleansers, and are vital to the health of eyes and the digestive tract.
Wild blueberries have the ability to repair tissues and cells and keep the immune system strong.
Wild blueberries are also the most powerful brain food in existence, the most potent prebiotic there is, and a star at restoring the liver.
Wild Blueberry Almond Milk
daily-free | brain boosting | skin brightening  You are in for a real treat. Simple and quick, just blend non dairy milk with wild blueberries, vanilla, a squeeze of lime, date and a dash of Himalayan pink sea salt. And voilà! You just created an amazing health tonic that serves as the perfect snack or breakfast.
Servings: 1 large serving
Ingredients
2 cups plant-based milk we prefer home made almond milk
1 cup wild blueberries frozen or fresh
1 medjool date pitted
1 tablespoon lime juice
pinch of vanilla powder or 1/2 teaspoon vanilla extract
pinch of Himalayan pink salt
Instructions
In a blender, combine all of the ingredients and blend until smooth.

Enjoy immediately.
Notes
The most common place to find wild blueberries is in the frozen-food aisle at the local supermarket, in the same place that you would find other frozen fruit. Don't worry if you are unable to get your hands on wild blueberries. Try making this milk with blackberries, wild strawberries, wild raspberries, or goji berries to name a few - these are also powerful super fruits and extremely rich in nutrients. 
Some homemade milk recipes:
Hazelnut Mylk – dairy free + vegan + raw
Pure Almond Mylk [Video]
Dedicated to your health & wellbeing,
Zuzana & Nikki