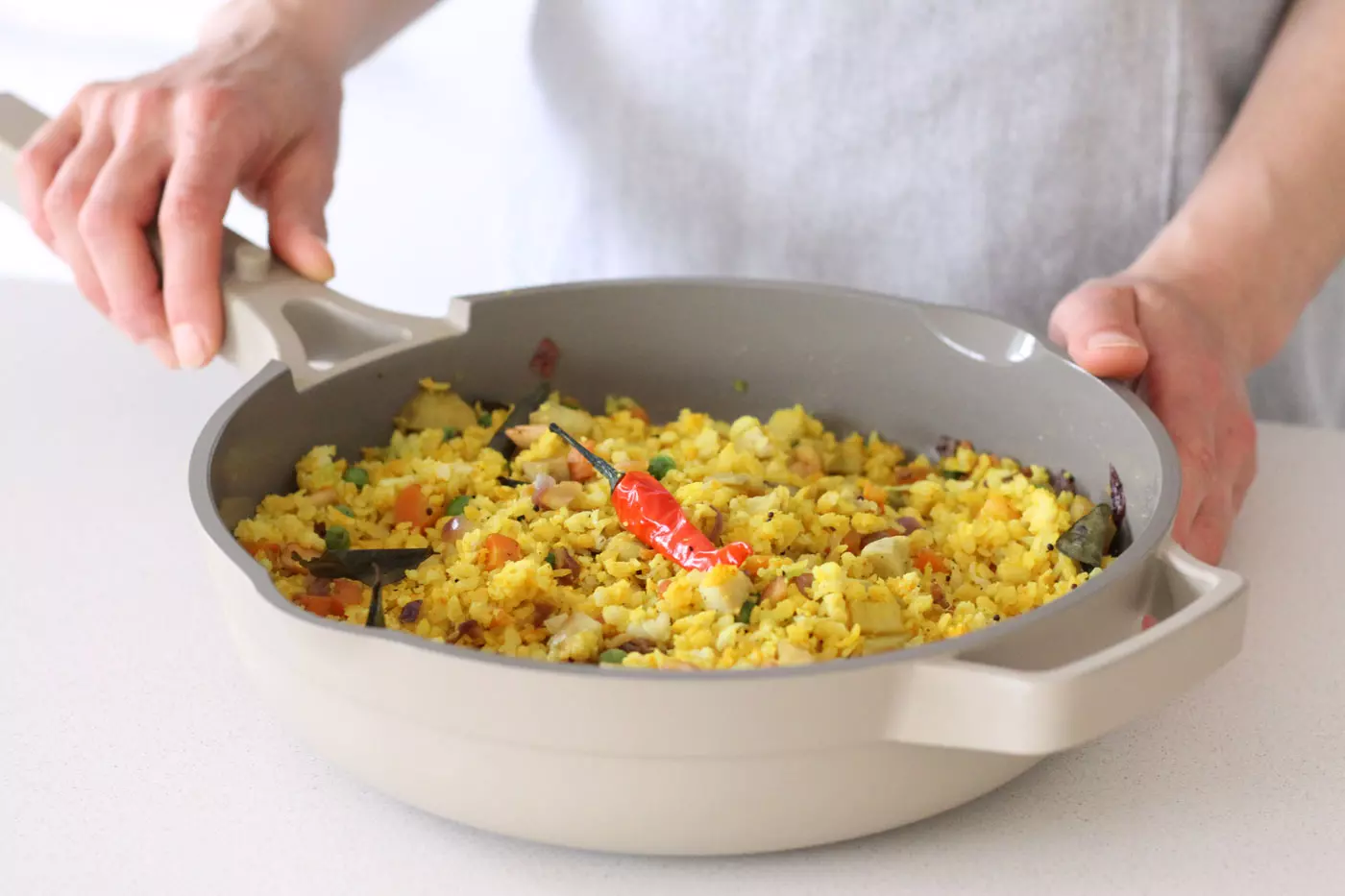 Hello Friends,
Today I want to share with you a special recipe for a uniquely Indian quick dish – Vegetable Poha. Nikki and I first discovered this delicious and satisfying dish during our yoga studies in Rishikkesh many years ago and have been recreating it in our home ever since.
What is Poha?
Poha is uncooked basmati rice that has been rolled thin in the same way that rolled oats are made. Traditionally this meal is made with onions, spices, herbs and nuts and severed for breakfast – this recipe is our adaptation to the traditional poha we fell in love with.
VEGETABLE POHA
Servings: 2 servings
Ingredients
1 1/2 cups poha the thick kind
1/4 tsp turmeric
1/2 tsp + 1/8 tsp salt divided adjust to taste
2 tsp coconut or avocado oil
1/2 tsp mustard seeds
1 small red onion chopped
1 red chili
10-12 curry leaves
1/3 cup green peas I used frozen, soaked in warm water for 10 minutes
1 small carrot diced
1 small sweet potato diced
2 Tbsp raw cashews
Garnish green onion cilantro, and lemon juice.
Instructions
Place poha in a strainer and rinse it under cold running water until it turns soft.

To check if it's done, press a flake between your thumb and index finger, it should break easily.

Add turmeric and 1/2 teaspoon salt to the poha and gently toss to combine (I use my hands). Set it aside.

Next heat oil in a pan on medium heat. Once the oil is hot, add the mustard seeds and let them pop.

Then add the chopped onion, chili and curry leaves. Cook for 2 minutes until the onions soften.

Add the green peas, carrot and potato and mix. Cover and allow to cook on low heat for 15 min or until potatoes are tender.

Then add in the rinsed poha and cashews, toss to combine. Taste test some poha and if it feels dry, sprinkle little water all over.

Cook for 1-2 minutes.  Also tastes test and add more salt as needed.

Then turn off the heat, squeeze in some fresh lemon juice. Garnish poha with green onions or cilantro and serve.
If you like this recipe you may also enjoy:
Cauliflower "Rice", Indian Style
PALAK VEGAN 'PANEER'
Vegan Okra Recipe – Bhindi Masala
Plant-Based "Butter Chicken" with Baked Cauliflower
Indian Spiced Mushroom and Eggplant Curry
Dedicated to your health and wellbeing,