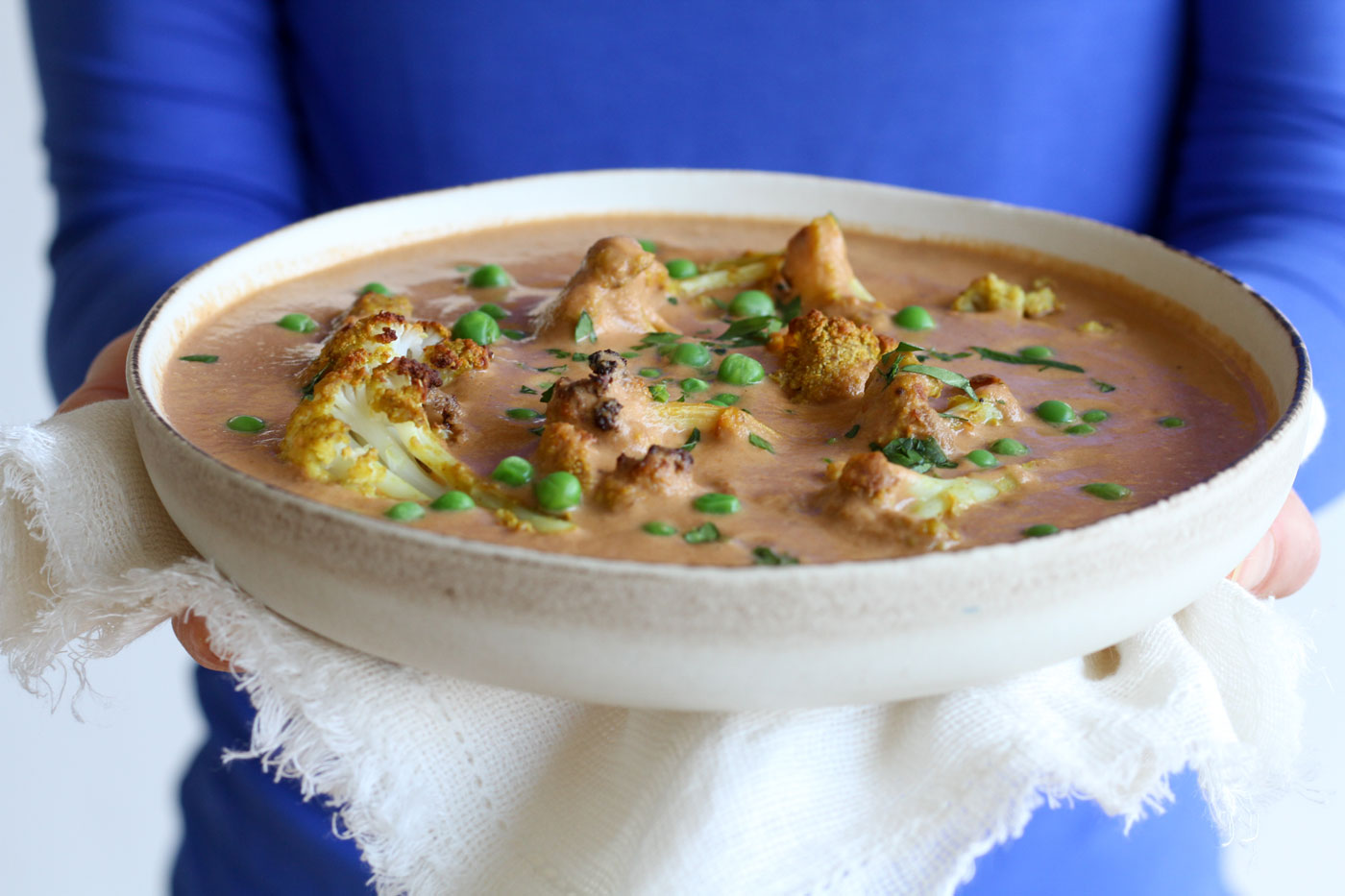 This is not a traditional "Butter Chicken" by any means, however, it uses a similar principle of combing plenty of warm spices, a hint of tomato and some dairy-free cream. I think the roasted cauliflower is a great substitute for chicken in this flavour-packed Vegan "Butter Chicken" dish. Plus the addition of peas gives this meal an extra boost of protein and nutrition.
Plant-Based "Butter Chicken" with Baked Cauliflower 
Here is an Indian curry recipe with creamy and deliciously flavoured dairy-free sauce. The secret to this vegan-friendly dish is the crispy cauliflower, which you coat in chickpea flour before baking. Serve over basmati rice for a hearty, filling and nutrient-rich plant-based meal. 
Ingredients
Marinade
1/2 cup chickpea flour
1/2 cup veggie broth or plant-based milk
1 tbsp lemon juice
1 tsp turmeric powder
2 tsp garam masala see Notes
1/2 tsp chilli powder or cayenne pepper powder see Notes
1 tsp ground cumin
2 cloves garlic crushed
large aprox.1.5 lb cauliflower, cut into bite-size pieces
Curry
2 tbsp coconut oil OR 1 tbsp veggie broth (see Notes)
1 large onion chopped
2 garlic cloves minced
1 tbsp ginger minced or finely grated
1 1/2 tsp ground cumin
1 1/2 tsp garam masala
1 tsp ground coriander
1 tsp red chilli powder adjust to your taste preference
2 Roma tomatoes chopped
1 14 oz/298 ml) can coconut milk
1 tsp coconut sugar
1 cup fresh or frozen green peas
1 tbsp lemon juice
salt and black pepper to taste
To Serve - choose:
Basmati rice
Fresh Coriander/cilantro optional
Instructions
In a bowl, combine all marinade ingredients except cauliflower. Whisk well and add cauliflower florets. Toss until all cauliflower pieces are coated with marinade; let it soak up the flavours for at least 10 minutes to an hour (or overnight if time allows).

Preheat oven to 400 F and line a large baking sheet with non-bleached parchment paper.

Spread the marinated cauliflower on the prepared baking sheet and bake for 30 minutes.

Meanwhile, prepare the curry sauce.

Heat coconut oil or veggie broth in a large pan. Cook the onions until they start to sweat (about 6 minutes) while scraping up any browned bits stuck on the bottom of the pan.

Add garlic and ginger and sauté for 1 minute until fragrant, then add ground coriander, cumin and garam masala. Let cook for about 20 seconds until fragrant, while stirring occasionally.

Add chopped tomatoes, chilli powder and salt. Let simmer for about 10-15 minutes, stirring occasionally until sauce thickens and becomes a deep brown-red colour.

Remove from heat, scoop mixture into a blender, add coconut milk, and sugar. Blend until smooth.

Pour the puréed sauce back into the pan, taste and season with salt and pepper.

Stir the green peas and lemon juice through the sauce. Add the cauliflower into the pan and cook for an additional 3-5 minutes until the sauce is thick and bubbling.

Garnish with coriander/cilantro leaves if using. Serve with basmati rice and/or green salad.
Notes
Garam Masala - This is a spice mix that is readily available at supermarkets nowadays. You can find it in the spice section and the cost is comparable to other spices. Chilli powder - Use good quality Indian chilli powder or cayenne pepper to add a spice kick. Adjust the amount to your preference.  Oil-Free Cooking- You can replace coconut oil with veggie broth or water. Don't worry, the dish will still taste amazing! 
If you enjoy cooking healthy Indian dishes check out our other plant-based favourites:
Indian Spiced Mushroom and Eggplant Curry
Palak Vegan 'Paneer'
Light Vegan Chana Masala
Dedicated to your health & wellbeing,