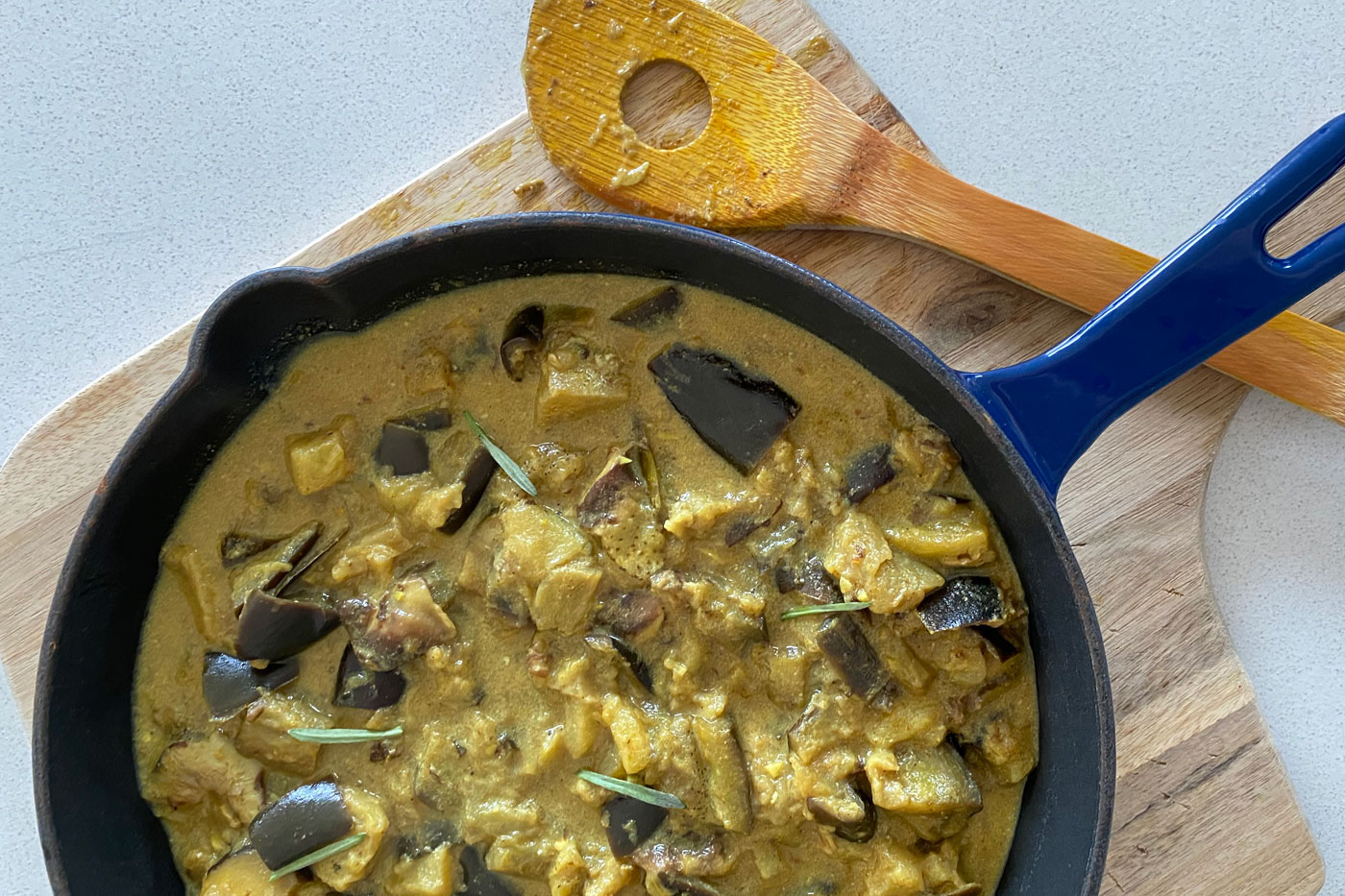 This recipe is for those of you who have been asking…
How can I get my family to eat the same way I do without them feeling deprived or unsatisfied?

Yes, we get it. Sometimes it can feel like an uphill battle, but don't give up. It might take some time but in the end, everyone will win.
Meanwhile, we propose that you give this Indian Spiced Mushroom and Eggplant Curry a try next time you want a healthy and peaceful meal for the whole family to enjoy!
Watch the video for step-by-step instructions.
Reasons to try and love this recipe:
The combination of veggies is s very filling.
It has virtually no fat.
It's s packed with fibre (leave the skin of eggplant on)
As well as vitamins such as vitamin C and K, folate, thiamine, and niacin.
Eggplant and mushroom also contain magnesium that is important for building and maintaining strong muscles and nerves.
Indian Spiced Mushroom and Eggplant Curry
Mushrooms and eggplant create a great start for a dish that is clean, creamy and wonderfully satisfying. Perfect gateway meal to help those progressing from a meat-eating diet to a clean, plant-based one. 
Servings: 4 servings
Ingredients
1 cup mushrooms of your choice halved or quartered (depending on size)
2 medium-size eggplants cubed
1 tbsp coconut oil or water for oil-free
2 garlic cloves minced
1 tsp ground turmeric
1 tsp coriander powder
1 tsp cayenne use more or less to suit your taste
1 400 mil can unsweetened coconut milk
1 tsp garam masala
Juice of 1/2 lime
Salt to taste
Fresh herbs for garnish
Instructions
Preheat oven to 425F.

In a large (oven friendly) skillet, melt the coconut oil (or warm water) over medium-high heat. Add the mushrooms and cook for about 5 minutes. Toss in the eggplant and season with salt and pepper. Cook for a few more minutes. Toss in the garlic, turmeric, coriander and cayenne pepper and cook for another minute or so.

Move the pan into the oven and roast for 15 minutes. Remove and toss. If necessary, put back in the oven for another 5 minutes until vegetables are done acording to your liking.

After roasting is finished place pan back on the stove element over low heat. Stir in coconut milk. Simmer for about 4- 5 minutes. Remove from heat and sprinkle the garam masala, adjust the seasoning, if needed. Squeeze fresh lime juice just before serving and garnish with fresh herbs.Serve with a grain of choice (quinoa or basmati rice)or with a side of a green salad.
Notes
Pro Tips
Using a cast-iron skillet for the eggplant is recommended - you can then get the right crisp texture without using too much oil.
Both mushrooms and eggplants have a rich, meaty taste, bulky texture and are quite versatile making them a perfect meat alternative in various plan-based dishes.
Watch the video for step-by-step instructions.
Similar plant-based recipes you might enjoy:
Best Ever One Pot Portobello Stew
Sending love and light your way,