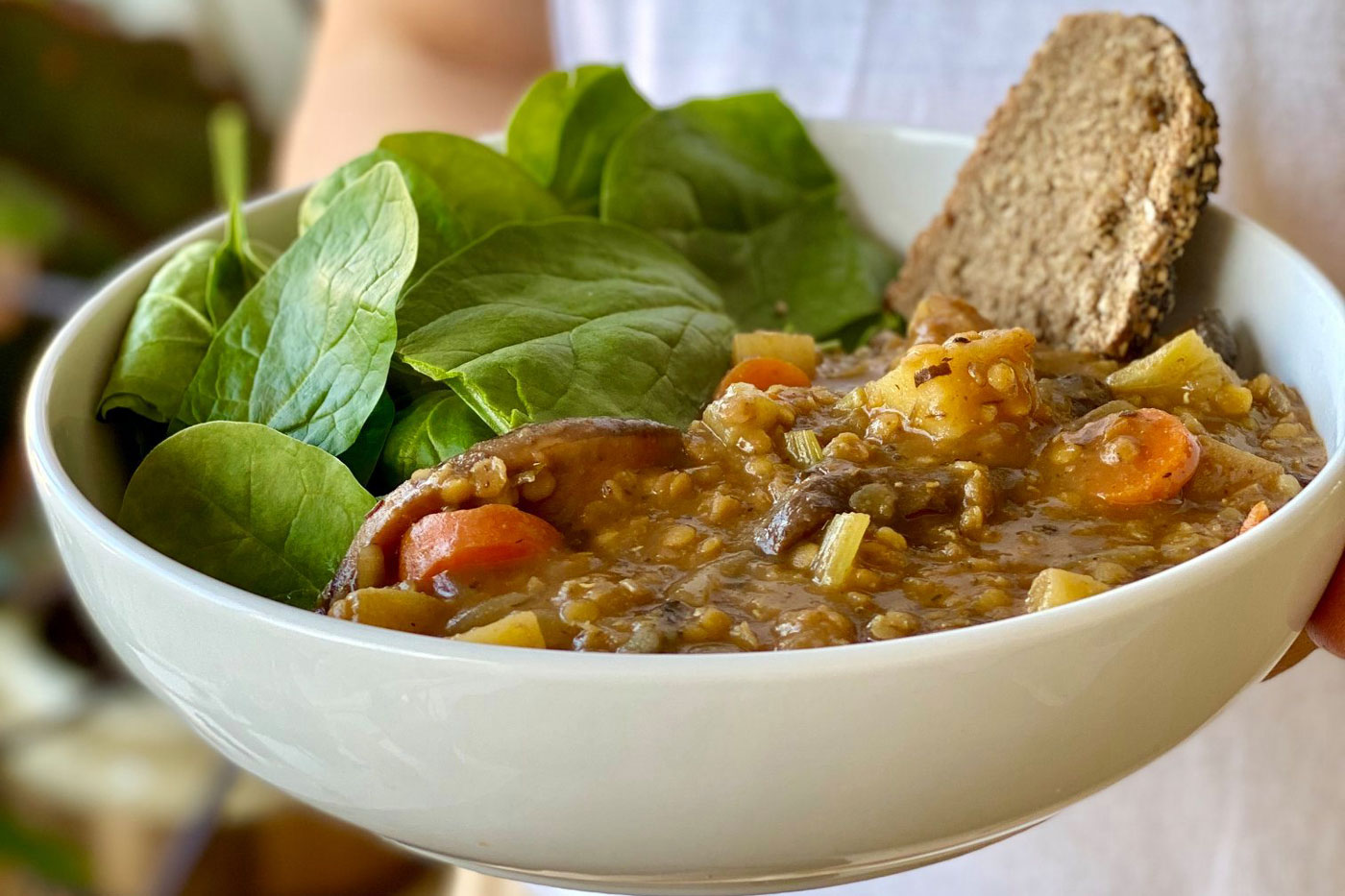 This wholesome veggie stew made its first appearance in our book the Vegan Weight loss Manifesto back in 2017. The original recipe called for tempeh and sweet potatoes – lovely combo! However, because I very rarely follow a recipe (even if it's my own) I decided to make a couple of adjustments to the original. Omitting the tempeh and adding red lentils instead made this a lighter dish but still full of flavour and nutrients! We highly suggest investing in high quality pots and pans for gas stove.
BEST EVER ONE POT PORTOBELLO STEW
Cancer Prevention – Great Protein Source – Bone Builder The very best in comfort food—portobello stew. Hearty, delicious and simple, just the way it should be. And it comes with many health benefits. For example, mushrooms are associated with a decreased risk of several different cancers. 
Servings: 4 servings
Ingredients
2 tbsp coconut oil divided
1 medium-size white onion chopped
1 tsp dried rosemary
1 tsp dried thyme
1 tsp sweet paprika or smoked paprika
2 to 3 cloves garlic
2 portobello mushrooms stemmed and thinly sliced
2 bay leaves
½ cup balsamic vinegar
3 medium-size carrots chopped
2 medium-size potatoes diced
2 ribs celery chopped
1 cup red lentils rinsed
1 tbsp coconut aminos or soy sauce
1 tsp sea salt
Cracked black pepper
2 tbsp spelt flour or any other flour
Fresh greens optional
Instructions
Heat 1 tablespoon of oil in a large skillet over medium heat. Add the onion and rosemary, thyme and sweet paprika, and cook for 6 to 8 minutes. Add the garlic, stirring occasionally, and cook for another 2 minutes or until lightly browned. Remove from the heat and transfer the mixture to a bowl. Return the pan to medium heat and add the remaining tablespoon of oil.

When the pan is hot, add the portobello mushrooms and bay leaves, cover with a lid and sauté until nicely browned, about 5 minutes, adding few tablespoons of water if needed. Pour the balsamic vinegar over the mushrooms and simmer on very low heat for another 3 to 5 minutes. Add the onion mixture, carrots, potatoes, celery, rinsed red lentils, coconut aminos, salt, black pepper and 2 cups of water, and bring to a boil. Simmer gently 20 to 25 minutes or until vegetables are tender.

Turn the heat to low. In a small bowl, mix the spelt flour with 1 cup of water, whisking together until the flour is integrated and forms a cloudy fluid. Add the flour and water to the stew, stirring to combine well. Cook for another 5 to 10 minutes, until the flour, thickens the stew. Remove from the heat. Serve with fresh greens on the side.
If you like this recipe, please do us a favour and share it with your friends. Together we can make this world a better place, one plant-based dish at a time 😉
Similar recipes you might enjoy:
Moroccan-Spiced Vegetable and Tempeh Stew
Vegan White Bean Chili
Vegan Moussaka with Eggplant and Lentils
Dedicated to your health & wellbeing,