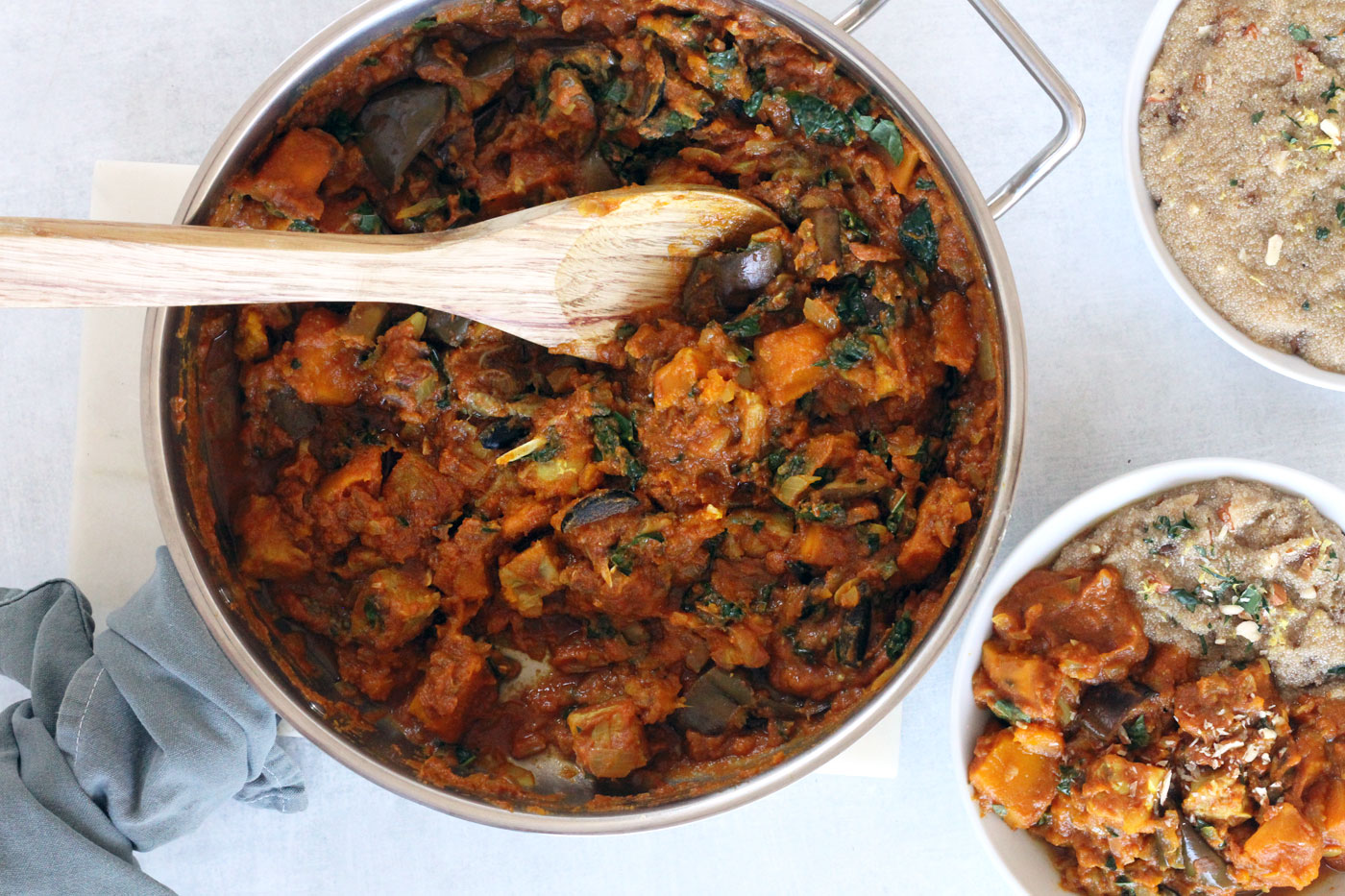 Hearty vegetable stew that is great for sharing with friends and family. It works really well as a dinner party dish especially when paired with a big Farmer's Market Salad.
Post-Workout Meal
This plant-powered dish is a great post-workout meal option. The combination of tempeh, amaranth, kale, and almonds will provide your body with a complete amino acid profile –important for protein synthesis and instrumental in helping your body recover after a workout.
Meet Amaranth
Amaranth is definitely one of the lesser-known, yet no-less-nourishing ancient grain that's becoming quickly popular in the wellness circles. Just like quinoa, amaranth is gluten-free, packed with protein and is fibre-rich. It's considered a complete protein source, meaning it has adequate amounts of all nine essential amino acids. Amaranth is especially rich in lysine, an essential amino acid that helps to convert fat into energy and assist with the absorption of calcium, making it a worthy addition to a plant-powered diet. Plus, it's also high in iron, magnesium, phosphorus, and potassium, all of which are vital to fueling your workouts and muscle.
Moroccan-Spiced Vegetable Stew with Lemon Almond Amaranth
Gluten-Free, High-Protein, Mineral-Rich 
Servings: 4 Servings
Ingredients
Vegetable and Tempeh Stew
1/2 large butternut or kabocha squash peeled and cut into chunks (about 4 cups)
1 large eggplant  unpeeled and cut into bite-size pieces (about 6 cups)
2 Tbsp coconut oil or olive oil
1 tsp sea salt
6 vine-ripened tomatoes cut into bite-size pieces
1/2 cup unsulphured dried apricot (or raisins)
3 garlic cloves peeled and minced
1 large chunk fresh ginger peeled and coarsely chopped
1 Tbsp coconut aminos
2 tsp ground coriander
2 tsp ground cumin
1 tsp smoked paprika
1 tsp turmeric
1 tsp cinnamon
2 Tbsp coconut oil olive oil or water
2 onions peeled and finely diced
1 cup purified water
200 g tempeh cut into 25 cubes (we used chickpea-lentil tempeh)
1 cup kale de-stemmed and chopped
2 Tbsp lemon juice
Lemon Almond Amaranth
1 cup uncooked amaranth
1 1/2 cups water
1/2 tsp sea salt
1/4 cup unsulphured dried apricot diced
1/4 cup almonds coarsely chopped
1 Tbsp  lemon zest
fresh ground pepper
To serve:
1/4 cup kalamata olives pitted and cut julienne style
1/4 cup sliced almonds
1/4 cup flat-leaf parsley chopped
Instructions
For the vegetable and tempeh stew, preheat the oven to 375 F and line 2 large baking sheets with parchment paper.

Spread squash chunks on one baking sheet and eggplant on the other. Drizzle each with oil and sprinkle with sea salt, toss to coat and roast for about 40-45 minutes, or until very soft.

Meanwhile, put the tomatoes, dried apricots, garlic, ginger, coconut aminos and spices (coriander, cumin, smoked paprika, turmeric, and cinnamon) in a blender and mix into a smooth paste. Set aside.

In a large heavy pot or Dutch Oven heat oil (or water) over a low to medium heat. When hot, add the onions and sauté, stirring frequently, over low heat for 5-6 minutes or until soft and golden brown. Add the tomato/spice paste and cook while stirring for 5 more minutes, or until fragrant.

Add 1 cup of water, bring to simmer and add the tempeh. Cook for 5 minutes to allow flavours to absorb. Next, add the kale, roasted squash, and eggplant, simmering for 3 minutes. Season with the lemon juice, adjusting if necessary.

For the Lemon, Almond Amaranth put the amaranth in a large bowl. Fill with cold water. Drain into a strainer and repeat this rinsing and draining process 4 more times.

Place the rinsed amaranth to a medium-sized saucepan, add water, salt, and dried apricots and bring to a boil, then reduce the heat and let simmer until liquid is absorbed, about 20 minutes.. Take it off the heat and let sit for a few minutes. Add the chopped almonds, lemon zest, fresh ground pepper. Gently mix with a fork to incorporate.

To serve, spoon the vegetable and tempeh stew into bowls. Garish with olives, parsley, and sliced almonds if you wish and serve with cook amaranth on the side.
For more hearty plant-powered dishes check out our Vegan Moussaka with Eggplant and Lentils and Vegan Chocolate Chili.
Dedicated to your health & wellbeing,