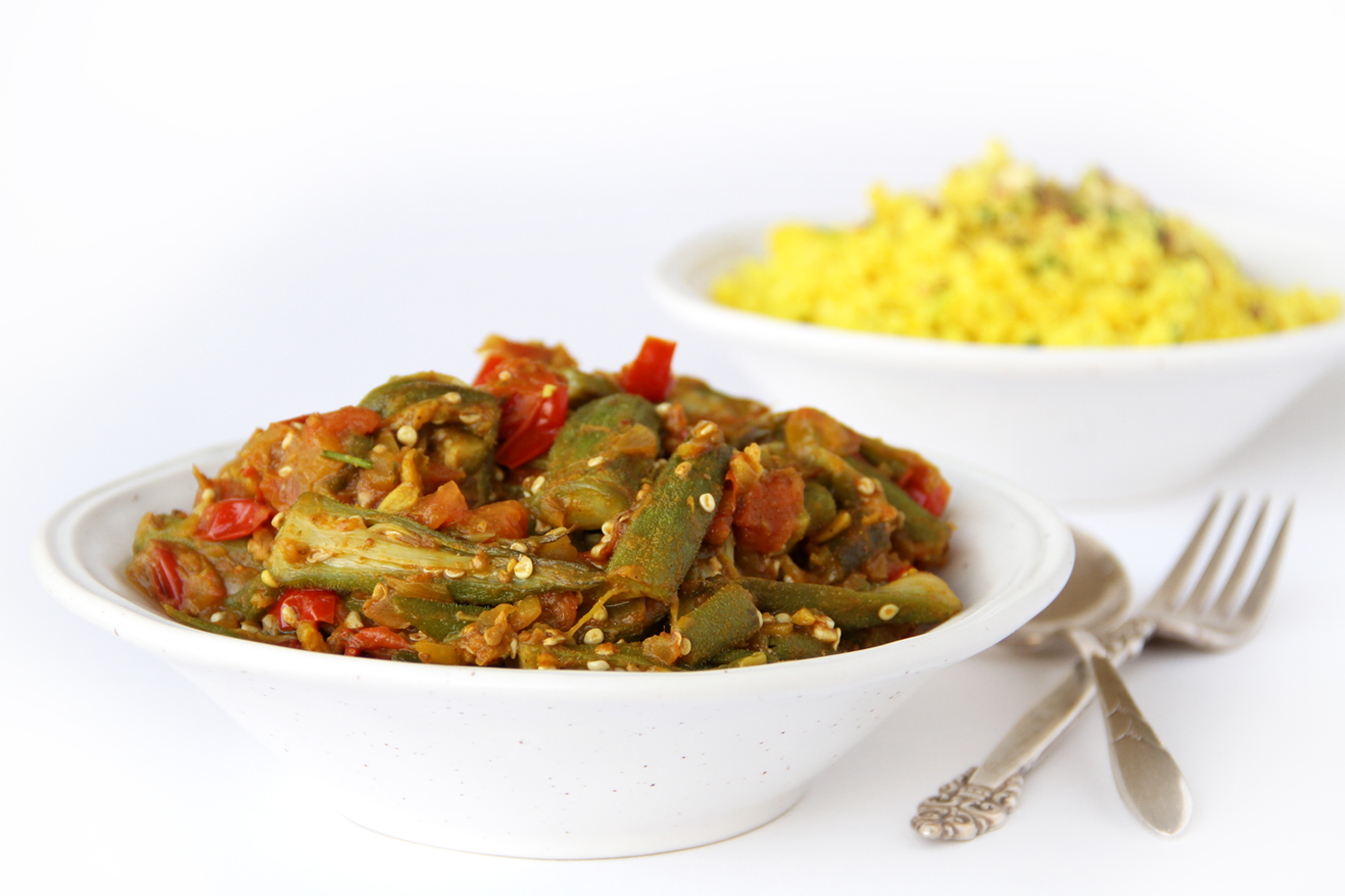 Today I am sharing with you this oil-free vegan okra recipe (aka. Bhindi Masala). Okra is probably one of the most underrated vegetables around. Both Nikki and I truly enjoy this crunchy green vegetable, although admittedly, I don't cook it very often, maybe a couple of times a year.
All about Okra:
When it comes to superfoods, okra is not among the most commonly thought of. But this green, versatile veggie is packed with vitamins, minerals, fibre and more – making it a wonderful addition to any Whole Food Plant-Based Diet. I learned all about okra back in 2013 during my first yoga teacher's training in India.
Let's begin with some facts about Okra:
Okra has vitamins A, B, C, E and K, as well as zinc, iron, calcium, potassium, magnesium, folates and lots of mucilaginous fibre.
Okra goes by many names, like ladies' fingers, okro, gambo and bhindi.
The Egyptians have been growing it since the 12th century BC. Cleopatra loved it!
Ayurveda considers it to balance all the three doshas.
Due to its various medicinal properties, parts of okra are used in Ayurvedic formulations to treat a range of health problems
Okra Health Benefits:
Improves Digestion & Promotes Healthy Gut
There are tremendous okra plant benefits for your digestive system since its pods contain a substance called 'mucilage' – a digestible fibre that will help you "internally cleanse" for days. It provides your large intestine with the required lubrication – thus facilitating better digestion. Because okra is very alkaline, it helps to neutralize acids and provides a temporary protecting coating for the digestive tract. The great thing about okra is that it helps with both constipation as well as diarrhea. It also improves bloating, flatulence and stomach-ache resulting from gastrointestinal imbalances.
Promotes Bone Health By Providing Non-Dairy Calcium
Okra benefits your bones by supplying them with essentials such as vitamin K, C, potassium, calcium, magnesium and phosphorous. You can, therefore, include sufficient amounts of this vegetable in your diet in order to make your bones stronger. It's good for your tissues, tendons, cartilage and teeth too. If you find that you are prone to developing osteoporosis, you can count okra as one of the important ingredients that prevent this disorder.

Supports a Healthy Liver
Your liver is the organ that helps cleanse your body by filtering waste from your blood, and okra can actually help cleanse your liver. The gooey substance of okra is found to be able to bind to cholesterol and bile acids to aid the liver in carrying toxins out of the body. Okra also contains glutathione which is a protein molecule that is produced naturally in the body. Glutathione is a powerful antioxidant that helps the body fight against the harmful effects of germs and bacteria
Stabilizes Sugar Levels & Lowers Cholesterol Levels
Okra has potent antioxidant power in its seeds and peel, which specifically help people with type 2 diabetes – those who are having trouble managing blood glucose levels. Another study has proven the effect okra has on regulating diabetes mellitus and also helps decrease the amount of cholesterol and lipids within the blood.
Improves Brain Power
Okra is popularly consumed by young students in the Middle East, Far East and South East Asia, where people believe that okra is good for brain function. There has been promising research that correlates eating okra with a decreased risk of Alzheimer's disease and other neurodegenerative disorders. When you regularly consume this vegetable, it reverses the damage that may be caused by oxidative stress in your brain.
When to Buy Okra
Okra is in season in from mid to late summer in the North America, approximately July to September. Okra grows best in the hot, humid climates.
How to Buy Okra
When you buy okra you'll want to choose smooth, unblemished pods. It's very important to select okra that does not have brown spots or shrivelled dried ends. You can also purchase frozen organic okra at your local health food store and use it in recipes.
How to Cook/Eat Okra
My favourite way to cook with okra is either adding it to a veggie stir-fry or making an oil-free version of bhindi masala. However, you can eat okra raw. I had never eaten raw okra until about 2 years ago. If you get young, tender okra (no longer than 4 inches long), it is really good!
Side Effects of Okra
As you see, there are oh-so-many okra health benefits. However, it's important to note that okra contains oxalates, which aggravate kidney and gall stone problems.
And now the promised vegan okra recipe…
Bhindi Masala – this mildly spicy curry works really well as a dinner party dish when paired with Indian Style Cauliflower Rice and Ayurvedic Vegan Lassi. We hope you enjoy it!
Curried Okra - Bhindi Masala - Oil Free
Indian style vegan okra stir fry with onions, tomatoes and spices! This version uses no oil, and yet has an amazing aroma and flavour. It's vegan and gluten-free.
Servings: 2
Ingredients
2 cups Bhindi / Okra / Ladies Finger
1/2 Onion chopped
2 Tomatoes diced
2 Garlic Cloves
1 inch Ginger grated
1 tsp Cumin seeds
1/2 tsp Turmeric powder
1/2 tsp Coriander powder
1/2 tsp Sea salt or to taste
1/2 tsp Garam Masala
Instructions
Wash and pat dry the okra. Slit each piece lengthwise.

In a blender or magic bullet grind the tomatoes, garlic, ginger and cumin seeds into a paste. Do not use water to grind.

Heat a large non-stick skillet over medium heat and add in the tomato/spice paste. Cook for 1-2 minutes.

Add in the chopped onions and continue cooking on medium/low heat for 3-5 minutes. 

Add in the okra, turmeric, coriander and salt. Cook on for additional 10 minutes adding some water if necessary. Do not cover the pan with lit. Keep in low to medium heat but turn the mix over very gently without breaking the okra, ONLY when required.

Once the okra is cooked, remove from the heat and mix in garam masala.
MORE OIL FREE RECIPES
Green Cream Soup (for a healthy gut)
Mango Lime Vegan Cabbage Tacos
If you try this recipe or create something new from it – let us know! Leave a comment, take a photo and don't forget to tag your creations #activevegetarian on Instagram so we can see.
Dedicated to your health & wellbeing,