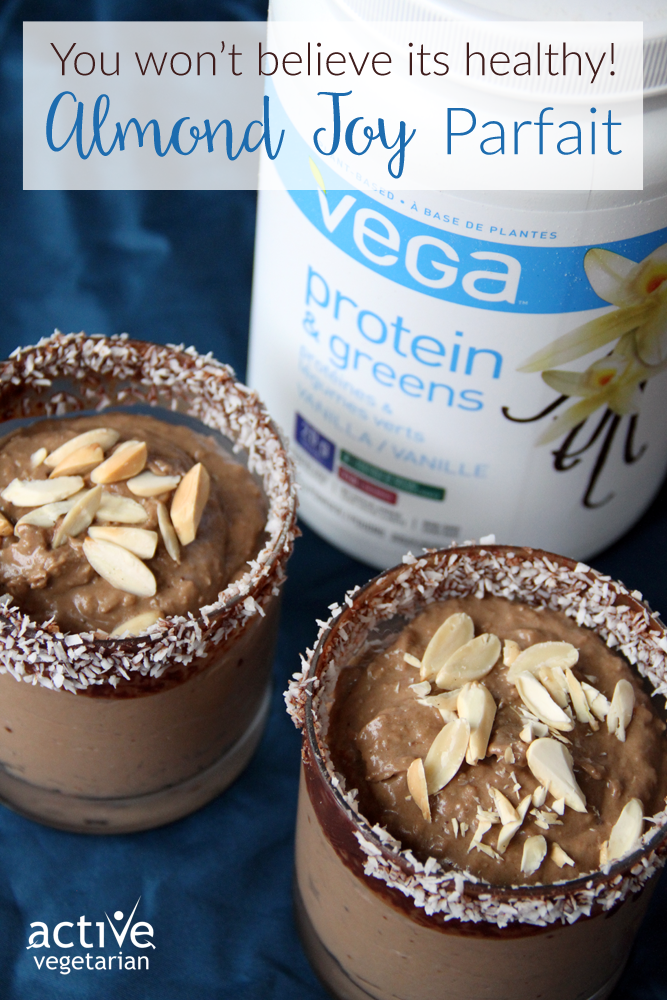 Yup it totally happened!
We created the perfect post workout meal, mid afternoon snack, sweet breakfast or lovely dessert to share with friends.
Look at this creamy rich treat! Would you believe that is totally healthy, vegan, gluten free and packed with plant based protein?!? And what better source of plant based protein, than #vegagreens #protein!
Psst…
What's so Rad about Protein & Greens?
Nourishing your body shouldn't be hard work. Vega Protein & Greens covers the basics as a convenient protein boost that makes nutrition on-the-go feel—and taste!—like a piece of cake.
20 g of complete, plant-based protein
Equivalent to two servings of greens
Only 110 calories
Start adding it to your daily routine today with great recipes like this….
You can order directly from the Vega website or next time you are at Costco stock up 😛
ALMOND JOY PARFAIT (VEGAN, GLUTEN FREE)
Rich and creamy parfait can be enjoy for breakfast, post workout or as a sweet treat anytime 😉
Servings: 2
Ingredients
1/2 cup light coconut milk
1 heaping scoop of Vega Protein & Greens Vanilla
2 frozen bananas
2 tablespoons unsweetened cocoa powder
3 tablespoons natural almond butter
2 tablespoons toasted unsweetened shredded coconut
1/4 teaspoon almond extract
dark chocolate melted (optional)
toasted or regular sliced almonds, for garnish
toasted unsweetened shredded coconut for garnish
Instructions
Combine first 8 ingredients in a food processor and blend until smooth.

For frosting the glass (optional): Melt good-quality dark chocolate, and allow it to cool slightly. Dip the rim of your 2 glasses into the chocolate lightly. Dip the chocolate rim into the coconut mixture to rim each glass.

Then fill your glasses with parfait mixture and garnish with sliced almonds.

Place in the fridge to chill for couple hours or overnight.