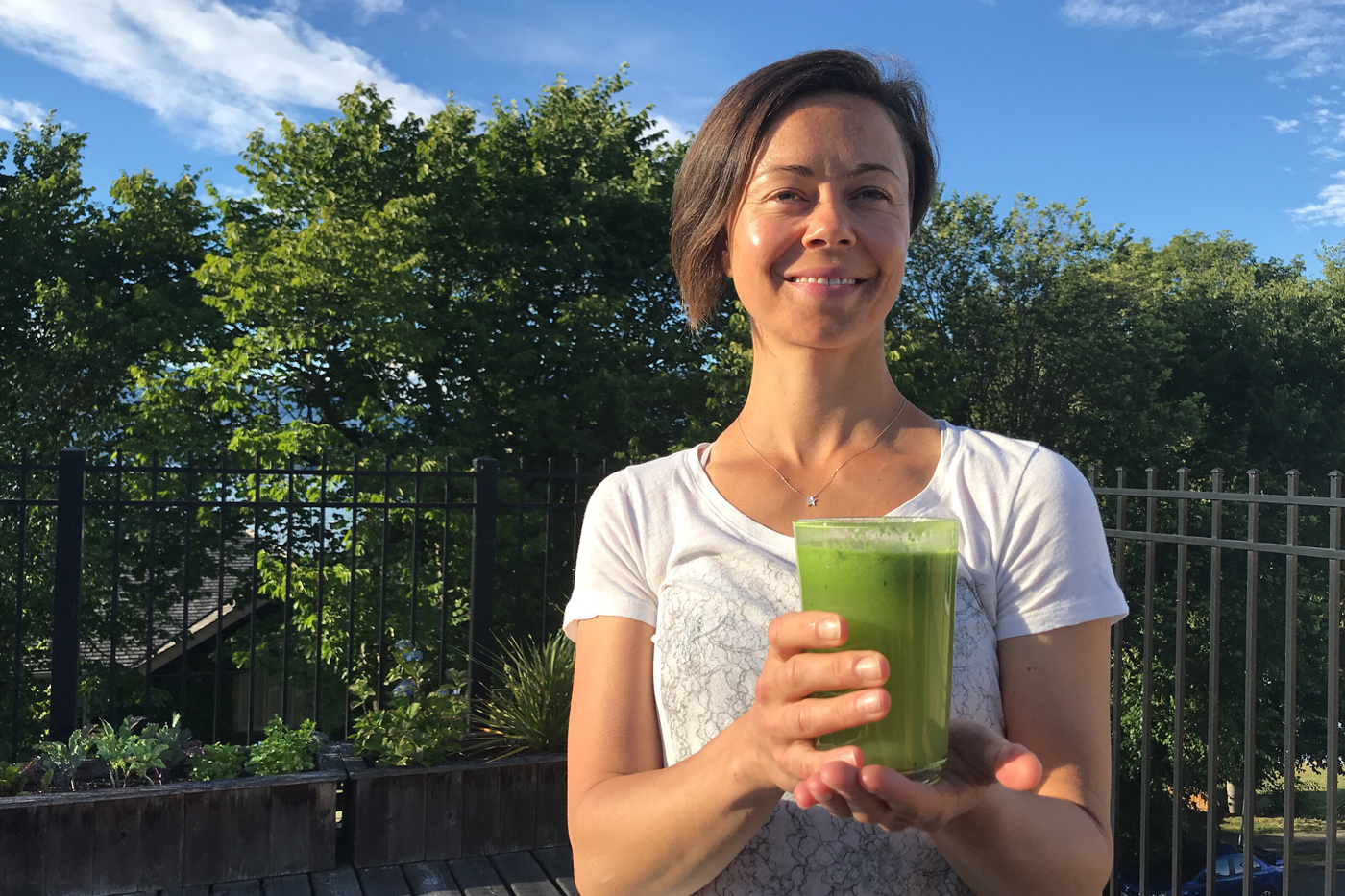 Today we are sharing a wonderful recipe with all of you who are concerned about your iron levels. Keep reading if you are interested in making delicious, iron rich green juices. But first, let's talk a bit about iron and anemia.
After 'where do you get your protein?, the second most common question the two of us get asked as female athletes on an entirely plant-based (vegan) diet is …
"Where do you get your iron?"
And we get it, anemia can strongly get in the way of one's life, and for those of you who are considered anemic taking care of this condition will help raise your energy levels, clear your mind, and restore your overall health. Let me just clarify one important point: it is a myth that vegans get less iron than meat-eaters and are at greater risk of iron deficiency anemia. If you wish to learn more about this important topic, read our article Are you getting enough iron on a plant-based diet?
Today we are sharing a wonderful recipe with all of you who are concerned about your iron levels. The rich iron green juices will supply your body with 89% of the daily Iron requirements (as well as 60% DRI of calcium)! But that's not all! This iron rich green juice combo will also help speed up the process of detoxification and flood your body with enzymes, vitamins, and minerals ….and greatly benefit the immune system. This juice is truly medicine and drinking freshly extracted juices to boost the iron content in the blood is easier on the liver and does not cause constipation associated with taking iron supplements in pill form. The juicers reviews will help you make the right choice.
Let's take a closer look at how this Iron Rich Green Juice can boost the iron levels in your body and your energy levels!
Dandelions
There are two potential causes for iron-deficiency anemia: either you are not eating enough iron-rich foods, or your body is not absorbing it properly. In any case, dandelion has you covered. Its leaves not only contain high levels of iron, but they also enhance body's ability to absorb this important mineral.
Parsley
Parsley is far more than just a garnish, but rather a powerful medicinal plant for those fighting anemia. This is because it contains an impressive concentration of iron. Individuals who have trouble taking iron supplements are often advised to drink parsley juice or tea.
Celery
Fresh celery juice is one of the most powerful and healing juices one can drink. It helps balance the pH value of your blood. In addition, celery juice is rich in vitamin A, magnesium, and iron which all help to nourish the blood and aid those suffering from rheumatism, high blood pressure, arthritis, and anemia.
Lemon

Adding iron to your diet will be useless if it is not absorbed. Citrus fruits are all rich in vitamin C (ascorbic acid), which is known to facilitate iron absorption. Lemon juice has been shown to most profoundly exert this effect.
Pineapple

Pineapple juice is known to be an excellent source of vitamin C, which is crucial for the body's natural ability to fight disease. Vitamin C aids in repairing tissue, healing wounds, and cell growth. It is also a necessary component of producing collagen, a protein that is required for the creation of blood vessels, ligaments, skin, and tendons. And as we already discussed earlier, Vitamin C also aids the body in absorbing iron from food, helping to prevent anemia.
Iron-Rich Green Juice
Treat Anemia Naturally with this delicious, iron-rich juice! We used a great combination of veggies and fruit, with a high concentration of iron, vitamins and other minerals. Cheers to your vibrant health!
Servings: 1
Ingredients
1/4 large ripe pineapple peeled and cut to fit your juicer
10 organic celery ribs rinsed very well
1 organic lemon rinsed very well
1 large handful dandelion leaves rinsed very well
1 large handful parsley leaves rinsed very well
Instructions
Juicer method:
Place the pineapple, celery, lemon, dandelion and parsley through your juicer.

Ball up a handful of dandelion and parsley before pushing it into your juicer's feeder and follow with the celery to push it through. Keep in mind you will you get better results juicing greens and herbs out of a masticating juicer than a centrifugal one.
Blender method:
Place the pineapple, celery, lemon (peeled), dandelion and parsley in a high-speed blender and blend until smooth.

Pour the mix through a nut bag and squeeze the juice out into a large bowl.

Drink the juice and compost the pulp.

Stir to mix the juice and drink immediately. It's best to sip this Iron Rich Juice slowly over a couple of minutes, but unfortunately, it won't keep and should be enjoyed straight away.
HELPFUL TIPS & NATURAL REMEDIES
If you're feeling tired, best to see your GP or an alternative health practitioner you trust and request a blood test before buying iron supplements. Fatigue could be related to any number of things, such as lack of sleep, mental health conditions or other nutrient deficiencies – vitamin B12 or zinc.
If you are diagnosed with Iron Deficiency Anaemia it is likely you will be put onto a high-dose iron supplement or asked to have a series of iron injections to bring your hemoglobin back up until the normal range.
It's important to understand that high-dose iron rich supplements have numerous side effects (constipation, stomach upset, nausea) and excess inorganic iron levels within the cell have the potential to cause oxidative stress and cellular damage.
Ask your GP or health care provider to look deeper into the underlying cause of your anemia (rather than just assuming it's due to your plant-based diet), as suffering with chronic low iron levels can be a symptom of a serious medical condition such as Coeliac Disease and Inflammatory Bowel Diseases such as Crohn's Disease.
Treat Anemia Naturally. If you suffer from anemia, there is something you can do to improve your health immediately – choose the right, fresh, if possible organic, non-GMO foods.
Use as many of the raw, iron-containing-nutrients and delicious raw juices as you can.
One other thing that will help counter anemia is to cut back on caffeine which limits your iron absorption – this includes coffee, tea, and chocolate. When you are looking for a hot drink, try dandelion or nettle tea instead.
For more green juice recipes make sure to see:
Lemon & Greens Juice – Immune Building
Green Juice – Prevent and Manage Diabetes
Any questions? Feel free to comment below and we will do our best to answer them.
Dedicated to your health & wellbeing,
Disclaimer: Please keep in mind that the content on this website is not intended to be a substitute for professional diagnosis or treatment. We encourage you to make your own healthcare decisions, based on your research and in partnership with a qualified healthcare professional.