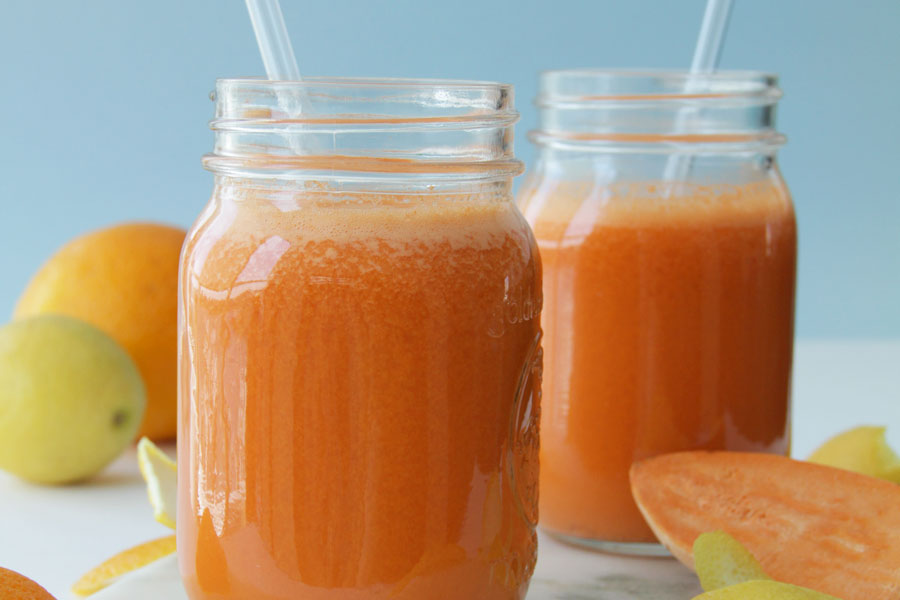 Vitamins and minerals are important to vision health. We create this tasty juice recipe that's good for the eyes, loaded with all the essential nutrients.
Our eyes are like a window to the world. Think about it, from the minute we wake up each morning to the second we fall asleep at night, we rely on our eyes to bring us from place to place and to help us assess and react to our surroundings. Yet it's easy to take that "window" for granted until our vision begins to fail us.
Treat Your Eyes Right
While you may have heard us repeat this a thousand times, it is really important to eat right!
Eating a wholesome healthy diet with plenty of fruits and vegetables will seriously help improve your eyesight and keep it from deteriorating. Vitamins and minerals, such as Vitamin A, C, and E, are all important to eye health and fresh juice is one of the sure ways to get your daily doze. In case you need to get prescription glasses to correct your eyesight, you may visit https://www.eyeglasses.com/brands/oakley to get a pair that will also look good on you.
Here is a tasty juice recipe, loaded with all the essential vitamins and minerals to support a healthy eyesight.
#Plantpowered Ingredients Good for the Eyes:
SWEET POTATO

Sweet potatoes, especially the deeper-colored ones, are extremely rich in carotenes (precursor of vitamin A). It is said that the vitamin A in sweet potato is 1000x more than a white potato, making it one of the best foods for your eyesight. Sweet potatoes have been found to contain a high amount of antioxidants, making it suitable in combating inflammatory problems like asthma, arthritis, gout, etc.
Minerals such as iron, potassium, phosphorus, and magnesium are also present in smaller amounts (5-7% of the RDA). Iron helps with white blood cell production and immune functionality. Potassium is found in many foods, and is essential to maintaining good blood pressure. Magnesium also contributes to good heart health, and regulates mood.
Contrary to popular belief, sweet potatoes are beneficial for diabetics. Amazingly, they are very effective in regulating blood sugar levels by helping the proper secretion and function of insulin. Of course, that does not mean that we should eat them in large quantities. The idea is that sweet potatoes can replace rice or carbohydrate intake as a healthier option.
Juice Good for the Eyes
Juice Recipe Good For Eyes
Servings: 1
Ingredients
5 large organic carrots washed
2 oranges peeled
1 organic sweet potato peeled
1 organic lemon
Instructions
Peel the oranges and sweet potato, cut into pieces.

Wash, scrub and chop the carrots and lemon.

Process all ingreedients through your juicer.

Optional - strain through a sieve (if you don't like pulp).

Drink immediately and enjoy!
We hope you enjoy this bright tasty juice concoction 😉
For more green juice recipes make sure to see:
Lemon & Greens Juice – Immune Building
Green Juice – Prevent and Manage Diabetes