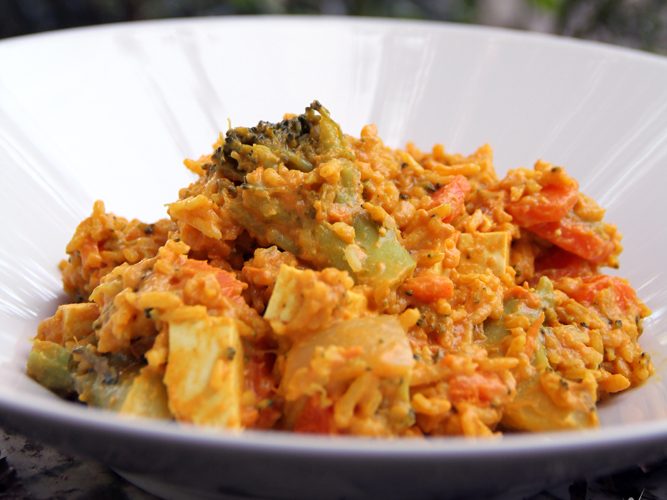 Mmm do I ever love Indian food… after having traveled there several times, still nothing compares. But… it still brings some great memories and some comfort of India whenever I do eat a Indian inspired dish.
The korma-style curry is one my many favorites. It's sweet, mildly spicy, creamy…and just tastes so exotic. Plus there is a super quick and easy "curry paste" that is nice to create when you are short on time.
Vegan Vegetable Curry
Servings: 4
Ingredients
Curry Paste
1 teaspoon ground cumin
1 teaspoon dried ground coriander
2 teaspoons garam masala
1 teaspoon ground turmeric
2 tablespoons tomato paste
2 garlic cloves
1 " cube fresh ginger
1/4-1/2 cup water
Curry
1 tablespoon coconut oil
1/2 onion diced
1 medium sweet potato
2 carrots diced
1 1/2 cups chopped broccoli
1 can organic coconut milk
1/4 cup raw cashews
big pinch salt & hing optional
1 cup rice of choice optional
Instructions
Prepare rice according to packet.

Place the cashews and coconut milk in a bowl. Allow to sit and soak. Set aside.

In the meantime, steam the potatoes, broccoli and carrots until just tender. Set aside.

Add all "curry paste" ingredients to a food processor or vitamix and blend until combined into a paste.

In a large pot on high heat, add the oil and onion and sauté until transparent.

Add in the curry paste and mix well with the onion. Meanwhile add the coconut milk and cashews into the same food processor or blender as curry paste (do not rinse it) and blend until no chunks.

Add in the rice, broccoli, carrots and potatoes to the onions and curry and mix well.

Next add in the coconut milk and cashew blend - stir until well covered.

Allow to simmer until heated through - it will thicken!

Add a pinch of hing and salt to taste.
So as I mentioned above – it's nice to have this "curry paste" recipe on hand for any last minute dishes. Get in the kitchen and get creative with it 🙂
Dedicated to your health & wellbeing,