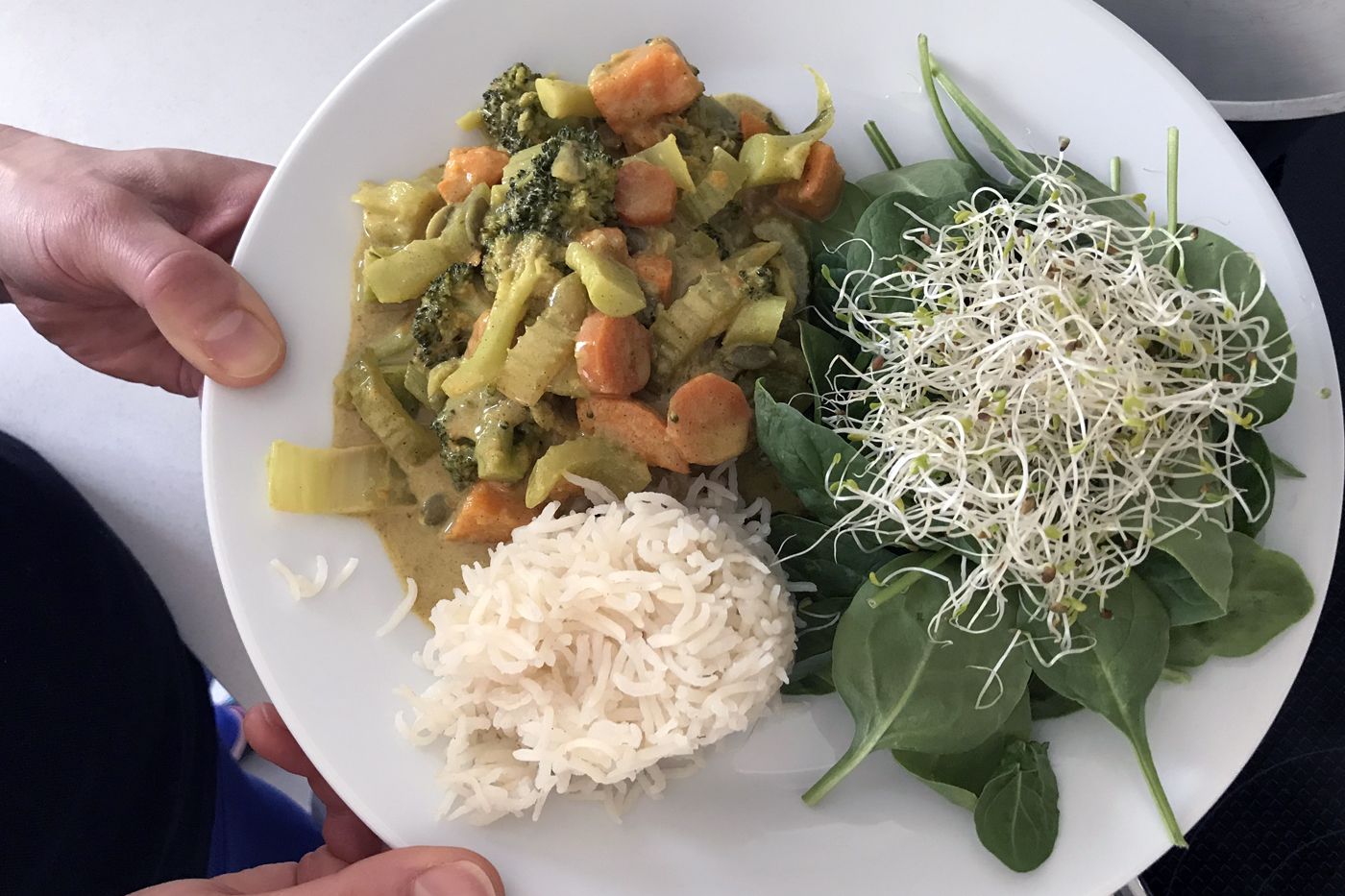 Curry…the mere word makes my mouth water. This very easy plant-based curry may not be totally authentic, but it's inspired by the flavors and aromas of traditional Thai curry- fairly well. You can serve it with brown rice and a basic green salad, and some fresh sprouts for a satisfying nutrient dense meal.
Quick + Easy Veggie Curry
Delicious Thai-inspired comfort and warmth in a hurry! Packed full of fiber-rich and nutrient-packed vegetables to keep you satisfied for hours.
Servings: 4
Ingredients
2 Tbs coconut oil
1 shallot diced
1-3 inch piece of ginger peeled and minced (amount depends on your liking)
1 large yam peeled and diced
2 large carrots peeled and sliced
4 stalks of celery sliced
1 small head of broccoli broken into small pieces (about 2 cups)
1/4 tsp ground cardamon
1/2 tsp ground coriander
1 tsp cinnamon
1 tsp turmeric powder
1 tsp sea salt or to taste
1 lemongrass stalk roughly chopped
1/4 tsp cayenne pepper optional
1 1/2 cups coconut milk
2 Tbs raw pumpkin seeds (or cashews)
Instructions
First prep all your veggies and lemongrass. Wash them well, peel the shallot, yam and carrots, chopped, dice, and slice according to above suggestions.

Heat oil over medium-high heat in a large heavy pan or pot. Add the shallot, reduce heat to medium and cook 2 to 3 minutes or until shallot begins to soften.

Add the minced ginger, give it a quick stir, then add the spices - cardamon, coriander, cinnamon and finally the turmeric. Add a splash of water, stir it all up, cover and continue to cook for another 2-3 minutes. Keep a close eye on it so it doesn't stick to the pan and burn.

Add the diced yams and about 1 cup of water. Bring to a boil, cover and simmer until potatoes are tender about 10-15 minutes.

Now add the rest of the veggies, carrots, broccoli, celery and chopped lemongrass.

Sprinkle in salt and cayenne, stir, cover and cook for another 10 minutes.

Add the coconut milk and heat through. Stir in pumpkin seeds. Remove from heat and serve.
Notes
Substitutions: Brocolli, celery, carrots: 6 cups of any chopped veggies you like! Coconut Milk: Any other plant-based unsweetened milk Shallot: 1/4 cup diced red onion
Enjoy and let's eat!
PS. If you're into curries, also be sure to check out our Vegan Thai Curry In a Hurry, Tempeh Curry with Sweet Potatoes and Asparagus or Vegan Vegetable Korma.