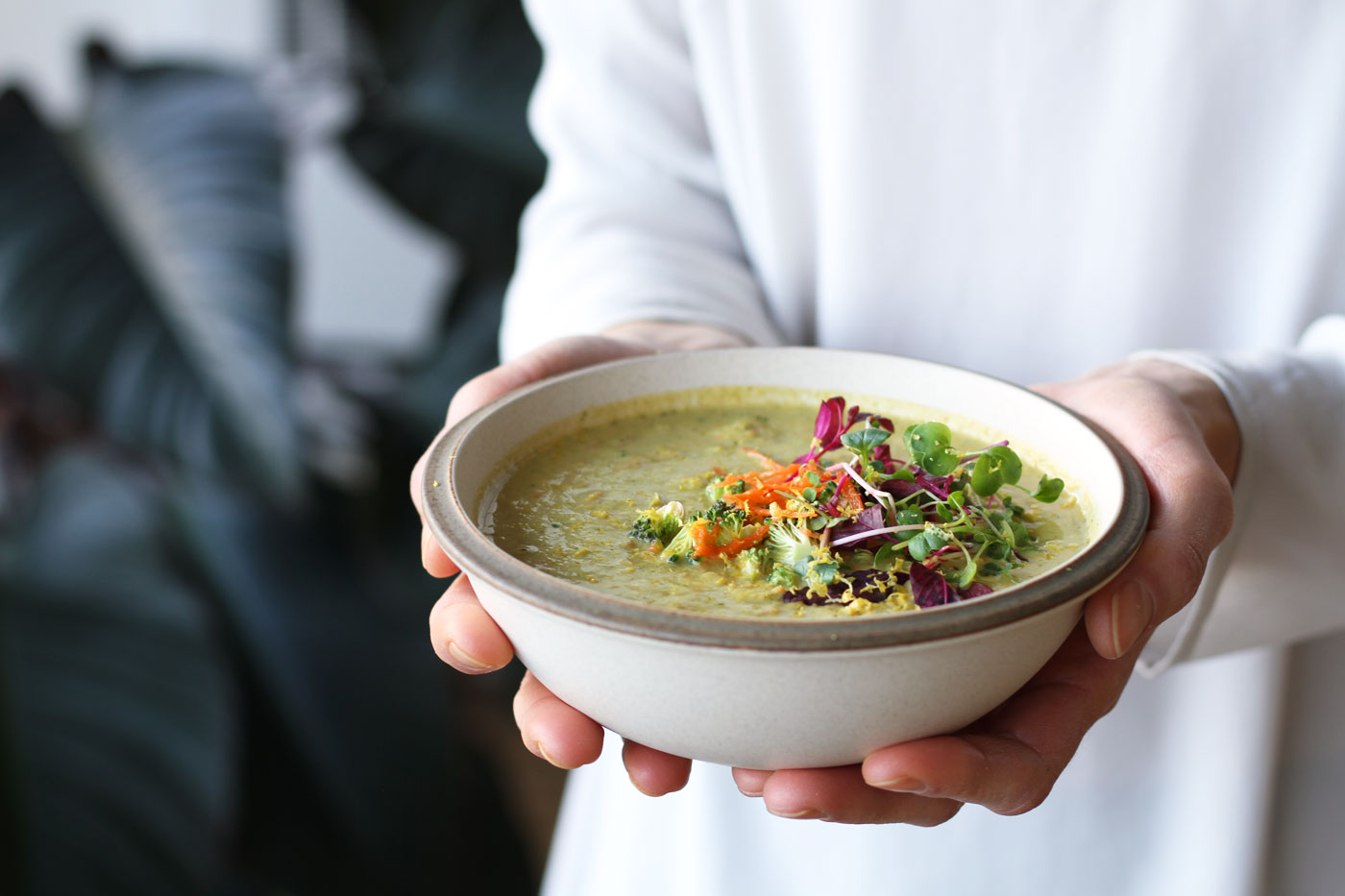 Bring out your powerful blender, because this Cheesy Broccoli Soup with 23 grams of plant-powered protein in each serving is totally worth the cleanup!
Nutrient-rich, cheesy, and comforting but there's no cheese insight! How is that possible? How can you achieve that creamy, dreamy, cheesy flavour without dairy or a long list of scary ingredients often found in vegan cheese?
The secret ingredient…..nutritional yeast. Seriously, thank goodness for this stuff. It's a lifesaver for anyone transitioning to a plant-based lifestyle. Consider keeping some on hand for adding a cheesy component to all sorts of different recipes.
It is an excellent source of protein and is therefore often used abundantly among the veggie crowd. Considered a complete protein containing 18 amino acids, it also contains a variety of minerals such as chromium, an important nutrient for maintaining balanced blood sugar levels.
But Where Does This Stuff Come From?
Nutritional yeast is grown on cane sugar and molasses. It is then harvested, washed, and dried into flakes. It takes on a yellow-orange-brown colour. After it is harvested, it is washed and pasteurized therefore guaranteeing that it is inert (meaning it won't keep growing). Therefore, no need to worry that it will lead to yeast infections, and cause Candida. It has no relation to detrimental yeast growth.
And The Nutrition?
Nutritional yeast is particularly rich in B vitamins. These are the important guys for our energy production – they help in the metabolism of protein, fats, and carbs, meaning we can better use the fuel from our food, manage stress and keep our youthful complexion radiant.
Nutritional yeast is a bonus for plant-based eaters since many varieties are fortified with vitamin B12 (a nutrient only found on foods with faces).
Nutritional yeast is beneficial for those dealing with diabetes and blood sugar issues in general. This is because it contains chromium, a trace mineral that is important in managing blood sugar levels.
Other benefits:
Maintains healthy bacteria balance in the gut which is important for immune health
Improves blood production, which is great for anyone who is anemic
Helps maintain optimal cholesterol levels
Improves liver health and function
Vegan Cheesy Broccoli Soup
Ingredients
1 tbsp coconut oil
1 medium red onion diced
3 cloves garlic minced
1 tsp Celtic sea salt
1 tsp black pepper
1 tsp dijon mustard
1 cup unsweetened coconut or almond milk
2½ cups water
5 cups broccoli florets
1 cup nutritional yeast
2 large carrots shredded
1/8 tsp ground nutmeg
1 tbsp lemon juice
Instructions
In a large pot, cook the onions in the coconut oil over medium heat for about 5 minutes.

Add the garlic, salt, pepper, and dijon and cook for a few more minutes.

Add the plant-based milk, water, and broccoli.

Bring to a simmer, cover and cook for about 20 minutes or until broccoli is tender.

Turn off heat and stir in nutritional yeast.

Remove the soup and puree in a blender.

Pour it back into the pot, add shredded carrots and bring to a gentle simmer for 5 minutes. Remove from heat, stir in nutmeg and lemon juice and serve.

Makes 2 large dinner-sized portions or 4 sides.
Would you like to try more plant-powered cheesy recipes? Here are some of our other favourites:
Dedicated to your health & wellbeing,