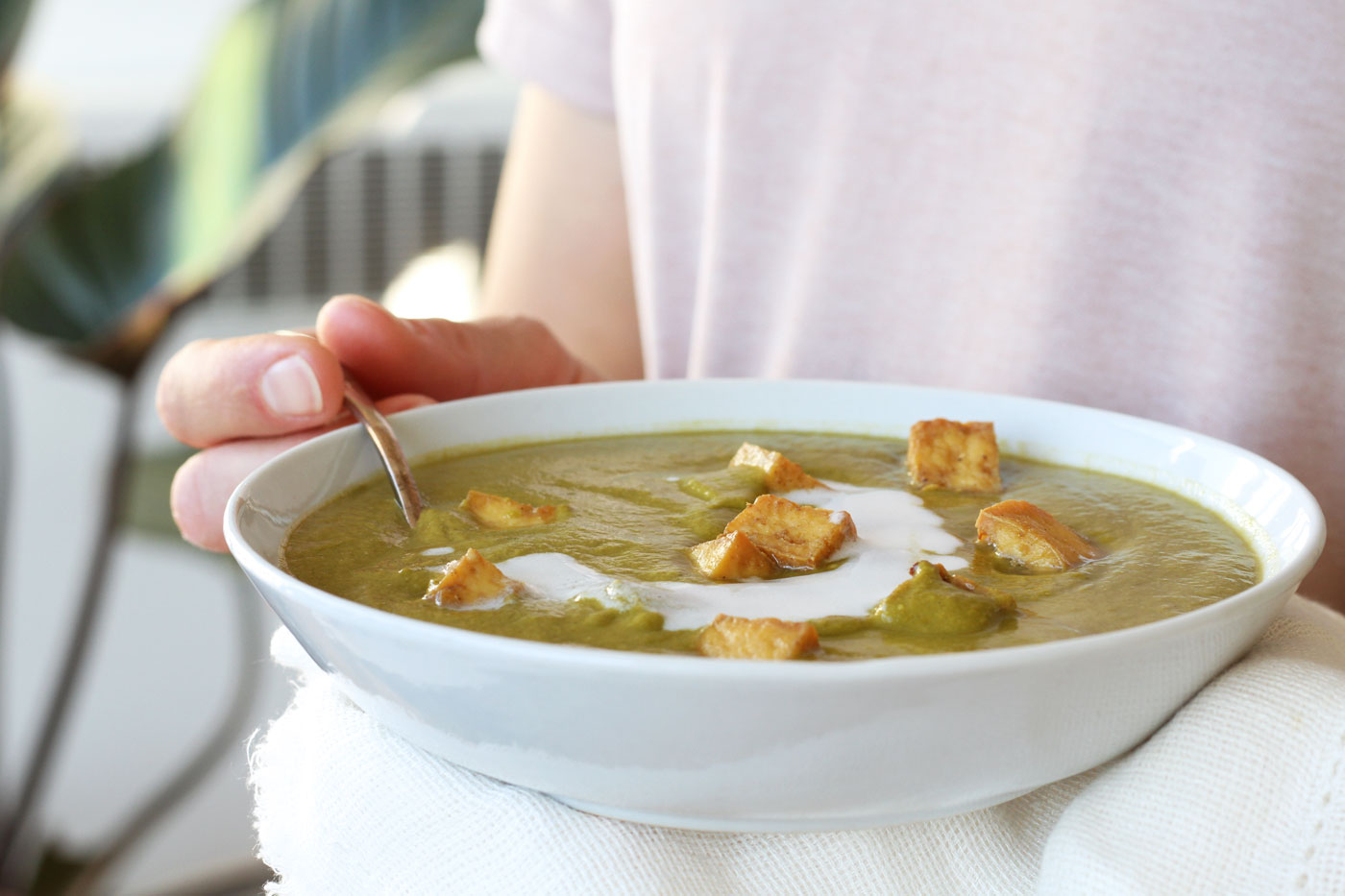 OH, MY WORD, you've got to try this dish!
Nik and I LOVE Indian food and this flavourful vegan palak paneer ('spinach cheese') is out of this world! If you are not yet familiar with this popular Indian spinach curry dish, we highly recommend you try it asap because you've been missing out big time!!!
Healthy and Wholesome Indian Dish
When you transition to a plant-based diet, Indian cuisine is a great place to start because the dishes tend to have lots of flavorful and most of them are also veggie-based. However, when it comes to eating out or ordering a take out from restaurants, many vegetarian Indian dishes, use heavy cream, processed oils and paneer cheese. Not exactly the healthiest option for someone who wants to eat a clean plant-based diet!
On the other hand, this homemade vegan palak paneer is full of flavour and it's actually very healthy. You're looking at a dish that has a ton of spinach, organic tofu instead of paneer cheese, there's a minimal amount of oil, and as with all our recipes, only wholesome plant-based ingredients are used. What a great way to enjoy a tasty, nutrient-rich meal and support your health and wellbeing all at the same time.

If you like the sound and look of this recipe for Palak Vegan Paneer, you might also enjoy the following Indian cuisine inspired dishes:
PALAK VEGAN "PANEER"
This plant-based version of palak paneer is a smooth creamy dish made with fresh spinach leaves, tofu, onions, herbs and spices. It tastes very authentic and creates a nutrient-rich dish with many wonderful health benefits. 
Servings: 4 servings
Ingredients
For Tofu Paneer
1 pack Extra Firm Tofu - 250 grams organic
4 tbsp lemon juice
1 tsp ground cumin
1/2 tsp garam masala
1/4 tsp red chilli powder
1 tsp Celtic sea salt
1 tablespoon nutritional yeast optional
For the Spinach (Palak) Sauce
2 tbsp coconut oil
1 tsp cumin seeds
1 large onion peeled and diced
4-5 cloves of garlic minced
2 " piece of fresh ginger
2 tomatoes diced
6-8 cups fresh spinach
2 tsp ground coriander
1 tsp ground cumin
1/2 tsp garam masala
1/4 tsp red chilli powder
1 can/15 oz coconut milk full or reduced-fat as desired
salt to taste
Instructions
Make the Tofu Paneer
Preheat the oven to 400° F or 200° C.

Add the lemon juice, cumin, masala, cayenne, salt and nutritional yeast to a bowl. Stir to combine. This should form a thin paste.

Cube the tofu and add it to the mixing bowl with the paste. Gently fold to combine, being careful not to break up the tofu.

Place the tofu cubes on a lined baking sheet. Tip: Avoid getting any extra juice on the baking sheet, as this could cause the tofu to crumble.

Bake in preheated oven for 20 minutes. When finished the cubes should be lightly crisped on the outside, but still soft on the inside. Set aside until you are ready to add the tofu to the spinach.
For the Palak Sauce
Heat oil in a deep skillet and add the cumin seeds.

Once it splutters add onions and saute until slightly golden.

Add ginger and garlic and saute until the raw smell disappears.

Place the onion spice mixture into a high-speed blender together with remaining sauce ingredients (spinach, tomatoes, spices and coconut milk). Tip: Leave aside a tablespoon or two of the coconut milk to use later as a garnish.

Blend until well combined.

Pour the sauce mixture back into the skillet and simmer over low heat for 15 minutes.

Add the tofu paneer and simmer another 5 minutes.

Drizzle coconut cream over the top and serve with brown basmati rice or quinoa.
Notes
For even more flavorful dish, mix the tofu with the spices and let rest up to 24 hours in the refrigerator. 
Coconut milk in a can will often form a hard mass at the top. Just break it up with a fork and stir to combine with the liquid.
If you like aromatic rice or quinoa to go along with your dish, add 3-4 cardamom pods to the pot while cooking.