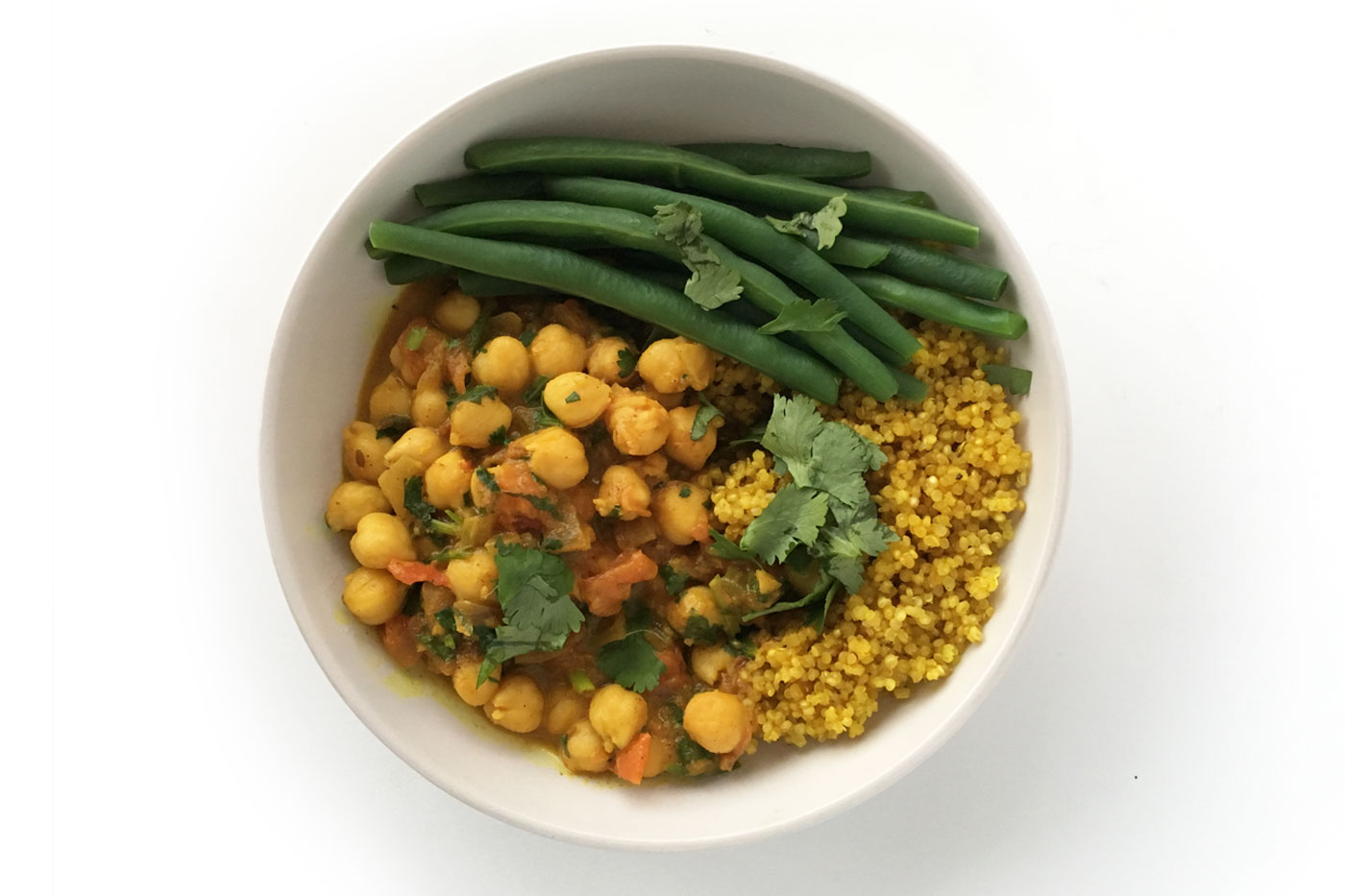 Chana Masala was always our number one choice when ordering food at an Indian restaurant. What could be better than curry chickpeas cooked in a spicy and tangy tomato-based sauce and served over basmati rice?
So amazing!
However, the way we would feel the day after eating it for dinner was the exact opposite of amazing. As much as we love exploring Indian restaurants and indulging in the tasty dishes we eventually came to the conclusion that our chana masala hangovers were not worth it. With that in mind, we embarked on a mission to create equally tasty chana masala at home, using clean plant-based ingredients and omitting those heavy oils. Today, we prefer our own version. It tastes just as amazing and at the same time, we feel nourished by the amazing life-giving, energizing plant-based foods.
Light Vegan Chana Masala
In this tasty dish from India, chickpea provides a nourishing source of protein, while adding wonderful texture. This version is our adaptation of the traditional recipe, without the use of oils. It's mildly spicy yet rich in flavour from fresh herbs and a generous dose of fresh ginger. Enjoy on its own, or with cooked quinoa, millet or Basmati rice.
Servings: 4
Ingredients
1/2 cup dry chickpeas or one 15oz can
3/4 cup organic coconut milk
1 tbsp fresh ginger grated
1 large onion finely chopped
3 garlic cloves mashed
2 tsp cumin seeds
1 tbsp ground coriander
1/4 tsp red chili powder optional
1 tsp ground turmeric
3 Roma tomatoes finely chopped
1 bunch cilantro
1.5 tsp fine sea salt
1 tsp garam masala
1 tbsp lemon juice
1 tbsp maple syrup or raw coconut sugar
Reserved cilantro leaves for garnish
Instructions
If using dry chickpeas - Soak the chickpeas in 2 cups cold filtered water overnight. Drain water, rinse and place in a medium saucepan. Add 1 1/2 cup filtered water and bring to boil. simmer covered for 2 hours and drain.

Heat 3 tablespoons of water in a large, heavy-based pan over a medium heat and when hot, add the grated ginger, chopped onion and mashed garlic. Saute until lightly browned, about 3 min. Add the cumin seeds and cook for 1 to 2 minutes more, stirring so it doesn't stick, then add the ground coriander, chili powder (if using), turmeric, and chopped tomatoes and continue cooking for a couple more minutes.

Pour in the coconut milk and cook, stirring frequently, until the sauce becomes thick and sticky, about 8 minutes.

Stir in the chickpeas, sea salt and cilantro, but save some cilantro leaves for garnish. Bring to a gentle simmer for 1-2 minutes.

Stir in the garam masala, lemon juice and maple syrup, then allow to cool slightly before serving. Serve with your choice of grain (shown here with turmeric quinoa), as well as remaining cilantro and your choice of vegetables. This recipe serves approximately 4 people.
If you enjoy Indian dishes, also be sure to check out our Ayurvedic Kitchari, Palak Vegan Paneer, Indian Eggplant Soup and Quinoa Mango Kheer.
If you try this recipe, let us know! Leave a comment, Pin for later, and don't forget to tag a photo #avrecipes on Instagram. We would love to see your creations.
Dedicated to your health & wellbeing,