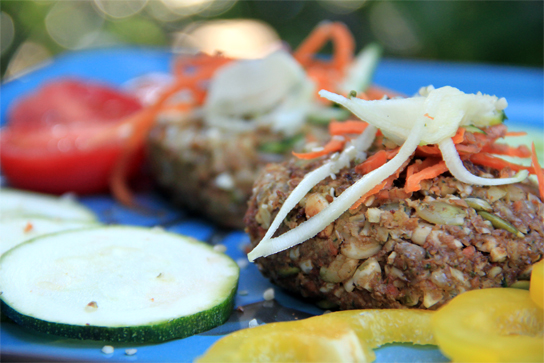 These are delicious and hugely addicting vegan burgers. The seeds give the burgers a fantastic crunch and texture. You won't be able to stop at just one…or two… 🙂
Ingredients:
1/2 cup mushrooms
2 cup mixed nuts and seeds walnuts – almonds,walnuts, pumpkin seeds,flax seeds, sunflower seeds (soaked)
1 carrot, shredded
1 teaspoon apple cider vinegar
1/2 clove of garlic
1/4 cup  fresh cilantro
2 tablespoons raw almond butter
sea salt
fresh cracked black pepper
water as needed to form patties
Directions 
Pulse all ingredients in high-speed blender / food processor until the burgers are well combined, but still have 'chunky' texture.
It is the easiest if you process the nuts/seeds and soft ingredients separately and only then blend together.
Shape into burgers – about 1 inch thick and 5 inches wide or as you like it.
Could be eaten as is but ideally dehydrate at 115 degrees for about 8 hours (flip in the middle of the dehydrating process). You can also pan fry them with a bit of coconut oil.
Serve on bed of greens & veggies or a bun.
Let us know what you think!
Zuzana & Nikki