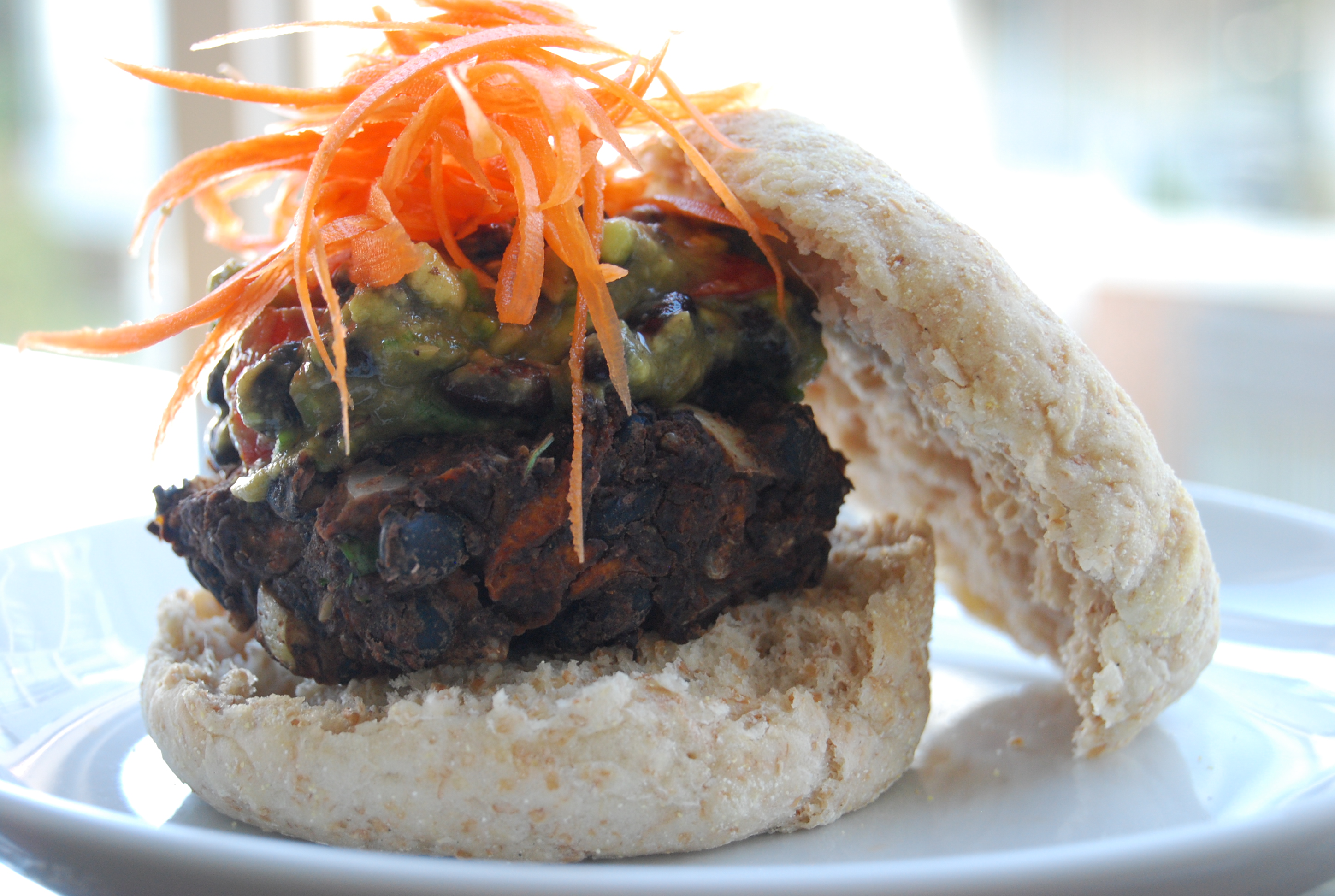 I am a big fan of homemade veggie burgers. You can pack them with tons of nutrients and make them into a complete meal.
Because burgers are a very convenient "on -a- go" food, I tend to double the ingredients and make extra to take to work for lunch. They are great on their own, with cut up veggies, on a WW bun or even crumbled over a salad.
This recipe will take you about 30min to prepare, and I encourage you to play around with the herbs and spices according to your taste buds. The chili powder goes quite well with the black beans and gives the burger a nice kick 🙂 However the possibilities are endless so go for it!
Yield: 8 large burgers
Ingredients:
1/2 cup onion, diced
1 large garlic clove, minced
Flax eggs: 2.5 tbsp ground flax + 1/2 cup warm water, mixed in bowl
1 cup oats, processed into flour or 1.5 cup oat bran
1 large grated carrots
1 cup cooked black beans, rinsed and mashed
1 cup cooked black beans, whole
Heaping 1/4 cup finely chopped cilantro
1/3 cup walnuts, chopped (toasted if preferred)
1/2 cup sunflower seeds, (toasted if preferred)
1 tbsp soy sauce
1 tbsp. Extra Virgin Olive Oil
1.5 tsp chili powder
1 tsp. cumin
1 tsp. oregano
 salt and black pepper, to taste
Directions:
1. Preheat oven to 350F . In a large skillet, sauté onions and garlic in 1/2 tbsp oil. Mix your flax egg together in a small bowl and set aside for at least 10 mins while you prepare the rest of the ingredients.
2. Place all ingredients (except spices and salt) into a large mixing bowl and stir very well. Now, add seasonings and salt to taste.
3. With slightly wet hands, shape dough into patties. Pack dough tightly as this will help it stick together.
4. Cooking methods: You can fry the burgers in a bit of oil on a skillet over medium heat for about 5 minutes on each side. If baking in the oven, bake for 25-30 mins (15-17 minutes on each side) at 350F, until golden and crisp.
This veggie burger 'dough' is very easy to work with. Don't be afraid to adjust the seasonings to taste.
I made 8 large and 2 medium burgers from the dough.

This veggie burger goes quite well with Black Bean Guacamole.
Click HERE for a super easy recipe.
ENJOY!
Zuzana
P.S. If you want more great recipes …show us some love by hitting the like button 🙂