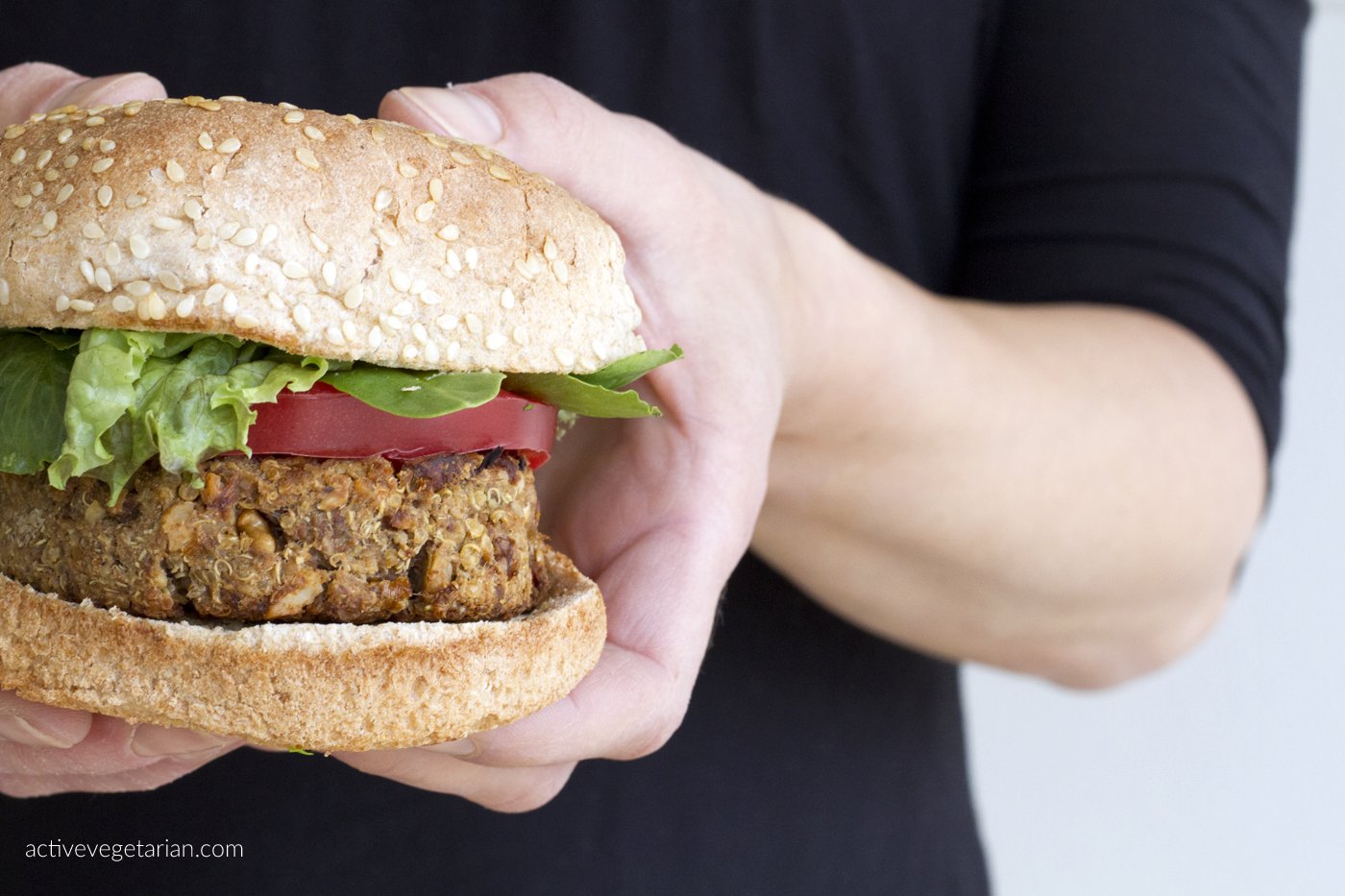 Plant-based burgers have become a hot item in grocery stores and even fast-food chains, however, one quick look at the ingredient list will reveal that most of these popular meat-free alternatives are just highly processed foods with very little nutritional value. So, we say forget the store-bought meat alternatives and make your own homemade veggie burgers instead. Today's recipe features high protein ingredients such as tempeh, quinoa and walnuts, plus a few other nutrients rich whole foods. This is the kind of burger that will satisfy your cravings for comfort food, nourish your body and provide you with 12 grams of plant-powered protein and 6mg of iron, which is 31% of the recommended daily intake (RDI)!
What is tempeh?
Tempeh is traditionally made from fermented soybeans, however, it could also be made from other legumes such as chickpeas, lentils or adzuki beans. The fermentation process and its retention of the whole bean give it a higher content of protein, dietary fibre, and vitamins.
These burgers freeze really well, so be sure to make a double batch to enjoy later on.
Serve your burgers on a sprouted whole grain bun with all of your favourite burger accessories, including but not limited to, lettuce, tomato, pickle, hummus, whole grain mustard – whatever you'd like! You can also serve your burgers over a bed of leafy greens. Czech Style Potato Salad is a great side choice as well.
Healthy Plant-Based Burger – High in Protein
Looking for the best whole food plant-based burgers?- these tempeh/quinoa patties are easy to make, super healthy, packed with clean protein and absolutely delicious!
Servings: 4 Patties
Ingredients
1   Tbsp coconut oil
1 small onion diced
2 garlic cloves minced
1/4 cup raw walnut pieces
1 package 200g tempeh, crumbled (we use chickpea & lentil tempeh)
1 cup of cooked quinoa
1 tbsp dijon mustard
3 tbsp ground flaxseeds
1 tsp Celtic sea salt
fresh ground pepper to taste
Instructions
Cook quinoa according to package directions, omitting the salt, about 14 min. Transfer to a large bowl.

Heat a medium, wide non-stick skillet. Add oil, then onion and garlic. Cook until soft, about 5 min. Add in walnut pieces and continue cooking for another 2-3 minutes. Turn the heat off and set aside.

In a food processor, combine crumbled tempeh, cooked quinoa, and onion/garlic/walnut mixture, dijon mustard, ground flaxseeds, Celtic sea salt, and fresh ground pepper. Pulse until everything is chopped and combined — just don't over-process the mixture because you want the burgers to have a little texture. Form mixture into 4-5 patties, depending on size preference

To bake: Place patties on a parchment paper-lined baking sheet and bake at 375°F (191°C) for 15 minutes on each side, 30 minutes total. To grill: Heat a teaspoon of coconut oil in a grill pan over medium heat. Cook the tempeh quinoa patties for 6-8 minutes per side or until golden brown.

Serve on a whole grain bun (or not!) with your favorite toppings.

You can easily freeze any extras for an ultra-quick meal!
Notes
NOTES: The burgers will keep pretty well in the fridge (~3 days) or freezer (~3 months). When you're ready to eat, pop them in a nonstick skillet to reheat because it will retain crispiness!
Dedicated to your health & wellbeing,