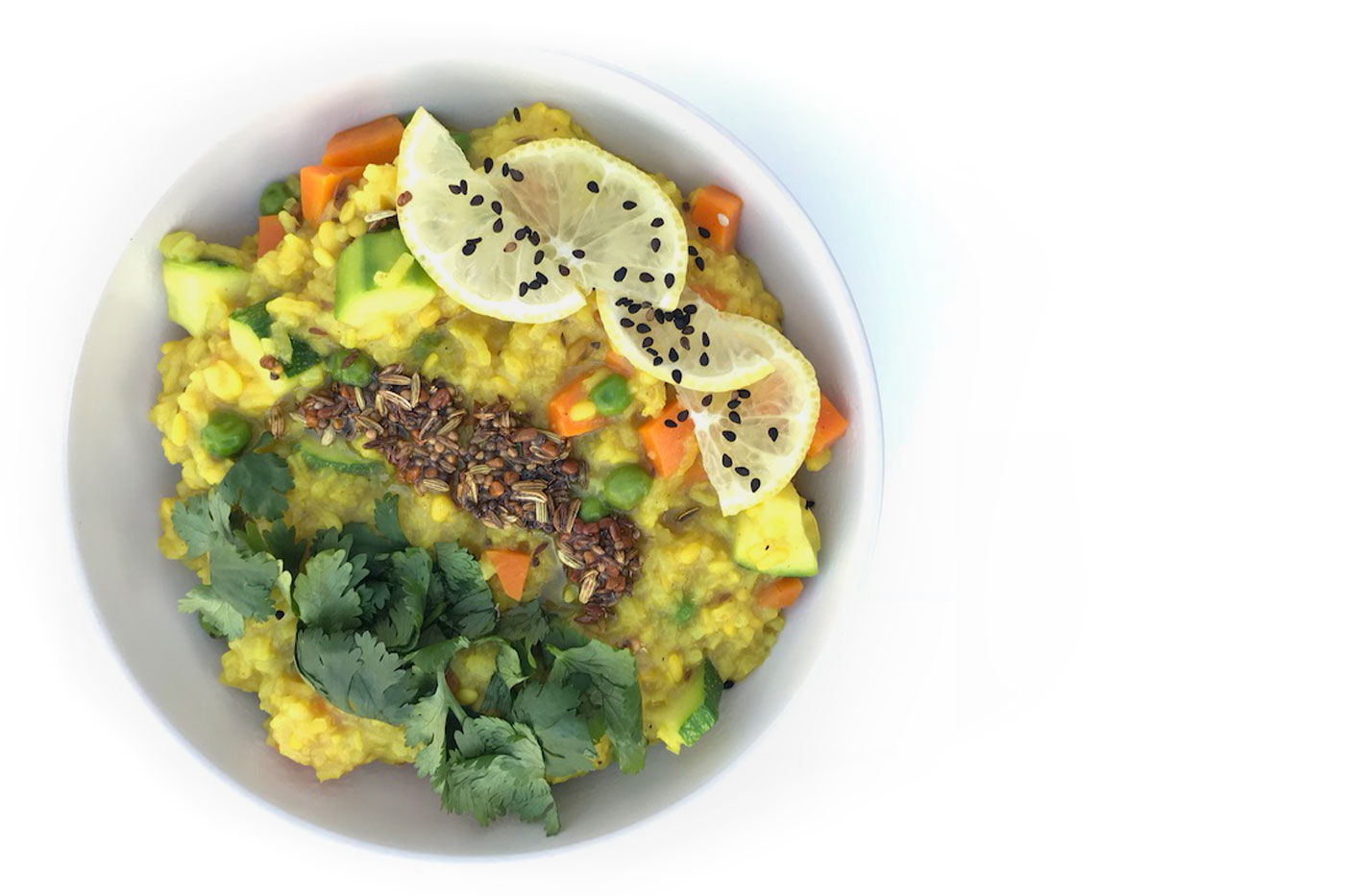 Today we are going to make a traditional kitchari, and offer you vegan and grain-free variations.
We love classic Indian vegetarian food, especially when it's home-made and prepared with love. It would be challenging to pick one dish that is our all-time favourite, however, there is something special about this traditional Ayurvedic Kitchari that keeps us revisiting this recipe on a regular basis.
Kitchari, traditionally made of yellow mung dal beans and basmati rice, along with digestive spices and ghee, is considered a cleansing and detoxifying food in Ayurveda. There is plenty of Ayurvedic wisdom to support kitchari's healing properties.
Ayurveda is a personalized approach to health, and knowing your mind-body type allows you to make optimal choices about diet, exercise, supplements, and all other aspects of your lifestyle. You can learn more about Ayurvedic mind-body types and find out how to identify your own individual type here.
In Ayurveda, proper digestion is the foundation of health and wellness. If we're not digesting, assimilating, and eliminating our food properly, a disease can set in. Kitchari is offered as a mono-nutrient fast in Ayurveda, giving our digestive system a much-needed break from having to process all different kinds of food day in and day out. It's considered cleansing in the sense that it allows the digestive system to rest, and it's also nutritious and easily assimilated by the tissues.
Protein is important in order to keep our blood sugar (and mood) stable. The Mung dal beans in this recipe are high in protein and carbohydrates, which give you energy and will keep you satisfied. Kitchari is considered cleansing because the basmati rice is easy to digest, and the spice "churna," sparks our agni (also know as our digestive fire) which helps the meal be digested easily. The ghee (or oil) lubricates our system, which also helps digestion. We love to add tons of seasonal vegetables to the recipe to boost the vitamin and mineral content and just get more veggies in.
Kitchari is a great meal prep day recipe because it not only keeps well, it also travels well—put it in a thermos to take to work for lunch or eat it the next day for any meal.
By the way, according to the Vedas Kitchari is a COMPLETE PROTEIN! Yes! That is rice and dahl together supply you all the necessary amino acids you need for a healthy body.
Are you ready to make this nourishing meal? Let's begin…
Ayurvedic Kitchari
This is very tasty and easy to digest dish, excellent food choice when recovering from illness, for strength and general health. Kitchari is a wonderful choice whenever you need a lift or feel like nurturing yourself and friends.
Ingredients
1 cup white basmati rice brown rice or quinoa
1/2 cups yellow mung dal beans
1 tablespoon coconut oil or organic sesame oil or Ghee (non-vegan)
1 teaspoon each cumin seeds mustard seeds fennel seeds, fenugreek seeds
6 cups of water
1 1-inch piece of ginger, peeled and minced
3 green cardamom pods
2 bay leaves
2 cloves optional
1 teaspoon ground turmeric powder
1/2 teaspoon Himalayan pink salt or sea salt
pinch ground black pepper
2 –5 cups of chopped organic, seasonal vegetables such as spinach, carrots, green peas, celery, kale, and bok choy (avoid nightshades)
1 cup chopped fresh cilantro optional
Instructions
Rinse the rice and the mung dal beans in a fine -mesh strainer until the water runs clear. Set aside.

Melt the ghee or oil in a large pot over medium-high heat. Add all the seeds and stir and toast until the mustard seeds pop - about 1 minute. Add the rice and beans. Cook and stir for another minute. Add the water, ginger, cardamom pods, bay leaves, cloves, turmeric, salt + pepper, and chopped vegetables. Bring to a boil and reduce to a simmer.

Cook for 35-40 minutes or until the beans and rice are soft and the kitchari has a porridge-like consistency.

Remove and discard the bay leaf, cardamom pods and cloves. Serve warm with fresh cilantro on top, if desired.

You can also serve Kitchari over a bed of Basic Salador topped with a small handful of sprouts.
Variations:
Vegan -Use oil rather than ghee.

Grain-free - Omit the rice and instead chop half a head of cauliflower in a food processor until it reaches the consistency of rice. Toast the mixture in a pan, in 1 tablespoon of ghee or sesame oil. Add after the mung dal beans have cooked. Use two cups less water.

No Fat - Omit the ghee or oil, and instead soften the spices by cooking in two inches of water before adding the rice and dal.

Alternative Grains - Use quinoa, millet, or amaranth instead of rice.

We like our Kitchari fairly liquid, close to a very thick soup. If you prefer a thicker Kitchari, leave the lid off. This is the stage where the bottom of the pot may burn so give a regular scrape or add more liquid.
Notes
We like our Kitchari fairly liquid, close to a very thick soup. If you prefer a thicker Kitchari, leave the lid off. This is the stage where the bottom of the pot may burn so give a regular scrape or add more liquid.
For a mini-detox, eat kitchari for all your meals for a day or two—or simply enjoy it as part of a healthy, delicious, whole-food plant-based diet.
If you enjoy healthy Indian food you might also like our Quinoa Mango Kheer, Indian Eggplant Soup – Fast & Easy Dinner, Palsk Vegan 'Paneer' and Ayurvedic Vegan Lassi.
If you try this recipe, let us know! Leave a comment, Pin for later, and don't forget to tag a photo #avrecipes on Instagram. We would love to see your creations.
Dedicated to your health & wellbeing,