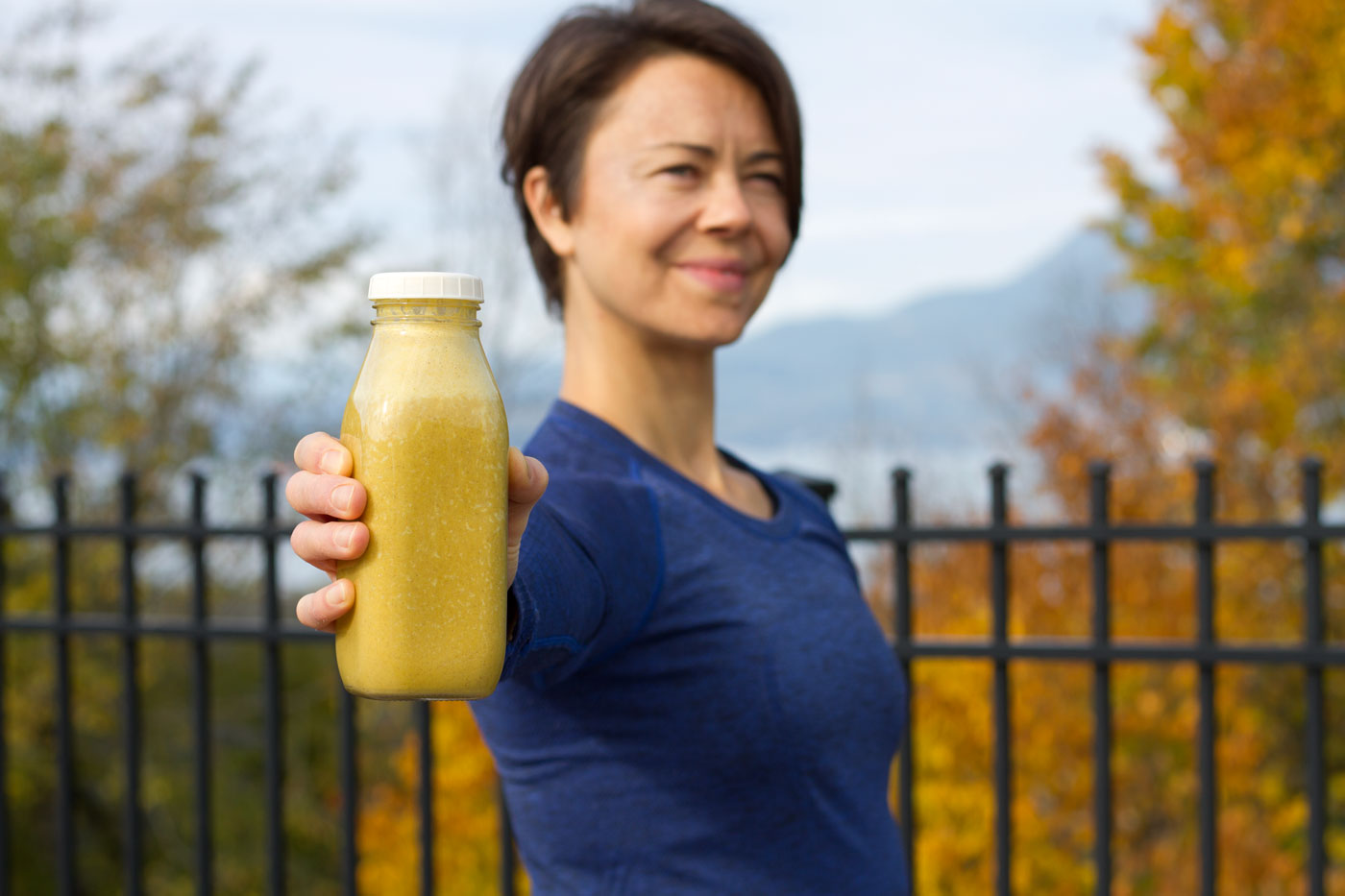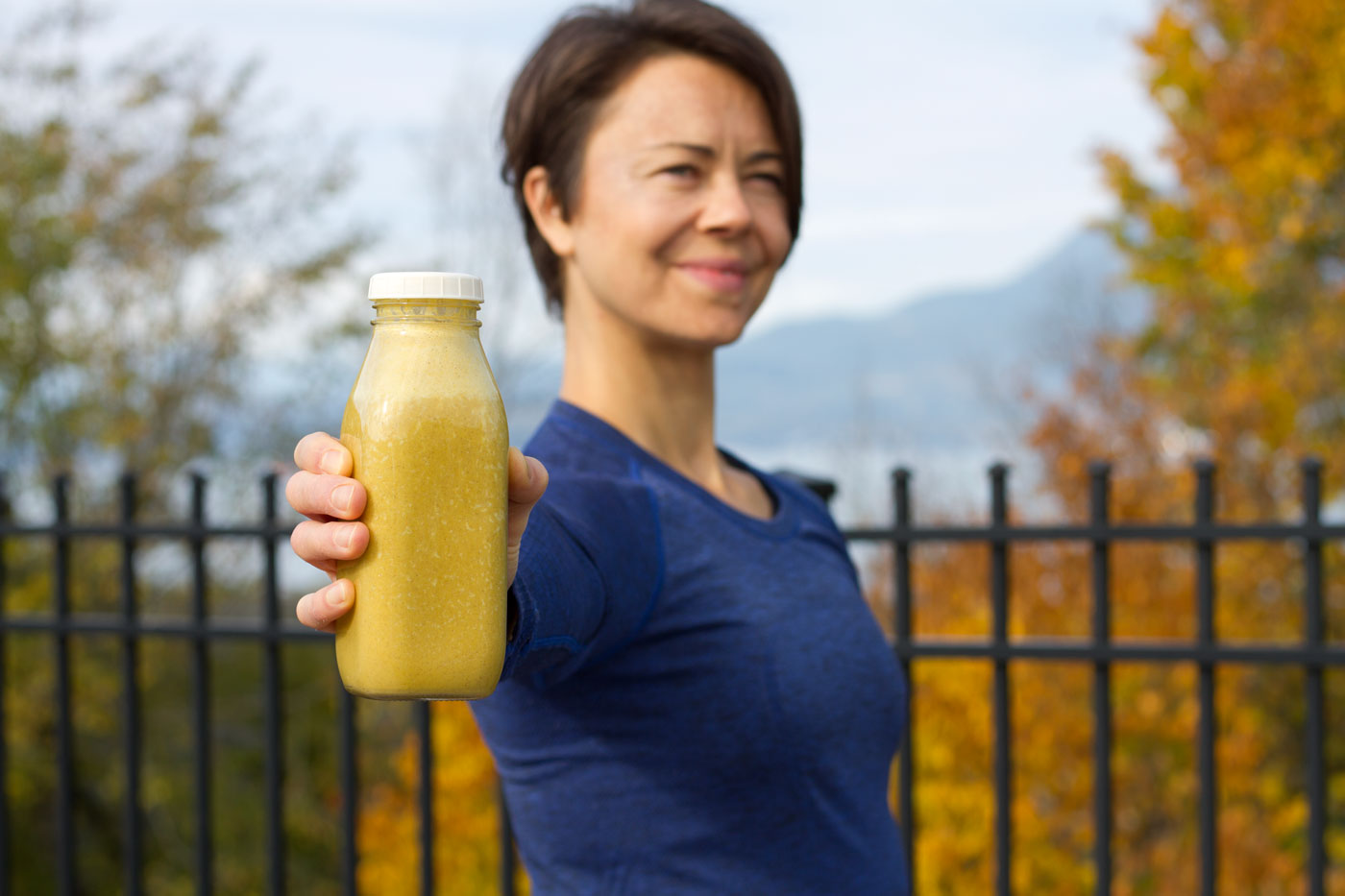 Avoid cold, flu and other illnesses during the changing seasons with this infection-fighting, protein-rich pumpkin mylk. It's made with activated pumpkin seeds, pureed pumpkin and fresh ginger which is blended together with warming spices and naturally sweetened with dates.
Pumpkin seeds are one of the highest plant-based sources of protein containing all essential amino acids. A handful of these green seeds deliver a healthy dose of easily digestible protein. Blending pumpkin seeds together with pureed pumpkin creates a tasty, nutrient-rich combination – a good source of zinc (bone health, and prostate health in men), also a good source of calcium, magnesium, manganese, potassium, phosphorus, and copper; as well as Vitamins A, B and E. This plant-powered muscle mylk is also loaded with heart-healthy unsaturated fats and omega-3 and omega-6 fatty acids – an anti-inflammatory bomb, making it a perfect choice for those who train hard in pursuit of building strength and lean mass.
PUMPKIN MUSCLE MYLK
Ideal for strength athletes in pursuit of building lean muscle mass, this dairy-free Pumpkin Muscle Mylk is a delicious way to feed fatigued muscles while reducing inflammation and promoting recovery. Enjoy this liquid meal on the go or gently warm in a pot for a soothing, healthy evening dessert. The smell is intoxicating and the amino acid tryptophan will help alleviate anxiety and aid sleep.  INFECTION FIGHTING PROTEIN RICH SOOTHING & RELAXING 
Ingredients
1/4 cup raw pumpkin seeds soaked for 8 hours
1/2 cup pureed pumpkin
1 cup purified water
1-2 inch chunk of fresh ginger (as per your taste) peeled
3 Medjool dates pitted
1/2 tsp ground cinnamon
1 tsp ground cinnamon as per your taste
1 tsp ground clove as per your taste
pinch of Celtic sea salt as per your taste
Instructions
To soak the pumpkin seeds, place them in a glass or ceramic bowl or a medium mason jar, and cover with filtered water. Add 1 teaspoon Celtic sea salt, cover the container with a breathable kitchen towel, and allow to soak at room temperature for 8 hours or overnight.

Drain through a strainer, and discard the soaking water. Rinse the pumpkin seeds under running water to remove the anti-nutrients and enzyme inhibitors. Place the rinsed pumpkin seeds in your high-speed blender .

Add all remaining ingredients into the blender, and blast on high for 30 to 60 seconds, until the seeds are completely processed.

Enjoy right away or store the pumpkin mylk in a sealed container in the fridge. Activated pumpkin mylk (made with soaked pumpkin seeds) will keep for 2 to 3 days.
If you enjoy nourishing drinks that support a healthy active lifestyle than also try our Plant-powered Muscle Mylk, Gut Healing Salted Caramel Smoothie, and Turmeric Golden Latte!
DID YOU MAKE THIS RECIPE?
Tag @activevegetarian on Instagram and hashtag it #avrecipes.
With light & love,